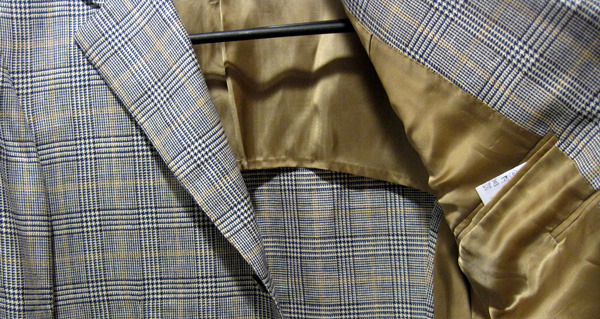 Layton writes: I recently bought a Paul Stuart tweed blazer on eBay. I'm happy with the way it looks on me, but it seems to be missing the liner on the inside that all blazers and suit jackets I have ever worn or seen have. Did the seller remove the liner, or are some blazers sold without one?
A jacket's lining has three purposes.
The primary functional purpose is to allow the coat to slide freely on and off, and to hang freely when worn. The lining also provides some measure of additional warmth, and it covers up the guts of the coat, meaning that seams can be left unfinished without looking sloppy.
Until the latter part of the 20th century, the norm was for coats to be made from heavier fabric (for drape), with lining only where necessary. That meant that the sleeves would be lined (so your shirt wouldn't catch), the shoulders would be lined (so that the back would hang smoothly without bunching), and the chest would be lined (to cover the canvassing and provide for pockets). This meant that exposed seams – in the back of the coat and sometimes in the lower part of the front as well – had to be taped (wrapped with a sewn ribbon) so they'd be presentable and durable.
When the suit coat became a mass-produced product, manufacturers realized that it was cheaper just to leave the seams unfinished and cover them up with a lining. Things were a bit more clammy in a fully-lined coat, but this was less important as the jacket's primary cloth became more and more lightweight.
When one finds a partially-lined coat these days, it's generally either a high-end product or designed for summer wear. Since I prefer to wear a heavier cloth, given the opportunity, I like a less-lined coat when possible.
The lining, by the way, is almost always made of bemberg, an early semi-synthetic fabric (invented in the teens) made from plants. If your suit is lined with polyester, it's probably crap. (If it's lined with silk, you're probably super sweaty.)
---