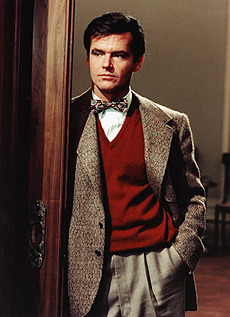 Peter asks: As the weather gets cooler, but still too warm for topcoats, do you think it's appropriate/advisable to layer v-neck sweaters with suits in a business setting? I guess the idea would be to use a sweater-vest (!!!) to avoid over-stuffing the sleeves of a suit jacket.
Absolutely.
The sweater (or sweater-vest, if you prefer your arms unencumbered) is most at home with a sportcoat ensemble like the one that Jack Nicholson is wearing above. That's a classic look (particularly with a bow tie, as it reduces the amount of shirt showing in the same way a three-piece would). It's comfortable and smart.
You can wear a similar combination with a suit, but you should be aware that it will make your ensemble a little less formal. I wouldn't necessarily wear a sweater vest to a board meeting, but I think it would be fine even in most conservative business dress environments.
When you're picking what sweater to go for, choose a more muted tone (say gray or navy) if you're thinking of wearing it with a suit. You want the sweater to contrast significantly with the jacket, but you don't necessarily want it to stand out. You should also consider a finer, harder-finished sweater – say a lightweight merino wool – especially with harder-finished suiting.
You also want to remember the cut of the jacket: if a jacket is cut very close, as some suit jackets are, adding a layer could lead to a stuffed-sausage situation. When you're having your suit jackets altered, be sure that your tailor knows to leave a little room for a sweater (or wear a sweater to your fitting).
An added advantage to this combination is that it lends a somewhat more finished look to your outfit when your jacket is off. Since many men doff their coats upon stepping into their offices, this can be a nice bonus. This is particularly true when the office is a bit too cool for shirtsleeves.
---