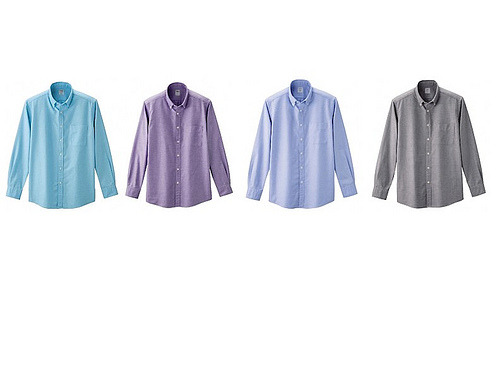 Adam writes: I've found Uniqlo's shirts fit me very well but the tails make me feel like I'm wearing a dress when untucked. Is it worth bringing a $30 shirt to the tailor to square up the tails – or does another brand offer a better option. Having not gone to a tailor yet at all, do any offer bulk pricing – say if I bring in 10 shirts to do the same thing to?
Well, as you probably anticipated, we're generally in favor of tucking in your shirt.  It's a cleaner, sharper look that is much better suited to layering.  If you do wear an untucked shirt, though, it's important to wear one that's cut to be left untucked.
If you take a shirt to the tailor, you won't want to ask him to square off the tails – an oxford with square tails is a goofy hybrid, like those "dress sneakers," and to be avoided at all costs.  Square tails are for camp shirts and bowling shirts and the like.  Instead, you'll want the tails shortened, so they only extend maybe two or three inches below the belt line, rather than five or six.  The tailor will probably charge about ten bucks for this service.  (As far as bulk discounts go… you can ask if you want, but we wouldn't.)

Is it worth it?  Well, you won't be able to tuck in the shirts, so they'll become strictly casual tops.  If that is worth Uniqlo price + $10 to you, then go for it.  If it isn't, don't.  You probably won't find any similar shirts much cheaper than that.
Some brands do have relatively short shirt tails (this is the bane of us tall guys' existence).  I've heard that Lands' End Canvas does, for example.  J. Crew does on some shirts.  Generally, though, you won't be able to buy those for dramatically less than the $40 you'd spend on the tailored project.

---