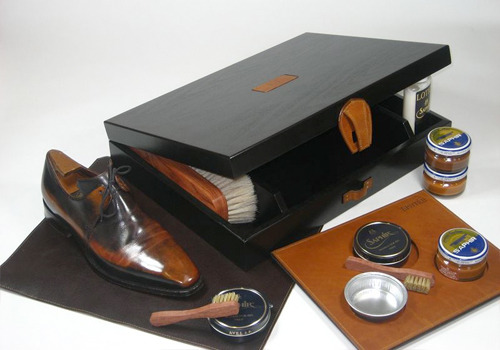 Matt writes to ask: Can you suggest a kit or supply chest for shoe care products?
Ethan Desu once wrote something that I liked very much. He said that you should enjoy the process of polishing shoes, not just the results. Ethan learnt to polish shoes with a friend who liked to sit around, drink tea, and talk all afternoon. Polishing shoes was just a good excuse to do those things. 
I find a lot of truth in that. I personally polish shoes alone, but I find the process very calming and meditative. Though you don't need a supply chest to enjoy the process, having something nice can make it feel more special. Let's review some options, going from the highest-end to the most affordable. 
If money were no object, you can get a shoeshine kit from Ephtée (pictured above). Ephtée is a French company that specializes in handmade, customized shoe trunks and storage sets. Their supply chests cost anywhere from $600 to $1,500, depending on the box and what you get in it. A Suitable Wardrobe also has three incredibly handsome options that cost between $285 and $800. These are all very expensive, to be sure, but they're the nicest I've seen anywhere and they come as complete kits. 
A bit more affordable, though still expensive, is Orvis' Gentleman's shoeshine kit. It's made by Col. Littleton, a Tennessee manufacturer of upscale leather goods. I find the finishing details on the box to be very nice. Saphir also makes a great kit. Both of these cost about $200 and I think they would make for fine gifts this Christmas.  
There are many options below $200 as well. Famaco has some leather carriers in large and small sizes. The smaller one may be especially good if you travel often. There are also a number of traditional wooden boxes that can be had for under $50. Bexley has one in a natural color, and Shoe Shine Kit, Shoe Care Supplies, and Shoe Tree Marketplace have some with various finishes and engraving options. For even more affordable buys, do a search on eBay for shoe shine box, shoe shine kit, and shoe shine stand. You can also browse Etsy for the same terms. There are literally hundreds of options on those sites, many of which cost about $25 or so. 
Finally, though it's nice to have a fancy box specially designed for shoe supplies, don't forget you can use almost any container. Jesse recently won this auction for a vintage sport-and-field shell carrier. It was made by Abercrombie and Fitch back when they were a fantastic, upscale sporting goods store and not disturbingly bad, teen apparel merchandiser. The carrier was originally meant to hold shotgun shells, but I think it would be perfect for shoe care supplies. If you live near good flea markets, you can probably find something just as great for not too painful of a price. 
---