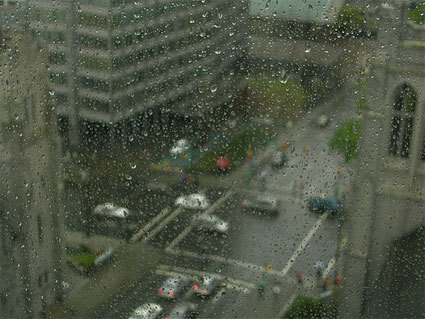 Steve writes: I live in Vancouver; can you suggest how I should dress for the rain?
The answer is yes.  We can suggest how you should dress in the rain.
You'll want to start with an umbrella.  I really love the ones at Howard Yount, which are lovely, with solid wood handles and beautiful hand-sewn canopies.  They also cost $165.  If that's out of your range, there are plenty of other options, just go with something simple.  There are usually good choices at a luggage shop.
On your head, you can wear a hat.  A wool flat cap is a great choice.  If you're going to wear a proper hat with a brim, this is a good time to do it, especially if it's not too blustery.
You'll want some kind of covering for your body, of course.  A classic trench coat or Mackintosh is a good option here for pairing with more formal clothes.  Khaki is the traditional color.  There are plenty of choices for more casual wear – I like waxed cotton, and own a Barbour Beaufort, which I bought on UK eBay for about a hundred dollars.  A number of companies also make lightweight, packable rain coats, which are very useful for climates like Vancouver where rain and cold do not always go hand in hand. 
For your shoes, you'll want to avoid leather soles.  When leather soles get wet, they wear much faster.  Shoes with rubber or dainite soles are best.  Alternately, you can wear rain-specific shoes like Bean Boots and switch them when you get where you're going, or cover your dress shoes with galoshes.
---