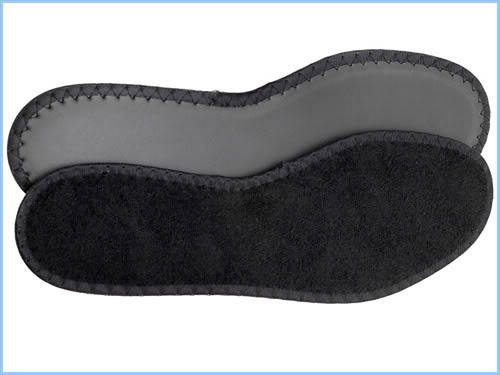 Andrew asks: I've been going sockless this summer, mostly with loafers, boat shoes, and plimsolls, and every time I come home, I take off my shoes and see blisters on my feet. I don't want to wear no show socks. Do you have any solutions?
Some people recommend toughening it out and just developing callouses, but I think that's bad advice. Who wants thick, ugly callouses on their feet? My suggestion is to go with terry cloth insoles, which I wrote about in my "Guide to Going Sockless" article back in the beginning of this summer. I use Aldo for mine, but there are other makers. You can order them off their website, but since Aldo has a store in almost every major city, you're probably already close by one and can save on shipping. They cost about $7. 
You can get by on just having one pair, but if you don't wear socks often, maybe it would be good to go with two and rotate through them. The top side is a soft terry cloth, which kind of rubs off a bit when you first get it, but they're fine after a few wears. The underside is latex, so that it doesn't slip in your shoe. You'll want to wash them every so often, but not put them in the dryer, otherwise you'll ruin the latex. 
If you have particularly sweaty feet, sprinkle some Gold Bond powder in there, and you'll help your feet stay cool and dry while they're in your shoes.  
---