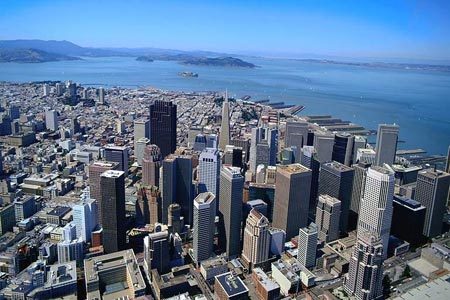 Chris writes from Germany: Next month, I'll be in California for vacation and would like to get some recommendations for stores and boutiques in San Francisco that sell unique and classy clothes like the ones you cover in your blog.  I would be thrilled if you guys could offer some suggestions.
It just so happens that I'm a native of the 'Sco, and I'd be happy to help you out.  San Francisco's one of the best shopping cities in the world, and there are a wealth of choices.
Let's start with new casual clothes.  The denim-only store Self Edge opened its first outlet in San Francisco some years ago.  If you're interested in jeans, it's probably the best store in the world.  Be aware, though, that you'll be spending a few hundred bucks.
MAC, which stands for Modern Appealing Clothing, is probably the best store in the city for contemporary designer casual clothes.  If you're the kind of guy who buys Maison Martin Margiela or Rick Owens, it's a must-visit – you can find in Hayes Valley, a couple of blocks from City Hall.  Even if you're not the designer type, it's worth browsing.  Prices are, as you might expect, quite high.  Saks Fifth Avenue and Barney's, both of which are off Union Square, are also great sources for that sort of thing.  Also worth checking out is Unionmade, which opened quite recently and offers authentic and "authentic" clothing for people who are really into, you know, craft and heritage and that kind of stuff.

If you're looking for something a bit classier, there are options there, as well.  The classic is the men's clothier Wilkes Bashford.  The owner, Wilkes, was forced to sell a year or two ago, but it was to sympathetic buyers, and he remains at the head of the operation.  It's as luxurious a menswear store as exists in the world.  Wilkes is good friends with the former mayor (and famous dandy) Willie Brown Jr., and has outfitted him for many years.  Wilkes is, again, downtown near Union Square.
A little further downtown, you can find Cable Car Clothiers, one of the last true traditional menswear stores on the West Coast.  If you're looking for a Sherlock Holmes hat, sold without irony, this is the place to visit.  They also sell British-made umbrellas and American-made suits and everything else that was as classic in 1945 as it was in 1965 as it was in 1985 as it is today.  Again, you won't save money shopping here, but it's a truly magical place.  It's also not too far from the Alden Store, on Sutter, where they can show you the full line of Alden shoes for men.
If you're interested in spending a little less, there are a lot of options there, as well.  I'm fond of many thrift stores in San Francisco, but I'm a little hesitant to blow up my spots.  I'll say that the Town School Clothes Closet is full of wonderful things which are a bit overpriced, but prices come down during regular sales.  I've always enjoyed thrifting in the Mission, where I grew up, but if you head to the Fillmore, you'll find more treasures.  That's where rich people live, you see.  If you really want to get crazy, check out the Goodwill As-Is Store, South of Market, where you can literally fight people as you go through piles of clothes on long, narrow tables in what amounts to a dungeon of savings.
There's plenty of vintage in San Francisco, as well.  I've been a customer at Clothes Contact, on Valencia at 16th, since they opened… 20 years ago, maybe?  I remember buying a bandleader jacket there because I thought it made me look like Michael Jackson.  (While you're in the Mission, say hi to my friends Lan and Lino at the amazing vintage furniture and housewares store The Apartment).  La Rosa is the best of the vintage stores on Haight Street, and it's also right nearby Amoeba Records.

It's tough to find good men's consignment, but Goodbyes does it better than any other store I've run across.  Quality goods, reasonable prices, and sometimes even helpful sales staff.  (One lady is super-mean, but mostly they're very nice.)  You can also check out Jeremy's, which has a stock that's split between store liquidations and consignments.  A little pricier and often a little lower-quality, but also a little less fussy.
Hopefully that's enough to fill your time. 

If I might offer some unsolicited tourist advice: many San Francisco tourist traps are great.  Cable cars, for example, are still cool to me.  Riding a bike in Golden Gate Park is wonderful.  Alcatraz is pretty neat, too.  Fisherman's Wharf, though, is fucking awful.  Don't go there.  If you do, skip everything except The Musee Mechanique, at Pier 45.

---