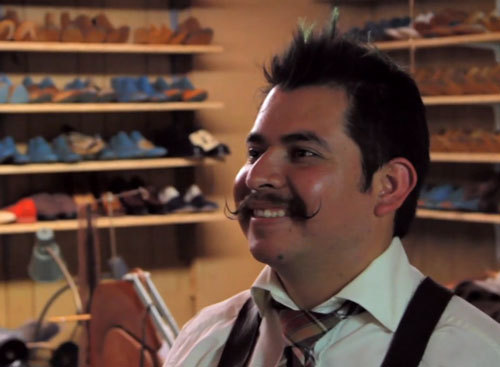 Remember Raul Ojeda, from episode two of Put This On?
Ten years ago, Raul walked into Willie's Shoe Service in Los Angeles, and asked Willie, the owner, to teach him how to make shoes. At first, he worked for free – and Willie only agreed to teach him because Raul's family is from the same Mexican state Willie is from.
We've been palling around with Raul since our shoot last year, and about a month ago, he sprung upon us some amazing news: he's opening his own shop!
Don Ville, named after Willie, will be the only storefront in the US of A dedicated specifically to handmade bespoke shoes. Raul will be offering a ready-to-wear line, a custom line and a bespoke line. All the shoes will be made on-site in their workshop. It's a truly remarkable operation that Raul is planning.
To celebrate, we're helping Raul throw a party at his grand opening on Saturday night!
Join Raul and me for free drinks and tours of the workshop where Don Ville shoes are made. A truly marvelous opportunity.
Presented by Put This On!
Here's the details:
Saturday, July 23rd, 6-9PM
Don Ville
Los Angeles, CA
---