A few years ago, someone posted a thread on Reddit's Female Fashion Advice with the title "I Love to Dress Up, But Have Nowhere To Go." In the thread, the poster mentions how they love wearing flowy maxi skirts and midi wrap dresses, but they feel self-conscious about "dressing up" in casual environments. "I have nowhere to dress up," the person lamented, "and it sucks because I have taken to dressing casually everywhere, even though I don't want to. I dress casually because tbh, I am scared that I will be judged as 'trying too hard' if I wear an outfit like the ones I mentioned."
On a subreddit where threads typically attract a dozen or so comments, this one rapidly exploded with nearly three hundred responses. Many users sympathized with the poster's experience and gave friendly suggestions on what to do. Someone suggested that the poster host fancy dinner parties. Others said they should go to upscale evening events, such as ballets or symphonies. The top upvoted comment came from a user who recounted something they heard from their yoga instructor:
[When my yoga teacher] was younger, his mom was very conscious of what she wore and how everything had its time and place. Even the china set. She would never bring them out unless it was for a very special dinner. However, when he was about 14, his mom got cancer and was very close to passing away. She recovered, but he distinctly remembers the day that she embraced the idea of FUCK IT. She put on her most beautiful dress and busted out the china, and they ate meatloaf on a regular Tuesday. At that point, he realized that she started to live. Like really live. So he always wears designer whatever the fuck he wants, whenever the fuck he wants. Since he told me that story, I've sort of adopted that. I used to try to dress like everyone else. Like at my niece's bday. Shorts and a nice top. This year I plan on wearing a beautiful dress because fuck it. I wanna do it. I will be the best-looking motherfucker at that damn pool party anyone has ever seen!
Like most men, I rarely wear "serious suits" nowadays. Dark worsted suits are reserved for weddings, funerals, and other "serious occasions." Instead, I mostly wear sport coats made from hopsack, tweed, and wool-silk-linen blends, which mesh better with my business casual environment. But as the country has slowly eased its way into a reopening, I've been surprised at how often I wear casual suits — or what I sometimes call Happy Suits. A Happy Suit is a suit you wear for fun. After more than a year of living in shorts and long-sleeved tees, flannels and raw denim jeans, and the occasional oxford button-down paired with five-pocket cords, I yearn to dress up again. Before the pandemic, I used to wear casual suits maybe a few times per season, always waiting for the right opportunities. In the last couple of months, I wear them about three or four times a week, simply because they're enjoyable.
Casual suits are perhaps the most impractical garment you can own. They're too casual for situations that call for a suit; too formal for situations that don't. Yet, if you enjoy wearing tailored clothing, few things have the same verve. Nothing is easier to coordinate; nothing flatters the body more. When the jacket and pants are made from the same fabric, the outfit has a very pleasing, unbroken line. To be sure, it's easier to wear a causal suit if you're already comfortable in tailored clothing. Often, this comes through wearing formal suits or casual sport coats on a semi-regular basis (it simply helps to feel OK being more dressed up than other people). As some people in that Reddit thread suggested, it also helps to be around others who are "dressed up" or have somewhere fancy to go. But at the same time, it's also fine to just wear something nice because you feel like it. I wear casual suits nowadays to cafes and very normal restaurants, to see friends downtown, and for everyday occasions.
If your wardrobe is already full of staples and basics — the "essential" navy blazer, a pair of raw denim jeans, a small pile of Shetland sweaters, and a go-to outerwear jacket that you love — consider adding something outlandish. Something you just love to wear, even if it doesn't mesh well into your environment. After wearing casual suits so often these past few weeks, I've been thinking about adding a few more — a chocolate brown linen double-breasted, a pistachio green gabardine, a tan cotton with patched pockets, and a "faux tweed" suit for winter. If you're looking for some inspiration this summer, here are some materials you can consider. To quote my friend Pete, "dare to look rad."
The Rumply Linen Suit
Earlier this year, I spoke to Mark Cho, co-founder of The Armoury, who told me that some of his customers find linen suits intimidating. "It can be very rumply," he said, "so some guys like to ease into it first with a sport coat." At the same time, menswear forums are full of people asking how to wear a linen jacket. The rumpled, dry texture of a linen sport coat doesn't always look right next to the flatness of cotton or wool. Mark tells me that he thinks tropical wool almost always works ("it has a similar dry feel"), but getting the right combination takes some practice and coordination.
For this reason, I prefer linen suits. When the jacket and pants are cut from the same fabric, you never have to second guess yourself. Linen suits are arguably the quintessential summer suit, as they convey the carefree ease and relaxation that define the season. There are two major types of linen: Irish and Italian. Irish linen tends to be smoother and denser, whereas Italian linen can sometimes be airy and velvety. Choose what feels good to you, but aim for the heavier weights when possible. When you get something heavier, rather than lighter, the suit tends to rumple more than wrinkle, which will avoid that crinkled tissue paper look at the end of the day.
Linen does well in almost any color. Tobacco is among the most striking, as it's a warm-hued color that's harder to get right in wool. In the photos above, you can see Luca Rubinacci wearing a double-breasted tobacco linen suit. A cream linen suit can also be really nice and easier to break into separates. Mark Cho owns a cream linen suit from Liverano and says he mostly wears the jacket as a sport coat. "The color is already so odd as a jacket, I don't worry about the texture not matching with my pants," he tells me. Darker colors such as navy, chocolate brown, and even grey can be good. Just be aware that linen develops a patina over time, and this will show more readily in darker colors.
Finally, when getting your linen suit altered, make sure you leave some extra room on the sleeves. Linen suits hold their wrinkles. As the sleeves start to accordion, they'll come up a little higher on your arm. If you hem the sleeves so they're just-right at your alteration's tailor, so that only a quarter-inch of your shirt sleeve shows, you may find that the suit sleeves end up being too short after a bit of wear.
(photos via Yukio Akamine, Peter Zottolo, Drake's, Luca Rubinacci, BRIO, The Sartorialist, and Walé). 
The Most Casual Expression of a Suit
For people familiar with things such as Engineered Garments' Bedford jacket, a cotton suit will almost feel like casualwear. And therein lies the rub. Hardcore tailoring enthusiasts are sometimes skeptical of cotton suits because they have none of the benefits of wool, yet cost about the same amount of money. Wool garments keep their shape better, last longer, and have a spring-back quality that makes them more comfortable to wear (think about how a wool suit jacket feels when you put your hands into the hip pockets; a cotton suit jacket won't have that same spring-back quality).
A few years ago, I spoke to Michael Hill, co-owner and Creative Director of Drake's, who told me that he loves cotton suits for the same reasons people hate them. "They're stiff, they crumple, the color fades. I can picture my cotton suit sitting on the end of my rail at home now. The way the sleeves curl, it looks like my arms are in them, and the sleeves will probably stay like that even after the jacket has been cleaned. If you get one in heavy drill cotton, the fabric almost molds to your body. That's the wonderful thing about cotton suits. They're casual and age with you, much like a good pair of jeans."
I mostly love cotton suits because they're the most casual expression of tailoring. Wearing one doesn't feel too different from wearing casual cotton outerwear and chinos. However, like regular chinos, they have to be cleaned more often. As Michael notes, the color also fades, which can result in a patchy appearance if you get a cotton suit in a dark color such as navy or charcoal. For that reason, I like them best in lighter colors, such as taupe, sand, and celery green. And while purists will cringe, I like cotton suits when they have a small percentage of elastane. Pure cotton can be a bit stiff. 
Since cotton suitings tend to be woven denser and tighter, they're more comfortable on days below 85 degrees and with low humidity. If you live in an area with real summers, you may find that you only wear cotton suits in the springtime and fall, rather than in the middle of July. Consider your climate when purchasing one, and how the color might communicate the mood of the season in which you'll mostly be wearing the suit. Lastly, much like with linen suits, you'll want to leave a bit of extra room when shortening these sleeves. Cotton rumples, which means the sleeves will come up with a bit of wear. The material is also difficult to let out for various reasons.
(photos via Mark Cho, Drake's, Christopher Fenimore, P. Johnson, Erik Mannby for StyleForum, Peter Zottolo, Jean-Manuel Moreau, and The Armoury)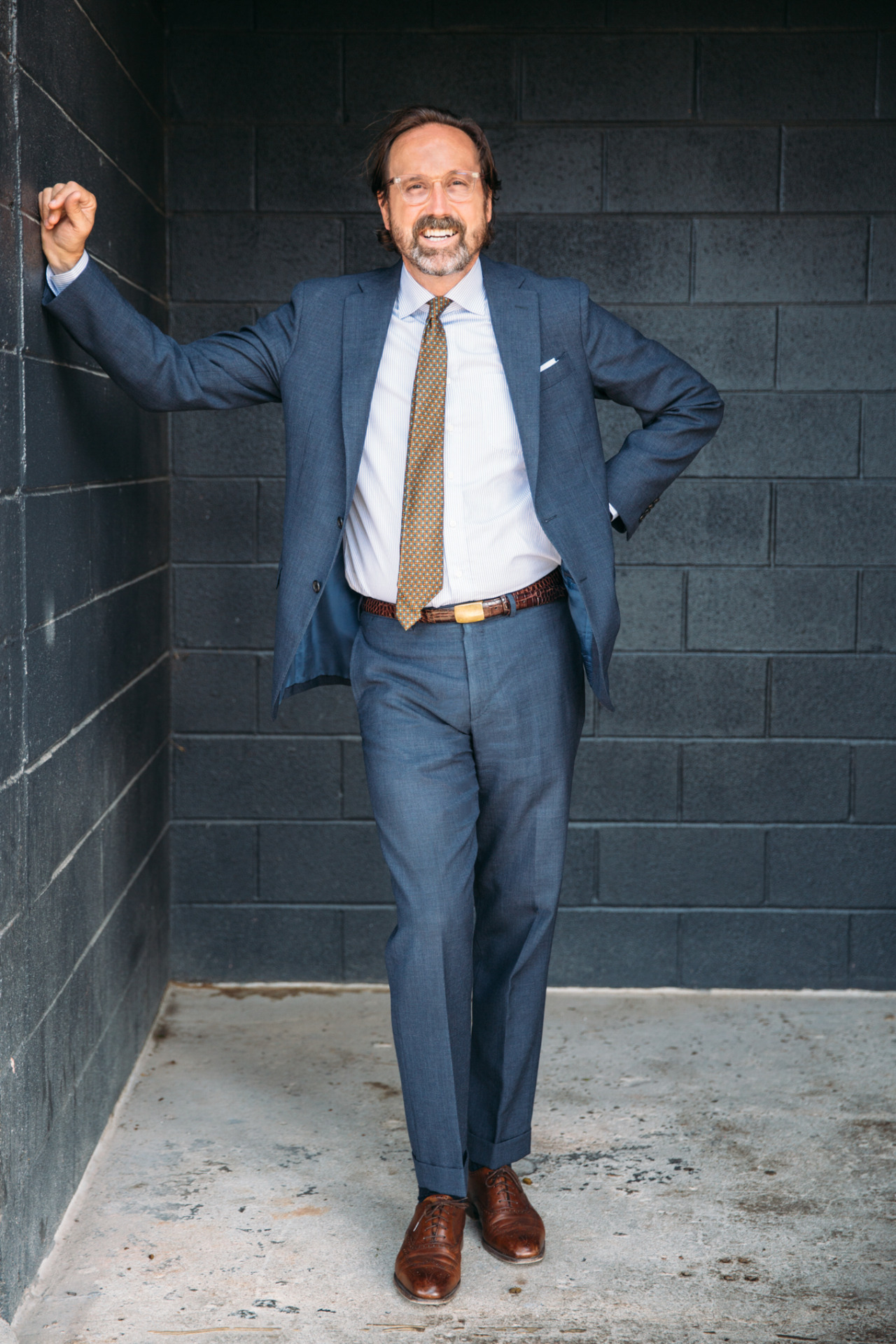 The Casual Wool Suit
There are so many options for a casual wool suit, this section of the tailoring world can be dizzying. Even traditionally "formal" fabrics such as woolen flannel can be made to look more casual if they're rendered in walnut-colored check, rather than solid gray. For the purpose of this guide, I'll only focus on materials you may want to wear in the spring/ summer months.
The most basic is tropical wool, which is a family of fabrics defined by their high-twist yarns and open-weave structures. The term "high twist" refers to the extra twist given to the yarn during the spinning process. This makes the yarn firmer and stronger, which in turn allows a weaver to make an "open weave wool." Open weave wools are woven like a mesh screen — they allow air to easily pass through, making you feel like you're wearing nothing on a hot, humid day. Since high twist wools are also naturally wrinkle-resistant (thanks to that extra tension in the yarn), many people also like using them for travel suits.
Alternatively, you can also get a mohair suit, which is made from the hairs of an Angora goat. Mohair fabrics are crispier and drier than their wool counterparts, although they're commonly mixed with wool to give them some added strength (pure mohair fabric can be a bit brittle). Like tropical wools, mohair and mohair-blended fabrics typically have a porous weave. However, mohair also has a bit of sheen — the kind of shimmering look that recalls 1950s and '60s jazz men, London Mods, The Rat Pack, Sean Connery's James Bond, and nearly every Made guy in a mob film. For that reason, I think mohair suits work better at night, especially in the way they catch the light in dimly lit restaurants or bars. Get one if you want something special to wear to evening affairs that don't call for black tie.
Solaro is another excellent summer option. This glimmering fabric has a red weft and non-red warp (often beige, but not always). It was invented by an Italian-English physician named Louis Sambon, who thought that the outwardly facing, lighter colored yarns would keep a person feeling cool, as they reflected the sun, while the inwardly facing, red yarns would confer health benefits. The idea was based on some quack science at the turn of the 20th century, which dealt with why darker-skinned people were less prone to contracting tropical diseases (the red weft was supposed to mimic the effect of having darker skin — strange, yes, I know). Of course, Solaro doesn't actually confer any health benefits, but it has become associated with stylish Italian dressers such as Gianni Agnelli and Matteo Marzotto. Many men like Solaro because it has a shimmering red cast, but the effect can be polarizing.
When getting a casual wool suit for summer, pay attention to the nuances in color. Small things such as shade, hue, saturation, and color temperature can affect how a suit looks and ages. Wool often does best in colors such as brown, tan, and blue. These work in almost any variation — from richly colored, warm-toned browns to cooler-toned taupe. However, green wool suits can sometimes look cheap. In the previous sections, you can see how casual linen and cotton suits work in a wider range of green, stretching from celery to olive. In wool, however, the color sometimes does better when it's rooted in something more familiar. Look for things with a grey or brown cast.
(photos via Sid Mashburn, Ethan Wong, The Armoury, Yukio Akamine, Erik Mannby, Drake's, and Ring Jacket)
The Fun Seersucker Suit
In 2013, Missouri state senator Ryan McKenna hand-scrawled a joke at the end of a higher-education funding bill. The tongue-in-cheek amendment had nothing to do with funding, but rather sartorial matters. "Any person living in this state aged eight and under may wear seersucker suits at their leisure," it read. "Any person over the age of eight living in this state may not wear seersucker suits because adults look ridiculous in seersucker suits." McKenna later withdrew the amendment, saying it was in jest. But it was also a friendly jab at his more conservative colleagues in the state legislature, some of whom had taken to wearing the springtime suit on Wednesdays. "I will not be bullied by the seersucker caucus," McKenna, a Democrat, told the River Front Times. "That's what this is about."
For some people, seersucker suits are an anachronistic symbol of Southern gentility. They conjure up images of men in straw hats noshing on cucumber sandwiches and swigging mint juleps outside sprawling estates. For others, those associations are what make seersucker suits so charming. My view is somewhere between these two positions. If you enjoy those connotations, a seersucker suit can be the perfect summer garment. If you're skeptical, rest assured that each person brings their personality, context, and background to their clothes, which will change the meaning of their outfits. Just check out how Yasuto Kamoshita (from Japan), Voxsartoria (Boston), or Jeff (Kentucky) wear theirs in the photos above. Even Mike Tyson, Miles Davis, Andy Warhol, David Byrne, and Johnny Knoxville have worn the "milk and sugar" stripes, and none of these outfits look the same.
If you're still skeptical, consider tonal seersucker suits in colors such as navy or olive green. A tonal navy seersucker suit has all the charm and cool-wearing properties of traditional seersucker, but none of the preppy connotations. It basically looks like your standard navy suit, but with a fun and interesting texture. Greg Lellouche, the founder of No Man Walks Alone, tells me that navy seersucker is among his favorite summer suitings. "I reach for mine whenever there's a dinner event or something slightly formal, such as a summer wedding," he says. J. Crew sells cotton-elastane navy seersucker suits, but if you can, try to get a suit made from wool-silk. Since cotton tends to fade more easily and readily than wool, dark-colored cotton can look patchy after a few years. A navy wool-silk suit, however, will hold its color (it will also drape better than pure cotton). You can get navy wool-silk seersucker suits custom-made through The Armoury, No Man Walks Alone, Hall Madden, and most custom clothiers. Just ask to see the Loro Piana Mare book.
(photos via Neoretro Style, Douglas Cordeaux, The Thrifty Gent, Voxsartoria, Kyle Toman, Henrik Hjerl, and Jean-Manuel Moreau)
---