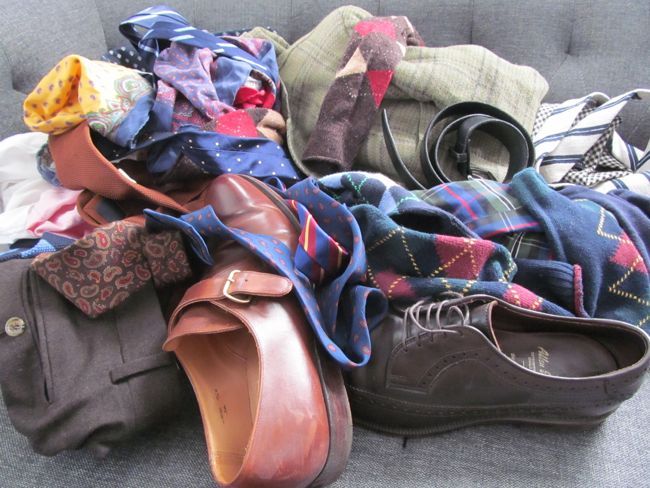 Ivy-Style had a nice post last week about the well-edited wardrobe, which reminded me of how much stuff I've gotten rid of over the years. Christian, the writer behind the blog, is a bit more ruthless about culling than I am. He had a great post many years ago praising small wardrobes, and the accompanying photograph was of just one tie. I assume that was shot for effect, but I don't think it's far off from how he operates.
In any case, there's a passage in his article that I really like
As a result, I've never understood the web's notorious clotheshorses and their compulsive acquiring. Money is not the issue, as some spend lavishly while others are inveterate thrifters. At some point both must reach a stage of surfeit, when it's impossible for every item in their wardrobe to be fondly cherished. It's the difference between having a dog and having a kennel. At some point it's just variety for it's own sake, and at that point are your clothes really an extension of you?

And just because an item is already broken in doesn't mean it will automatically feel second nature to wear it. Whether it's an old rep tie or a vintage Harris Tweed, an item new to you is still new, and will take time until you're wholly unaware of wearing it. But before then the item will not feel like a part of you, but a kind of awkward sartorial prosthesis.
I perhaps value variety a bit more than Christian. I find it's nice to have a wardrobe that will suit any kind of occasion, weather, or mood one might find themselves in, and to do that, it's hard not to have a sizable wardrobe. Still, I've gotten rid of quite a lot over the years: patterned pants, pastel shirts, fabric belts, sack coats, and a smattering of designer clothing. Basically things that caught my eye in a store, but didn't feel natural enough to me when I got around to wearing it. So in continually editing out things that don't feel right, I think I've come to a better sense of personal style. 
Which is to say, if you're just starting off, perhaps it's not as good of an idea to "buy less, buy better." Instead, dabble around and shop in the middle-tiers of quality. That way, you don't lose out on too much as you try to find your own sense of style. Let your tastes slowly mature, be honest with what you wear, and cull everything that doesn't feel like a natural extension of yourself. That's the best way, I think, to find your own personal style: through a process of elimination. 
---