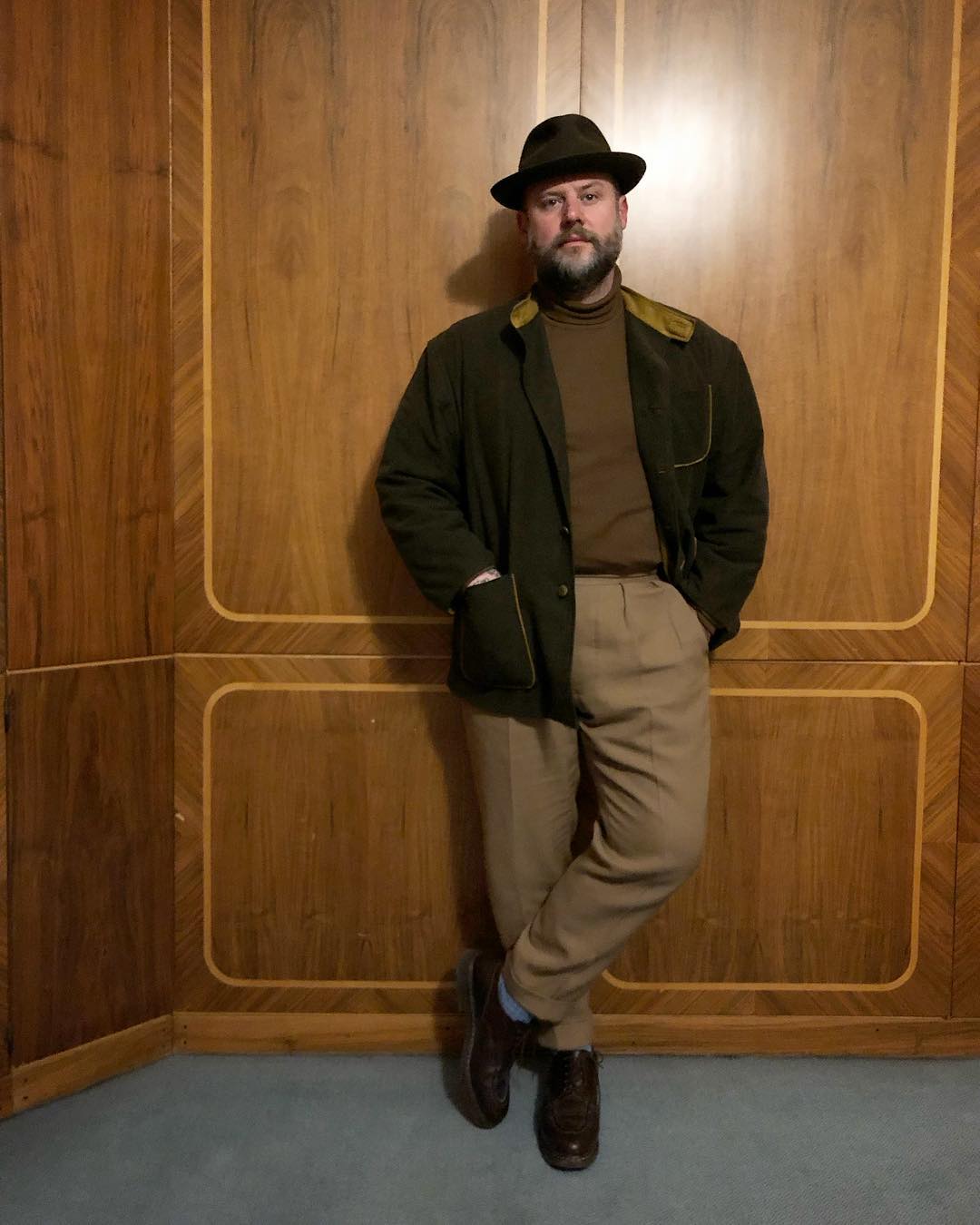 The following is an excerpt from the newly released book Swan Songs: Souvenirs of Paris Elegance, a book about a rapidly disappearing section of Parisian menswear. The book goes through some of the best names in craft-based clothing — Charvet, Old England, Sulka, and others — and discusses how these makers and sellers of wonderful things have become inaccessible over time, either through closure, cosmically expanding prices, or some other force. This excerpt is from the chapter on Arnys, a store that was once known for its dandy aesthetic until LVMH bought the label and turned it into something darker and more brooding. It has been reprinted with permission from the book's author, Réginald-Jérôme de Mans.
The Paris neighborhood of Saint-Germain-des-Prés has long enjoyed an intellectual reputation, bordering as it does the universities in the Latin Quarter, along with its past connection to the midcentury existentialists and the other philosophers, writers, and artists who supposedly shivered for warmth in its cafés and those of the other nearby neighborhoods of the Left Bank of the River Seine. The Ecole Nationale Supérieure des Beaux-Arts, a prestigious fine arts academy, is there as well, full of charming, attractive, and slightly nutty people as art students around the world are wont to be. Deepening its mystique is its adjoining Montparnasse to the south, the artists' neighborhood of the fabled interwar Paris, and to the west the Faubourg Saint-Germain, the fabled home to the faded nobility of the old-money ancien régime. Thus situated between art, aristocracy, and rebellious, educated youth, ever since Balzac's novels, Saint-Germain-des-Prés has evoked hidden treasures, heritage undiscovered, fortunes and failures, courtiers and courtesans high and low.
At the time that Jean-Paul Sartre and his ilk congregated in the area, it was somewhat down at heel. A café offered free heat and shelter to a frugal writer, and his visitors there could pay for their own drinks. In the years since, the neighborhood became instead a sort of conservation area for tourists and pilgrims to step through the old bookstores (Le Divan and La Hune were particularly famous), be abused by the quaintly gruff waiters at La Palette, or sip a grotesquely overpriced café créme and nibble on an incongruous Welsh rarebit at the Café Flore. The neighborhood acquired a new incarnation: Luxury. It settled in the area with those moneyed tourists, driving the louche 24-hour Drugstore Saint-Germain out of business along with so many other institutions. For a price, one could indulge in the luxury of pretentious nostalgia of stepping, sitting, and sipping in the cafés, brasseries, and leafy alleys that philosophers, New Wave filmmakers, Cubist artists, and so many other long-gone figures had frequented.
To attempt to survive, those cafés, the Brasserie Lipp, the steadily dwindling number of bookstores, all had to try to become brands and destinations of their own, to indelibly stamp themselves with the neighborhoodís intellectual history, in order to capture the francs and, later, Euros, of recent tourists and visitors. At its own dedicated souvenir shop around the corner, you can buy Café Flore muslin teabags and café tables and chairs exactly like those you just sat at. These few household names are gentrified, tantalizingly indulgent remnants of a fashionably shabby past, now ensconced among the expensive art galleries and designer shops of an exclusively priced consumerist present.
View this post on Instagram
Those culture dregs are an essence, and if that essence could be bottled, it would sell thousands of gallons among those who think that intellectualism, creativity, and nobility, to say nothing of taste, can be made tangible and transferable — commodified and consumed. And in 2012, Berluti bet on that belief when it acquired the Left Bank outfitters that like a sort of Cubist mirror had rendered its neighborhood's various incarnations in achingly exquisite beauty.
And of course, I had to live there, at the edge of Saint-Germain-des-Prés' multifarious incarnations. Hurrying in the dead of the dark during unbelievably shortfall days down to my Métro station, dodging those gorgeous art students on their way up and out, huge portfolios under their arms as I raced to class with a backpack full of books, so much less glamorous. Spending part of my first under-the-table salary on a coffee at the Flore a few minutes' walk from my room, wistfully glancing at the other patrons who seemed not more intellectual, but far, far richer and chicer than I, since the café had long since gentrified. I loved to wander the back streets of the area, a messy maze that hadn't gotten replanned and redeveloped by Baron Haussmann during the Second Empire, the way that much of the Right Bank had. Dozens of movie theatres showing art films or revivals from any period flattered a lonely student's pretenses of taste and culture, even if a hip-looking bar had no idea what a Martini was.
My neighborhood wanders frequently led me past the vast, beautifully-dressed windows of what seemed like a large and prosperous local outfitter, one I had never heard of, but which seemed well suited to all the identities the area claimed: creative and cultured, with just enough mannered rusticism to hint at a country house in addition to a Left Bank apartment. Gold capital letters spaced out above the windows on each street it occupied spelled out its name, as conclusively as a philosophical proof: Arnys. Under those letters, each of Arnys' vitrines along the corner of rue de Sévres and rue Récamier was a carefully composed vignette of oddly colored, oddly styled, luxurious garments on a backdrop of ancien régime furniture and paneling. I could muse at a colorful umbrella with a solid handle of knobbly bark ash, a dashingly sleek sport coat, or an artfully draped purple pullover in something called Karnak cotton, on my way to and from my other world, a student life of slowly lost illusions.
I admit it, I loved that neighborhood, even knowing it is a tourist's Paris. And I loved that shop even before I knew what it was, never daring to push the door in my student days. The string of lovely old shops, cafés, bookstores, and other establishments around boulevard Saint-Germain seemed to me as sweet and pastel-colored calming as the candied almonds sold at the many chocolate shops in the area. But even conservation areas can lose endangered species from time to time, here as everywhere to the same sort of bourgeois interloper. Year by year, the number of interesting and individual old shops gets smaller — the very old-fashioned Scottish woolens shop Aux laines Ècossaises closed in 2006, the storied bookstore La Hune in June 2015, replaced at its historical address by a Louis Vuitton. (Le Divan was long ago replaced by a Left Bank branch of Dior.) It made the news that there was now only one bookstore, L'écume des pages (named after a Boris Vian novel), left in the area. Each new arrival into a charming area full of character tends to replace a bit of that character with its own. The arrival of international luxury brands dilutes whatever original character an area had, even where that character is the juxtaposition of many, many different incarnations.
View this post on Instagram
The ethos of the neighborhood, the idea of an intellectual, creative, sophisticated yet bohemian Left Bank, Arnys included, drew me back in my new bourgeois incarnation after my student days, settling in a lovely apartment between Montparnasse and the Latin Quarter itself, just in front of the Paris Observatory. Leisurely Saturday ambles would take me from my shirtmaker on the Right Bank, lighting a cigar from 300-year-old tobacconist A la Civette, past the Louvre, to Arnys for a nose in and inspection of the lovely items there, then down Montparnasse to the Observatory.
History runs through the Paris Observatory. After the Battle of Waterloo, a firing squad executed Napoleon's rash but loyal Marshal Ney in front of it (a very martial statue of him stands there today). Future French President François Mitterrand, an occasional Arnys customer, survived an assassination attempt — which he well may have staged — on the avenue de l'Observatoire in the 1950s. Like a ley line of Francocentrism, the Paris Meridian also runs through it: calculated by the Observatory's scientists in the 17th century, the French used this arc as the line of 0 longitude for two centuries. It competed with England's Greenwich Meridian for recognition as the international prime meridian, the locus of mean time around which world clocks are set. Although other nations adopted the Greenwich Meridian in the 1880s, the French didnít stop using the Paris Meridian as their prime meridian until 1911.
In its own way, Arnys was the Paris Meridian of menswear: a store of uniquely and arbitrarily French designs and taste that suggested another timeline, an alternate incarnation of French, rather than British, primacy in how men dressed. It had been the perfect men's store for its neighborhood of claimed intellectual heritage and culture. More than that, though, Arnys lay claim to a Frenchness that pushed back against British, Brummellian restraint and sobriety, as if both Napoleon's defeat at Waterloo and Brummell in all his waspish dicta had never existed. Contra Brummell, Arnys was all about the noticeable. Even when it took a moment for an effect of dashing sleekness to reveal how it was achieved. Arnys' sport coats and suits may have respected the basic grammar of business wear, but pockets were placed just slightly higher than normal for a more theatrical look and jackets were shaped to close higher and to flare out just slightly at the bottom to define the wearer's waist. Most unusually, the lapels of Arnys' jackets had a peculiarly shaped fishmouth notch, an indefinably distinctive look. A look that, I later discovered, Arnys had borrowed from a certain set of Parisian custom tailors. In that way, Arnys asserted a hint of subversive Frenchness in Brummell's triumph, the suit (directly descended from the simple tailored jacket and trousers he had championed), and appropriated for its ready-to-wear tailoring (made in factories in Italy and, later, China) elements of rarefied, exclusive French custom-tailoring.
View this post on Instagram

Now that I let myself enter the shop, I could see how both the décor of Arnys' shop (bleached paneled walls and furniture from the Regency, Louis XV, and Louis XVI periods) and the details of its clothes conjured a pre-Brummellian world. Not only its furniture was 18th century, so too was the ornateness and baroqueness of its seasonal designs — an array of elaborately styled coats, trousers, and other garments that departed completely from the sober correctness of its business wear — as well as the very buttons that ornamented them: thick horn or resin with a metal overlay of the Arnys logo, a cockade-hatted gentleman in breeches. Even those breeches suggested Arnys' allegiance to if not the ancien régime, the Bourbon kings, then at least a pre-Congress of Vienna France, a France before the final defeat of Napoleon and reorganization of Europe. Breeches (culottes) had been for nobles, trousers for the working man. The most vehement popular force in the French Revolution was known as the sans-culottes, those "without breeches" who in their trousers agitated for equality and, later, the guillotine for those Faubourg Saint-Germain-dwelling, breeches-wearing aristocrats.
Arnys' incarnations matched those of its neighborhood. Its founders were the sons of a Ukrainian tailor, Jankel Grimbert, who had immigrated to Paris in 1898 and opened up a shop on the Right Bank, where most of Paris' tailors to this day have their shops. Those sons, Léon and Albert, crossed the Seine to study at the universities in the Latin Quarter, becoming enamored of the Left Bank's vibrant cultural life. After an illness ended Léon's studies, the two brothers entered the family tailoring business but preferred to stay in the same area as their former university. In 1933, they opened Arnys at 14, rue de Sévres, making up the name based in part on the name of the shop whose space they moved into, Lorys.
At that time, the boulevard Montparnasse a few blocks away still was a hive of cheaply rented, cavernous artists' studios. The cafés and restaurants that now live off of their reputations as artists' hangouts really were. And Arnys, too, could lay claim to furnishing the same fairytale cultural life. The Grimberts did not need to show a bunch of famous signatures like the placemats at La Rotonde (still a good place for a late-night oeufs cocotte in the winter). Arnys became a cultural landmark in its own right, its signature apparent in every item it sold, in its precious design and materials, its offbeat, fanciful, Frenchified detailing.
In addition to those identities, intellectual and artistic, a cooperative press came to describe Arnys as a salon for what passes for a new elite, the upper ranks of French journalism and the political class, an aristocratic version of Pop's barbershop in Luke Cage where the powerful of every stripe could congregate on neutral ground.
Arnys' claimed Left Bank identity was anti-bourgeois, contra the complacent bourgeois prosperity of Paris' Right Bank and its Haussmannian order. Even after having become a meeting place for the establishment, Arnys lay claim to the revolutionary heritage of the Left Bank, manifested most recently in the 1968 riots sparked by students that brought France to a halt, caused President Charles de Gaulle to flee the country, and led to reforms to the French university system that the Grimbert brothers — and I — had attended.
In 1987, Arnys even came out with a perfume to commemorate the bicentennial of the French Revolution, Le Jour Se Léve (roughly translated, "Dawn of a New Day"). Why not? After all, it was the (rather ill-advised, in retrospect) revolt of the aristocrats that sparked the events of the French Revolution.
Its gorgeous, preciously designed catalogs were shot in area cafés, in the famous bookstores, in the seats of local art-house cinemas, suggesting Arnys was as much a part of that environment as any of them, perhaps even the uniform for informed cultural life. Others were shot in a saturated countryside, all deep greens and lush colors in the vegetation and the country-style Arnys clothing, or in the splendidly paneled interior of an old Left Bank apartment building, bright and spacious, with a glowingly burnished wooden parquet floor and lush furniture designed by Jérôme Faillant-Dumas' L.O.V.E. Editions, itself located a quarter-hour's walk away in the haughtily quiet side streets of the Seventh Arrondissement. One commentator even noted that those elaborate seasonal catalogs were laid out and published in the same way as the scholarly editions published by the academic houses of the Left Bank. They might as well also have featured the sacrosanct reading rooms of the Sorbonne, where I would gaze up from my literary criticism reading at the frescoes on the ceiling, before returning to read a professor's attack on the Left Bank philosophers and their "intellectual masturbations" in the Saint-Germain-des-Prés cafés.
Decades later, those philosophers are long dead, but their posing heirs remain. Those who can afford the neighborhood, that is. Much of the Left Bank is simply a façade for gentrified wealth. Idiosyncrasy and esotericism now are often just for their own sake, like Arnys in all of its glorious contradiction of a stultifying expensive outfitter for supposed bohemians, a quirky tailor to the establishment Arnys' parallel narrative of a French clothing aesthetic and its studied, sophisticated and lovely items were luxuries, like most dreams and fantasies. It takes time and resources to entertain them. It does not take cultural or intellectual refinement.
For decades, Arnys' marketing used the association with Left Bank art and intellectualism that it gained through its convenient location. Fashion and political journalists contrasted Arnys as a salon for well-dressed intelligentsia with the luxury stores and tailors of Right Bank Paris. Arnys represented a supposed counterculture, even as it dressed Left Bank luminaries like Yves Saint-Laurent and his partner Pierre Bergé, who had become members of the left-wing political and cultural establishment decades ago. Needless to say, all such stores were exclusively expensive regardless of which side of the Seine they happened to be on. (Now, it seems, each bank has its own thickets of similar, if not the same, luxury shops springing up.)
For those who could afford it, Arnys made those fantasies concrete and talismanic. Such was the case of its most famous garment, the Forestiére jacket, designed by Léon in 1947 supposedly at the behest of the architect Le Corbusier, a neighbor on rue de Sévres. Corbu was seeking a comfortable coat that wouldnít ride up when he raised his arm to write or draft on chalkboards or sketchboards. Léon took inspiration from an old-fashioned forest ranger's uniform jacket from the Sologne, a region of France famous for its hunting and aristocrats' hunting lodges. He created a loose-fitting, high-buttoning coat with no lapels, only a band collar that periodically gets mistaken as a politically incendiary Mao collar when a French politician wears one. Because, since that invention, the Forestiére has been Arnys' trademark garment, issued in dozens of off-the-rack versions, each with a special label stating that it was certifié conforme with the 1947 original, in colors and materials from the original corduroy to linen to leather to, one season, a tuxedo version that must have been in wool barathea or mohair. And, always, finished with Arnys' ornate house buttons, those literally dandified ornaments with their little metallic "ARNYS PARIS."
Various writers have emphasized the comfort of the Forestiére, due to that smock-like construction and the sleeve design, called manche pivot (pivot sleeves). Berluti's own site has stated that they were inspired by the exceptionally wide armholes of a kimono, suggesting (contrary to internet wisdom and that of most custom tailors) that large armholes instead of small ones allowed the wearer more freedom of movement. Contrary to most bespoke garments, the Forestiére was not designed to fit precisely, its looseness and ease perhaps other reasons it became so popular as a ready-to-wear garment.
In fact, Arnys thrived during its last half-century (roughly, the period since Léon Grimbert designed the Forestiére) not thanks to its bespoke, not through truly customized tailoring done for the individual, but by mass-producing individuality through fancy details, unusual seasonal designs, and an emphasis on visibly imperfect or apparent handwork. The Grimberts' vision was consciousness-expanding even if, on deeper inspection, somewhat less fulfilling. Similar to my experience trying on a Forestiére.
When they inherited Arnys, Léon's sons Michel and Jean had come to a crossroads: they could have run Arnys like one of the dozens of inferior Old England copies across Europe, selling tweed jackets and wool sweaters to an inexorably declining number of local customers over the decades. Or, they could lean into the most dramatic aspects of their heritage, make Arnys not a Left Bank corner store but the Left Bank writ large for men all over the world. They chose the latter, vocally expressing an intention to reinterpret the clothing of the pre-revolution, pre-Brummell eighteenth century, when, as Arnys in-house designer Dominique Lelys proudly claimed, "you could unashamedly wear color." Spurred by the design of the 1940s Forestiére, the trio created dozens of original seasonal coats, trousers, and other garments inspired by forgotten 18th- and 19th-century military and ceremonial uniforms, by the wardrobes of tumbledown châteaux whose aristocratic owners could no longer maintain them, and by classic cinema. Arnys' embrace of very French idiosyncrasy made its clothes readily identifiable, and itself a cult brand par excellence, not just in France, but in its export markets in the United States and Japan.
Thus, men of a certain taste from Chagrin Falls to Tokyo knew the Forestiére and learned to recognize the M.C. Escher-style prints of the ties Lelys designed. Men all over the world who bought the Forestiére, the stereotypical Arnys jacket, could play at being part of the intellectuals, creatives, and eccentrics who had frequented Arnys' shop, while those of us who purchased the more esoteric, less common Arnys designs could look down our noses at the pretensions of men who bought the Forestiére.
Arnys had at least one thing in common with the intellectuals it claimed to dress: a tendency to overthink. So much of what it had was unique to it and incomparably detailed, from suits to sportswear to the most humble pair of socks (precisely numerically sized, of course, in wool and silk with contrast-colored ribbing), identifiably Arnys. Every item sold in the store was uselessly delicate or decorative, or captivatingly beautiful, right down to their gold cufflinks adorned with pre-ban tortoiseshell from Maison Bonnet (an alluring taboo) or cabochon-studded seashells from Trianon. An accessory as peripheral as a shoehorn had a whangee bamboo handle (for that extra bit of Steed-inspired whimsy) and a horn end.
Arnys even sold pocketknives, not the wavy-handled Laguiole knives known around the world, but more esoteric ones handmade in the town of Sauveterre, whose knifemaking history is far older. The pocketknives had amazing Damascus-patterned blades and handles in precious materials like horn, scrimshaw (carved bone or walrus tusk), or shagreen. And why not? Shagreen harkened back to the discovery of 17th-century French cabinetmaker M. Galluchat that the dogfish and stingray skins that previously only served to sand wood (so hard were the scales) could themselves be turned into objects of ethereal beauty. In fact, the French word for such leather, galuchat, derives from his name.
Arnys also offered a special line of ties supposedly made in the ancient manner, designed by Lelys, the Cravates díatelier. True to Arnys, they were performatively made to look handmade: gorgeously heavy, thickly ribbed silk repp that was completely unlined and folded over seven times. The edges of the tie were loosely rolled by hand like on a fine silk scarf, while the tie itself was messily slip-stitched by hand in a contrasting-colored thread, the better to display the irregular handwork. After all, the necktie was originally a silk scarf that had been folded and knotted in a particular way, invented in Paris. Having owned several of Arnys' Cravates díatelier, that visible hand-stitching was downright sloppy — some have quickly started to come unstitched in a way that handmade seven-fold ties from other makers have not. The ties are also prone to crumpling, since they have no interlining to stabilize them, and some examples were so erratically made that their tips were lopsided. But Arnys' esthetic was to appear artificially artisanal and self-consciously atavistic. You had to buy into a mindset that wore its supposed craftsmanship on its sleeve, no pun intended. Many lovers of fine clothing did not subscribe.
I mentioned that unlike Sulka's last flounderings with suburban safeness, Arnys' sportswear was always elegant and recognizably different. In addition to its physical quirks (such as turnback cuffs or a high stand collar on a jacket that made it look like it was made for Jean Valjean), Arnys also imbued each piece with some part of its identity or some story, especially if the story came from an old film or infamous writer. If not a coat designed for Le Corbusier, then trousers patterned after those of the poet and mad dandy Gabriele d'Annunzio, or jackets inspired by the clothes in Jean Renoir's film La Régle du jeu, trousers like those of the Po valley rice planter in Riz amer. The seasonal collections, like Arnys' ready-to-wear suits, always featured rich materials and beautiful details without ever falling into pedestrian solecisms like Sulka's 1990s wool bomber jackets. In contrast, Arnys could offer a blouson in an unexpected but stunningly perfect coral Donegal tweed, an evening cape collared in the lushest, most luminous swakara astrakhan, or other unconventional and unanticipated, interesting designs, like the Norton, Livingstone, and Solférino jackets. The last of those, for example, was a gorgeous jacket in cotton whipcord (and other materials from season to season) with large brass buttons, a high stand collar, greatcoat-style lapels that buttoned back against the chest, and turnback cuffs whose lining stood out in contrasting colors. Solférino is a nearby street and Métro stop, named for a military victory, and in fact, the Solférino coat is a dead ringer for Napoleon's greatcoat, on display at the military museum in the Invalides, on the other side of the Seventh Arrondissement. Like the Solférino, many of Arnys' seasonal designs bore French place-names, usually either the evocative names of scenic regions of the French provinces, like Anjou, or of places around Arnys' neighborhood, like the Closerie, which evoked the pretty Closerie des Lilas bar and café at the bottom of the nearby boulevard Montparnasse — a block from my apartment. Those stand collars, leather pocket flaps, bound buttonholes, quilted silk linings, and other flourishes always theatrically signaled Arnys, to those of us who knew it. At sale time, customers would receive private invitations to a pre-sale morning. We could always pick out each other out, all wearing our best Arnys in its colors, dashing cuffs, flaring trims, and ornate buttons, coming up the rue de Sévres exit of the Sévres-Babylone Métro station or rounding the corner of boulevard Raspail, congregating on the only store to sell such eccentric clothes. On days like those, one could believe Dominique Lelys' proclamation to the blog For the Discerning Few that Arnys was ìthe last defender of French chic.
My favorite Arnys garment is an unstructured jacket, an extremely soft light green cotton herringbone with Arnys' signature version of the Parisian cran tailleur lapel notch and turnback cuffs, with Arnys' dandy-logoed buttons in horn, half-lined in striped linen. Fittingly, its model name is Cavalier, throwing a glove at the feet of those Roundheads who would humble or even decapitate its pretensions. Cavalier, literally, a horse rider … For centuries, only the privileged classes had the resources to ride, so that horses and riding stood for all that suggested, all an equestrian class took for granted. Yet, for all of my own pretensions, I have never ridden a horse.
To own Arnys clothing only required being cavalier with money, not of the mounted class, and certainly not of the intellectual or artistic firmament as Arnys' press and marketing suggested. Unlike Arnys' ready-to-wear tailored clothing, its baroque seasonal designs were delicately made in France, for a clientele that wished to pose as a certain sort of Frenchness that Saint-Germain-des-Prés and the broader Left Bank embodied: the scholarly intellectual, the 18th-century proto-dandy, the gentleman up from the country (perhaps still in hunting coat), the aristocratic boulevardier. All of these identities suggested leisure, or at least the time for contemplation, analysis, and reflection, which most of Arnys' actual customers, in my experience and observation, probably lacked, given both its prices and the self-consciousness of its clothing. Instead, well-paid, time-poor partners in law or accounting firms wore it head to toe.
Arnys captured my, our, longing for belonging, our longing for entitlement to a world we thought hidden behind the building doors in the side streets of the Faubourg Saint-Germain or disappeared off the bentwood café seats in Saint-Germain-des-Prés, to say nothing of dissipated in mortgages and the complications of French inheritance law, which tied up the ownership of the crumbling manor houses we imagined just off the saturated, verdant page in Arnys' catalogs. That wonderful catalog life called to us. My present incarnation held on to the unfulfilled intellectual curiosity of my student life, so that I imagined populating the sophisticatedly bare apartments of Arnys' backdrop with a well-chosen library from the academic publisher La Nouvelle Revue Française, notoriously, rigorously, simply putty-colored. To be perused, perhaps, sitting in a L.O.V.E. Editions "Elephant" porter chair upholstered in green silk velvet, a juxtaposition of the chic, the bohemian, and the bourgeois. Since those apartments, with their lovely paneling and patinated parquets, were 19th- and early 20th-century constructions in the main, for a growing and enterprising middle class emboldened by the incursions of planners like Haussmann into Paris' complicated pre-revolutionary jumble.
Despite our unwieldy fantasies of being philosopher-princes incognito, a professional by day with an active life of the mind in the evenings, a real intellectual in Arnys, barring the occasional Octavio Paz, is as rare as a real noble flâneur, the gentleman loafer, of our imagination. The miracle of Arnys was creatively designed, beautiful clothes that evoked past and prestige without anachronism. It created an elitism of dramatic details recognizable to a chosen few and intellectual pretension, democratized to anyone who had the money to spend, so not really very democratic at all.
[end of excerpt]
(Swan Songs is available for purchase on Amazon. You can also find vintage Arnys garments at the Hong Kong-based vintage shop Combray. Finally, Arnys' tie designer Dominique Lelys is now designing for the French brand Artumes & Co. Much of that company's aesthetic will feel familiar to anyone who loves the Arnys aesthetic.)
---