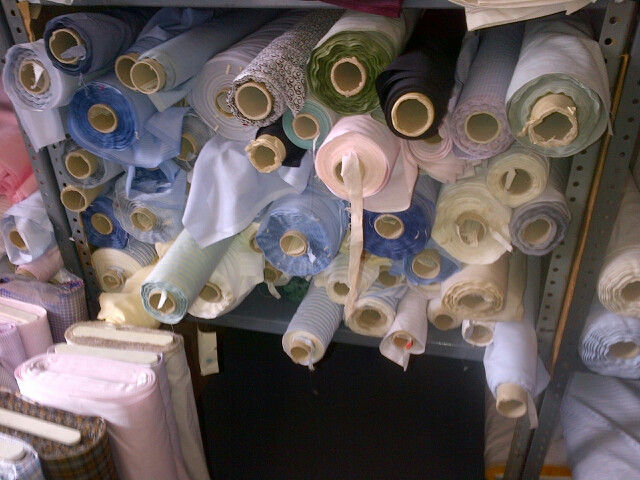 A tip from our friend Carl Goldberg at CEGO Custom Shirtmaker in New York: the New York shirting wholesaler American Sember will be closing. That's lousy news for shirt fans on the Eastern Seaboard, as the company was one of the best suppliers of fine shirt fabrics. In the short-term, though, it's good news for New York clothing fans, as they're clearing out their stock at discount prices, and they're selling directly to customers, not just shirtmakers.
Here are the details from Carl:
This is strictly cash and carry.
There will be fabric available from the following mills
Albrecht & Morgan (Swiss)
Alumo (Swiss)
Grandi & Rubinelli (Italy)
Ferno (Italy)
Testa (Italy)
S.I.C Tess (Italy)
Thomas Mason Silver Line $25-33 per yard and Goldline $40 per yard
D. J Anderson and Soyella $45

The rest of the fabric 36" is $10 per yard and 60" is $20 per yard. (Check with your shirt maker to see how much you will need.)
There are also MOP buttons from Gritti (italy) no white 18L lots of colors
Tuxedo pleatings
Lining for inside collars and cuffs.
Give them a call before you stop by. Here's their info:
American Sember
29 West 30th St #702 btw 5th and Broadway.
212 889-6188
Amsember@aol.com
And if you don't already have a shirtmaker, Carl has offered to make up any 60" fabrics from the sale for $125. He'll do you right. His info is on his site.
---