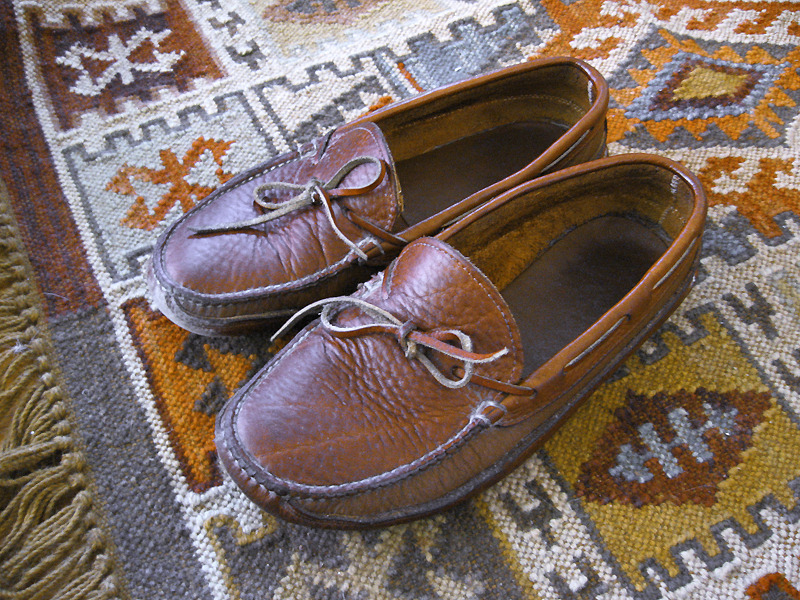 Of all the shoes I own, none get more wear than these simple leather moccasins, which I use as a pair of house shoes. I bought them from Town View Leather after Jesse wrote about them two years ago. Town View Leather is a small family-owned business, located in Central Maine, and operated by people who've been making moccasins since the late 1980s. Yes, these kind of play into the Maine fetish Chris Rovzar recently wrote about, but I think they're without any kitsch or affectation. Their website, for example, is as simple as can be.
Town View Leather's moccasins are handmade, though in footwear, that doesn't mean no machines are involved. For many of the seams – such as the one connecting the thick leather sole to the upper – a sewing machine is used. What's executed by hand is the signature moccasin construction that Maine is known for. That is, two pieces of leather are sewn together, using what's known as a saddle stitch, in order to form the upper and sides of the shoe. The process involves passing two thick needles through the same hole, with an awl first piercing that hole and then guiding one needle through. This gives the area the flexibility it needs while also maintaining a strong seam.
Unfortunately, as Pete said, expensive things aren't getting any cheaper. When Jesse first wrote about Town View Leather, their moccasins were available on eBay for about $60. I think their website at the time offered them for $80. They're now $95.
Still, that's more affordable than the $150-300 you'd pay for similar shoes from Arrow, Quoddy, or Rancourt. Admittedly, when I first got mine, I was initially a bit unimpressed. The heel slipped a bit, and the shoes looked a bit too basic for the price. After wearing about six months, however, I saw how well the leather breaks in and how nicely the shoes conform to your feet (which, by the way, will eliminate any marginal heel slippage). With a pair of jeans or chinos, it's hard to find something more comfortable for lounging.
---