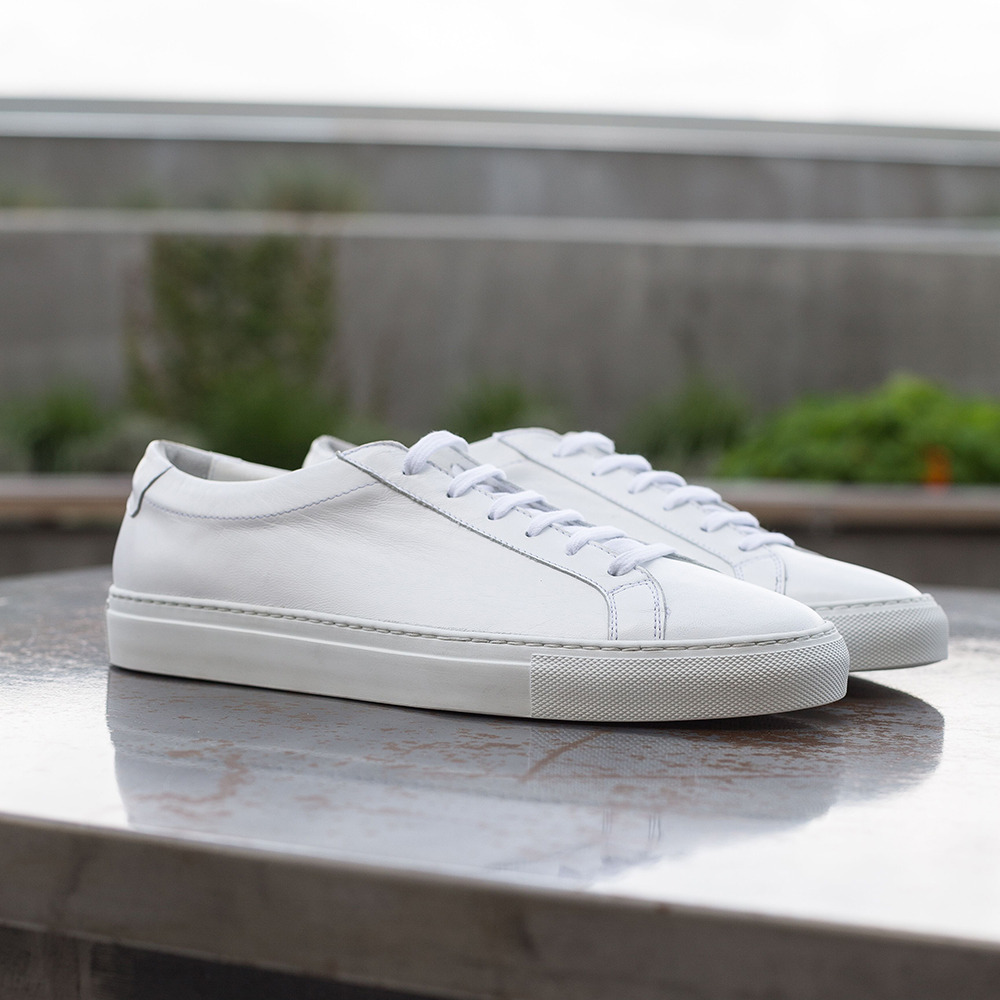 Since our roundup of alternative to Common Projects last year, a few more brands have popped up on our radars. Epaulet has a new line of minimalist sneakers (along with luxury versions of German Army Trainers a la Maison Margiela), and Axel Arigato is a relatively new label offering cheaper versions of the kind of things you'd find at Sneakerboy. Even Rancourt – that preppy, Maine manufacturer – has gotten into the game.
Unfortunately, most of these alternatives hover around the $200 to $250 price mark, which is a good deal cheaper than Common Projects, but still a lot of money. Especially for sneakers (despite the stitching you see on the sole, finding an actual cobbler who can resole these is tough).
Recently, Gustin released what I think might be one of the best options thus far: an all-white design, made-in-Italy model, constructed from Nappa leather and stitched-on Margom soles. Price is $149, which isn't cheap, but it's the cheapest we've seen so far for this kind of construction. The shape is also nice and sleek, which I find makes them a little more versatile. If you're going to wear sneakers with a casual suit or sport coat, it's easier to pair them with something like this, rather than more rounded designs such as Stan Smiths or Saint Laurent Paris.
Of course, we still have to see how they'll age, but it's nice to see them priced more like Nike and Adidas, rather than luxury fashion labels. If you're looking for some clean, minimalistic sneakers, these could be a good option. They also have some made from Horween's Chromexcel if you're looking for something in a non-white colorway.
Disclosure: Gustin is a sponsor of Put This On. However, this post is not paid promotion. Our editorial policies can be read here.
---