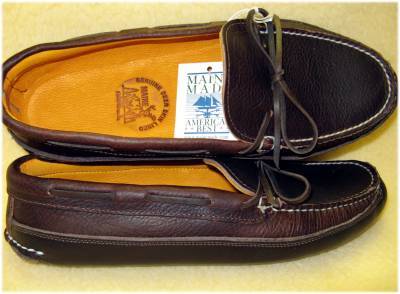 I love the idea of canoe slippers, the Northeastern staple. They're soft, tough leather shoes, suitable for wear indoors or out. Quoddy has gotten a lot of attention in the menswear world the past few years (I presume they have a good publicist), and they make a fine product. There are other options, though.
I have a pair of trail boots by Arrow Moccasins, and recommend them highly. They're comfortable with or without socks, and are my go-to for autumn lounging. They're also hand-made by a father and son team, who answer the phone with charming New England accents. I wore them on concrete for a year or so with no ill effect, but then I got rear-ended in a car accident and found that long walks in such unpadded shoes made my back act up.
The Arrow last is broad and masculine, and I wanted slippers that were a little more refined in shape, so I placed an order with Town View Leather of Maine. They're also a family operation, and their finest deerskin lined mocs still come in at less than a hundred bucks. I've got a foot tough to fit for slip-ons, and I had to return them, but doing so was painful. These are beautiful shoes. You can even buy their basic, unlined model for less than $60 on eBay. If you have special width requirements, they can accommodate at no extra charge, and I received my shoes (in a special width) within a week of placing my order.
If you're looking for soft, comfortable shoes, look no further than these two classy outfits. Hand-made products made by expert craftspeople at reasonable prices: you can't beat that.
---