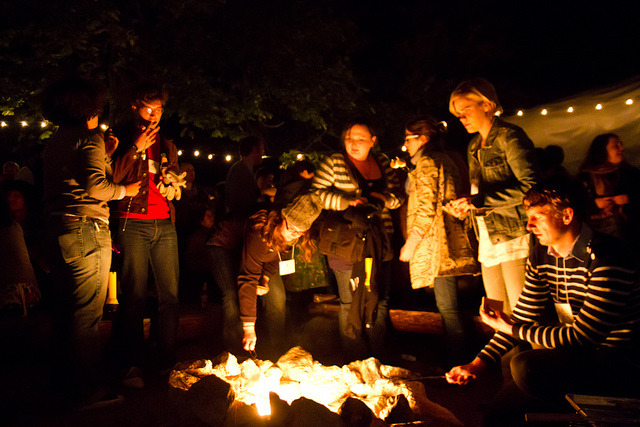 Every year, I host a weekend called MaxFunCon. It's a bit tough to describe to folks who haven't been. It's like half comedy festival, half creativity conference, half grown-up summer camp. There's mind-blowing talks and amazing performances and also people make terrariums in crafting class. We've had performers like The Upright Citizens Brigade with Andy Richter, Marc Maron, Maria Bamford, Al Madrigal, Rifftrax, John Hodgman, Jonathan Coulton, Chris Hardwick and a bazillion others. And speakers like Jad Abumrad, Brooke Gladstone, Lee Unkrich, Charlie Todd (the founder of Improv Everywhere) and more. The best of the best, curated by me.
The next MaxFunCon is coming up in Southern California, June 1st-3rd. We sold out in January, but after assigning the rooms for performers, we've got a few beds open that are available now. Registration includes everything (food, lodging, entertainment, booze, palling around fees). This year's event features the totally amazing Susan Orlean and Mary Roach, John Hodgman, Maria Bamford, Kumail Nanjiani, W. Kamau Bell and many more. It will be spectacular. You can buy tickets now – it really will change your life.
And we've also just announced our first-ever MaxFunCon East this October. People have been begging us to do an East Coast version of the event for years now, but we wanted to get it just right. We've got an amazing lineup already booked (but secret so far), and a beautiful venue in the Poconos. Our friends at New York Public Radio are helping us out (and some of their coolest people will be there). Tickets just went on sale today at MaxFunCon.com.
I know that a weekend of drinking, eating s'mores, meeting public radio personalities and going to comedy shows with people you don't know sounds like kind of a crazy mix, but it's not uncommon for me to talk to people with literal tears in their eyes at MaxFunCon. It's really a special place – a haven for passionate creative people who aren't afraid of a great joke.
I hope I'll see you there.
---