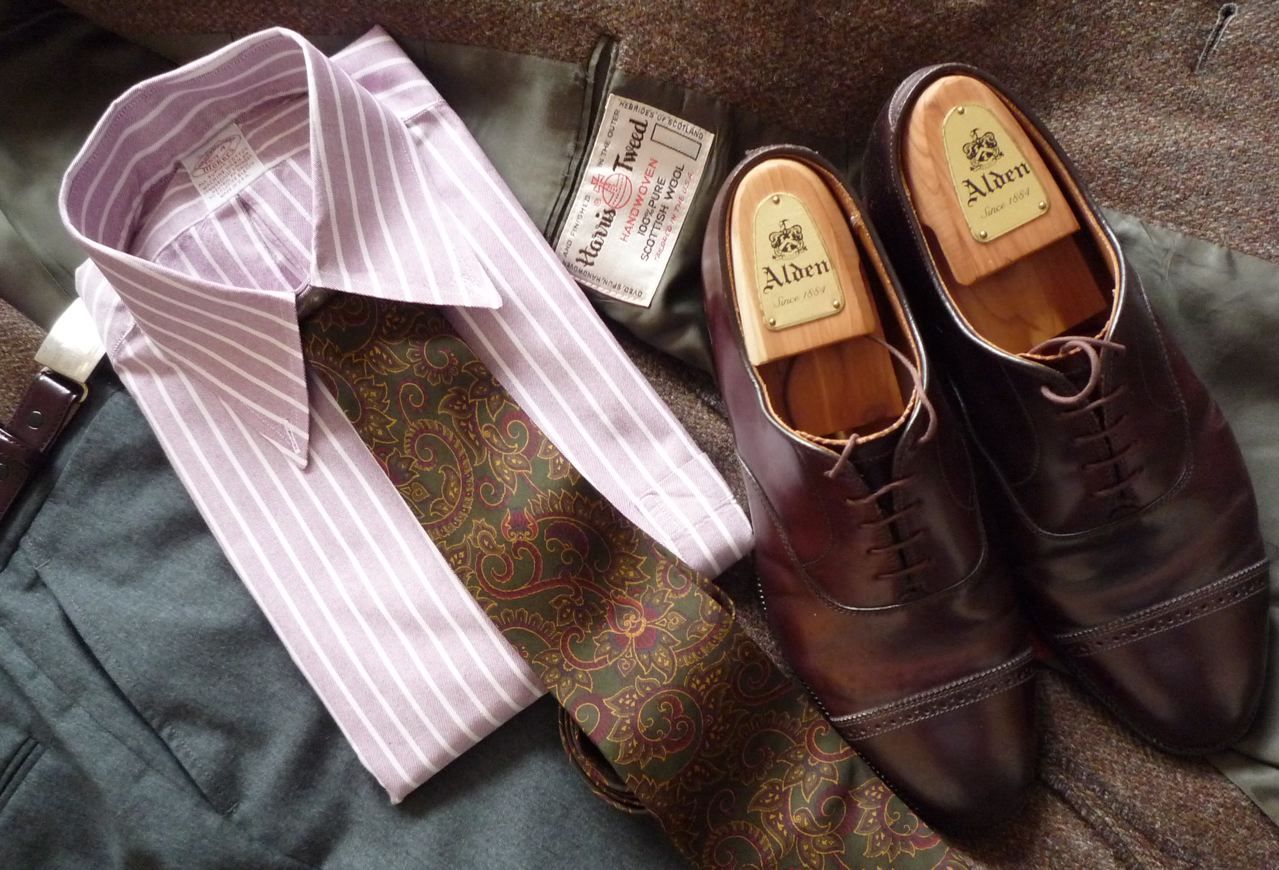 Last fall, I wrote a post about other shirts readers might want to consider after they've built a solid foundation of light blues and whites. The softer shades of pink and lilac, for example, can be easily worn underneath navy or grey jackets for a livelier look, and ecru adds something interesting without straying too far from white. I also like striped shirts in brown, grey, or green, so long as the shirts aren't dominated by those colors, and not combined with similar trousers (e.g. no mid-grey striped shirts with mid-grey wool trousers).
Well, add mauve to that list. I recently found the two photos you see above – the first from Heavy Tweed Jacket and the second from Luciano Barbera's blog. A warm tweed sport coat combined with a comfortable pair of grey flannel trousers is nothing new, but when you swap out the standard light blue shirt for a striped mauve, I think it becomes a slightly more interesting look. These can be worn with your standard fall and winter ties, such as the ancient madders and woolens you see above, and the warm tones all around can be brought out through a pair of shell cordovan shoes made from Horween's #8 leather.
Since seeing the two photos, I've been looking for a nice, striped mauve shirt for myself, but not with much luck. Light pinks and lilacs are easy, but this very specific shade of mauve seems elusive. The one place I found was Cottonwork, who has a version of it here. Cottonwork tells me that there's a very subtle weaving pattern to the material, which is only visible on close inspection. Alternatively, they have this plain weave, but it's in a slightly cooler shade of purple. I'm thinking about getting the first material made into a semi-spread collar shirt with a French placket and no pocket, precisely to wear with things such as tweed jackets and grey flannel trousers.
Note, Cottonwork is an advertiser of ours, but before becoming so, I was a customer (and fan) of theirs for a quite a while. Of the five online made-to-measure shirt operations I've tried, I found theirs to be the best. Their shirts fit me better and were more nicely constructed (e.g. higher stitch count, straighter seams, nicer interlinings, etc). You can create a custom shirt through them by submitting your measurement online, or by sending them your best fitting shirt and asking for it to be copied. To read about how to take advantage of custom shirt programs, you can read my series on the topic here.  
---