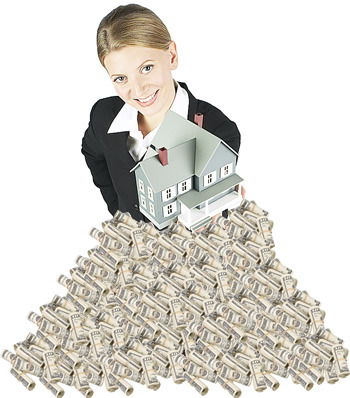 As many of you probably know, when I'm not working on Put This On, I run a little media empire over at MaximumFun.org.  It's totally independent, and I'm very proud to have built it from the ground up.  As a Major Minor Media Mogul, I also often get the chance to meet other folks who've done similar things independently – one of the pleasures of my job.
I've put together a talk called Make Your Thing that I hope will help inform and inspire folks who are thinking about making something for themselves.  It features insights I've gleened from my own experience, and from friends and folks I admire who do similar work.  If all goes well, everyone who hears it will end up like the lady above: proud owners of a pile of money and a very small, slightly abstracted house.
I've given the talk at a couple of private functions, but I'm doing my first-ever public presentation in San Francisco on the evening of Friday, September 18th.  I'm bringing my friend Merlin Mann, who will introduce me, and in so doing transfer some of his hard-earned legitimacy to my fledgling operation.
Tickets are very, very limited.  I hope I will see you there.
---