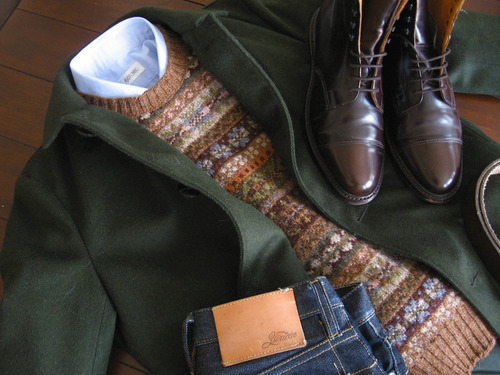 I wrote a post last month about a Loden coat I picked up from Aspesi, and since then, have received more emails about that it than anything else I've ever written. Some people want to know more about the Aspesi coat; others ask where else they can buy one. So, in an effort to put everything in one place, I thought I'd list some options here.
The term Loden refers to a soft, exceptionally durable cloth (usually green) that has a slightly hairy look. For its thickness and density, it's great at keeping out the cold, and because of the natural oils inside the wool, it's fairly water resistant. Most of all, however, it's very beautiful. A Loden coat, then, is simply a garment that's been made from this cloth. The classic model is a single-breasted garment that ends just below the knee. The back is made with a very deep center vent that swings out from the shoulder blades, and the front has a fly opening. It's a peasant's coat, originally worn by Bavarian farmers and hunters sometime in the 11th century. A 1956 article in Sports Illustrated had this great line about it: "Loden is to the Bavarian what tweed is to the Scot – a fabric so long indigenous to its land, of such peasant origins that it has become almost a folk cloth."
Those origins helped make it immensely popular with European preps in the 1980s, but since then, it seems to have been forgotten (though, The Sartorialist had a great shot of a man in Milan wearing one earlier this year). It's still a wonderful, classic coat however. You can wear it with jeans or corduroys; checked shirts or sweaters; and wingtips or boots. Everything that made it appealing thirty years ago, in my opinion, still holds – the cloth, the drape, and of course the color.   
The one I have is from Aspesi, an Italian company most known for their outerwear. The product shot on their website suggests that it's shorter than it is. Mine comes just above the knee, and I'm of average height. I admit I wish it were longer, but on the upside, it's slim enough to fit my unusually skinny frame, and the back comes without the center vent (something I thought might be too conspicuous for my lifestyle). Aspesi also makes two other jackets from the fabric, which you can see here and here, though they're not in the styles I'm focusing on in this post.
For the original design, you can turn to Cordings and Schneiders of Salzburg. I haven't handled their particular Loden coats, but everything else I've seen from them has been of very high quality, albeit a bit fuller in fit. Loden coats really should be worn a bit looser anyway, as you can see in their photos. There's also Loden Haus, Born for Loden, and Lodenfrey, the last of which used to be the most popular supplier, though they don't seem to make them for men anymore (they do for women).  In the US, you can enquire at San Francisco Clothing and Princeton's Landau, both of whom sell quality products.
As usual, men's coats tend to cost a lot brand new. If you can find something vintage, you'll likely pay a fraction of the cost. On the upside, the designs of classic men's coats have largely remained the same since they were codified. On the downside, it can take a bit more work to find something in your size (especially if you're skinny). Easier if you're looking for the ubiquitous pea coat or trench, but harder if you're looking for something niche like a Loden. To start, however, you can try eBay. 
---