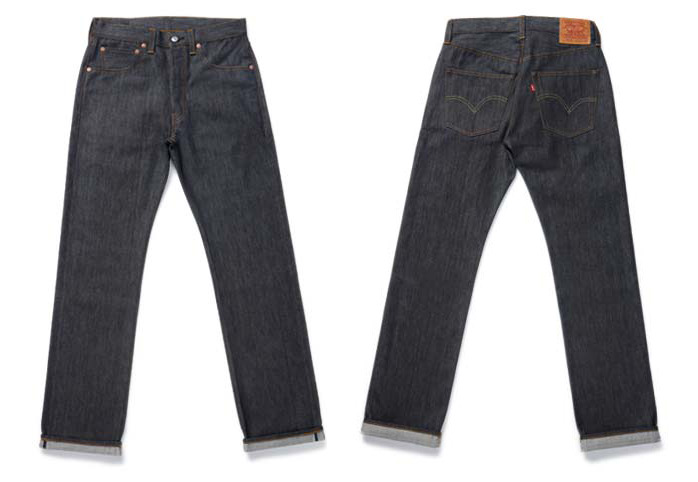 Most high-end jeans on the market today are some version of a semi-low rise, slim-fit cut. I actually like that kind of cut, and wear a slim, straight-legged pair myself, but folks who want something with a higher rise and fuller leg may want to consider the 1947 model of Levis' classic 501s.
The 501s, as many folks will know, is one of the most classic jeans ever designed, but throughout its history, it's gone through a number of iterations (some of them being very differently styled than the others). The 1947 edition was the first one produced after the end of WWII, and as a result, featured details that were previously lost due to national cutbacks in the effort to win the war. The watch pockets were made with rivets, for example, and the back pockets had arcuates (those double needle, "bat wing" stitches). It was also made with a classic slim-straight cut – slimmer than the company's current version of the 501, but with a bit more room in the leg than many slim-fit jeans today. 
You can find the 1947 model through Levis' Vintage Clothing, a sub-line of Levis that specializes in vintage reproductions. Retail price is pretty expensive, coming in at ~$250, but sometimes you can find them on sale (Vente Privee had them earlier this year with prices starting at $55, but that was an anomaly). You can also hunt for a pair on eBay, where they typically go for ~$150-175.
Other good options to consider include 3sixteen's CS-100x, which is based on the 1947 501s. That one is made with the company's signature 14.5 oz raw selvedge denim, which is woven exclusively for them by a mill in Japan. From my experience, their denim fades well, and has the added bonus of being flannel-soft inside when you first get them (though, the denim itself is still rigid and tough). Japanese denim brand Sugar Cane also has a repro, simply called the 1947, as well as two models called the Hawaii and Okinawa. Those are cut just like the 1947, but feature crazier denim and detailing. 
---