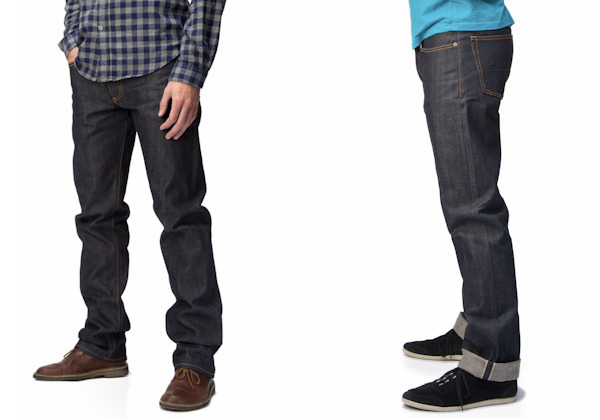 Last week a Kickstarter project came to our attention from the team at Gustin, who is offering their denim at wholesale prices direct to pre-sale customers instead of selling to retailers. The project met its fundraising goal on the first day. 
If you back the project for $81, then you can receive a pair of selvedge denim jeans made in San Francisco from fabric from White Oak Cone Mills. Compared to several other made-in-the-U.S.A. raw denim brands at retail, that's under half what you'd typically see.
Personally, none of us here have had hands-on experience with Gustin denim, so we can't fully comment on things such as fit and construction. There is a sizing chart here, which you can use to compare to other pairs of jeans you may own. For some insight from people who have tried on a pair, Gus at A Bit of Color had some thoughts as does Mark at Simpler Man.
I also wondered about the possibilities of returns or exchanges for Gustin's Kickstarter backers. Here's the response I received from Stephen at Gustin:
We're not going to officially allow returns or exchanges (Kickstarter makes it quite difficult), but we'll do our best to facilitate swapping of sizes if there's an issue. After Kickstarter – absolutely. The goal is to have free shipping both ways. It'll work like Zappos – you can order 3 styles in 3 sizes, and just keep what fits.
I personally think the idea of crowd-funding is an interesting approach to addressing the cost issue of raw denim (and apparently so do more than 800 other people backing the project). I'd just caution looking over the size chart carefully and making sure the fit works for your needs. 
-Kiyoshi
---