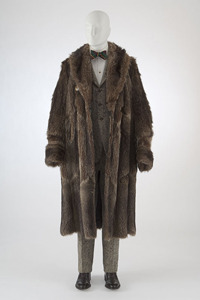 I'm headed out of New York this morning, having taped a few episodes of Judge John Hodgman, enjoyed a San Francisco Giants World Series victory, ordered a few shirts from my friend Carl, and attended WFMU's Radiovision conference. I didn't have a lot of free time on this trip – blame the baby – but I did make time to visit the Fashion Institute of Technology Museum and their lovely exhibit Ivy Style.
Among the sights:
Some stunning tartan sportcoats by Jeffrey Banks, the former protege of Ralph Lauren, author of several menswear books, and sole African-American contributor to the exhibition.
Some delightful Berk slippers, featuring a pair in crescent moon and star theme which match some I bought for my wife recently.
Ralph Lauren outfits pieced together from collections 30 years apart, but sharing a near-perfect aesthetic symmetry.
A Thom Browne Ivy-inspired suit featuring a spiked crotch.
Some genuinely gorgeous bleeding madras in shorts, coats, and everything else.
Some amazing information about a Princeton tradition, still extant, called the Beer Suit. Derived from workwear, it was clothing made to be worn by seniors while drinking, to avoid ruining the good stuff. They look a bit like a painter's outfit, with graduation years and slogans stenciled on. After graduation, the suit was worn to reunions until the 25th reunion, when one could finally wear a class jacket – usually (by the looks of it) a crested blazer.
If you're in New York, don't miss the exhibition, which is free. And don't forget the symposium, which is in just a few weeks.
SaveSave
---