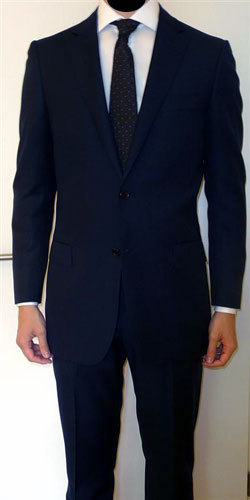 I've been impressed by what I've read and seen from Suit Supply, a Dutch company which has recently opened its first store here in the US. They sell store-branded suits, all of which are at least partially canvassed, in very contemporary styles, for a reasonable price. All sounds great, right?
The downside, though, is significant: all of their suits have functional button holes on their cuffs. This means that the buttonholes are real, open-and-closable, rather than sewn onto the outside symbolically, like on most off-the-rack suits.
Functional button holes are a sign of quality – on a custom-made suit. The reason a custom-made suit can have functional button holes is that the sleeves are cut to a custom length. Once buttonholes are cut, it's major surgery to change the length of sleeves, so they're typically only cut when the customer's exact sleeve length preference is available. That means by a tailor. Once they're cut, they can't be un-cut.
Typically, the cuffs off-the-rack suits come one of two ways. Lower-end suits come with non-functional cuffs, with buttons sewed to the outside of the sleeve. These can be easily lengthened or shortened as necessary – an alterationist just moves the buttons in a $20 alteration. Higher-end suits come with unfinished cuffs, which are cut to length by the purchaser's tailor. This costs more like $50, as the tailor must cut the buttonholes himself.
With a finished cuff, the only way to alter the length of the sleeve is at the shoulder, a complicated and expensive process that doesn't always work perfectly.The sleeve is removed completely, then re-attached. This is always dicey, and often costs about a hundred bucks.
This means that by using functional button holes, an essentially symbolic sign of luxury, Suit Supply has consigned every one of their customers whose arm length doesn't happen to perfectly match the one they've cut to an ill-fitting suit. That's probably what, 75 or 80% of their buyers?
Bummer, huh?
---