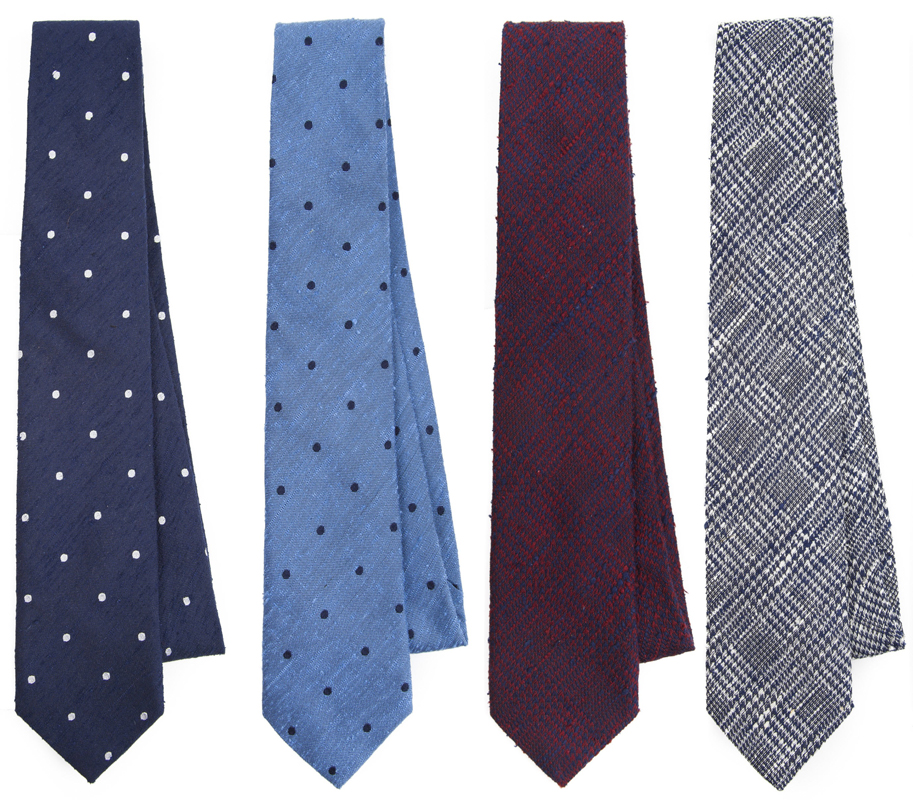 Speaking of raw silk ties, The Knottery now has a selection of them on their website. The regular retail price is $50, but they're doing pre-orders for $38. The navy dotted one looks pretty versatile, and much better designed than the ones offered by Lands End last year. 
The other sources for raw silk neckwear (that I know of) are Drake's, Vanda Fine Clothing, Panta, Marshall Anthony, J. Press, Ovadia & Sons, vintage Ralph Lauren, and vintage Bijan. There may be a couple others out there, but the market isn't big.
Drake's, Vanda, and Panta are the nicest, but they retail between $120 and $150. Marshall Anthony's are also excellent, and I find they sometimes knot better than my Drake's. They use cheaper wool/ cotton blend interlinings, but since those interlinings are lighter in weight, they help balance out the thick fabric of the raw silk. 
J. Press' raw silks are good, but often carry more sheen than I like, and not enough slub for my taste. Ovadia & Sons' selections always look handsome, but I don't have any first hand experience with them. Then there are vintage pieces from Ralph Lauren and Bijan, which are fantastic, but difficult to find. I come across maybe two or three a year, and I'm always on the lookout. 
The difference between those and the Knottery's ties, assuming they're like the grenadine I sampled, is that the Knottery's are machine made and will probably be slightly beefier. On the other hand, they're also much more affordable (about $100 less than most of the aforementioned companies). If you're looking for an affordable raw silk tie, there's probably nothing better than this. 
Update: Jay from The Knottery emailed to tell me they've switched factories and are now offering mostly handmade ties. A nice plus. 
(Sale found via Pete's Twitter)
---