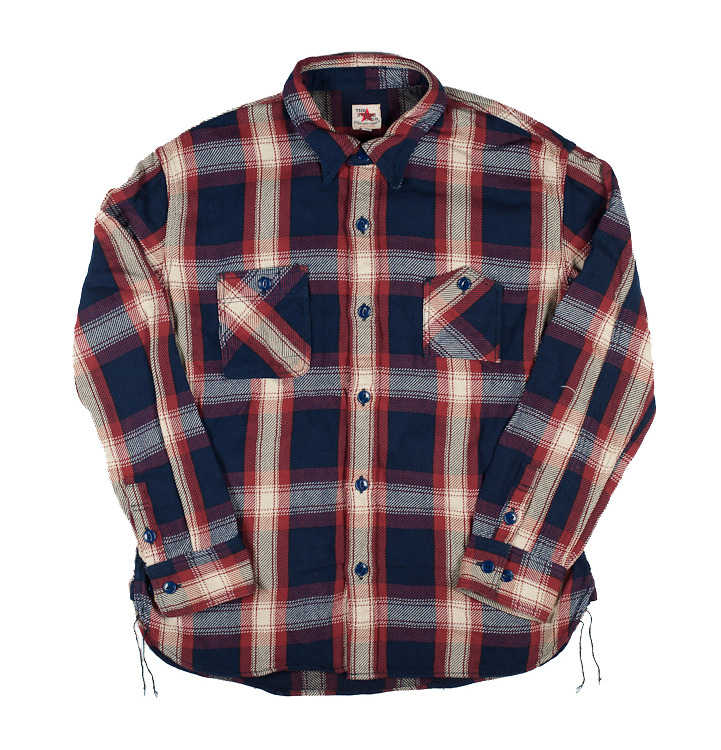 Self Edge is one of my favorite stores. They specialize in great jeans and the sort of things you'd want to wear with those jeans. The only problem is that they're not terribly generous with sales. Once or twice a year, they discount things about 15%. Enough to bring me to their store, but never enough for me to hold off on a full-price purchase (stock is often low and things don't stick around long). 
Every every few years, however, they hold warehouse sales – things from previous seasons that they clear out at discounts of up to 70% off. One of these sales is starting tomorrow (officially opening online at 9am PST), although it seems to be up now. Some things that caught my eye:
3sixteen brown weft jeans: Basically an indigo warp yarn mixed with a brown weft. I find these run true to size. 
Strike Gold flannel: Great looking flannel made from a shuttle loom woven cloth. Would have bought this for myself if the size wasn't so small (be sure to check measurements, as some of Self Edge's stock is on Japanese sizing). 
Stevenson bomber jacket: One of my favorite jackets. I wear mine all the time with jeans and boots (I'm a 37″ chest and took a size 36). Note, it's lined in alpaca and wool, so it wears a bit warm. Good for West Coast winters. 
Stevenson "Mezcal Dreams" shirt: I dig the pattern and the jacquard texture. 
Sugar Cane Fiction & Romance shirt: This one feels like a sleeper. Low-key light-blue fabric with a nice pattern. Seems like the kind of shirt you could wear with anything. They have another shirt that's similar here.
Flat Head down jacket: This looks toasty. Careful with the measurements since down adds bulk. For what it's worth, I find that I'm usually a size 38 in Flat Head's outerwear. 
Lady White Company: I really like this new t-shirt company, although I prefer the Clark model to their Oarsman. The second is made with a wider collar line for a "drapey" look. A lot of guys apparently go true-to-size with this, although I find I have to size up. 
Ace engineer boots: I really like engineer boots – a distinctive motorcycle style – although you really have to go all-in with the workwear stuff to make them work. Wear them with wider legged jeans and a rugged jacket. 
You can check out the rest of the warehouse sale here. Note, they're marking prices down every few days until the backlog is cleared out, so check back if you're looking for better deals. Also note that all sales are final, so be sure of your sizing before you buy. 
---