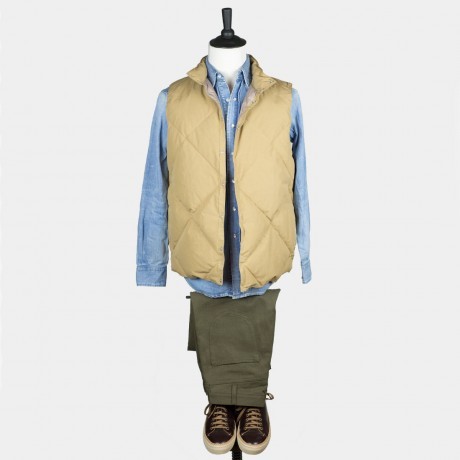 One of my favorite shops, No Man Walks Alone, started their end-of-season sale this week. Select items have been discounted as much as 35%, although you need to log-in with an account to see the prices (new accounts are fine). Some things I particularly like:
Kaptain Sunshine Down Vest: Light layering pieces like this are great for late fall and early spring. This one from Kaptain Sunshine, a niche Japanese label that takes inspiration from vintage Americana, is a little more interesting than what you'll find today at LL Bean. Wear it with jeans, fatigues, or five-pocket cords, along with chunky sweaters and old chambray shirts. The vest also comes in blue. 
Kaptain Sunshine Traveller Coat: A heavy coat made from high-density Melton wool. Will keep the rain off your back and make you look damn good. I love the slightly relaxed silhouette. See Kyle wearing it here with a cabled turtleneck sweater and some light-washed jeans (which are also on sale).
ts(s) Quilted Sport Coat: Lots of designers these days have their own riffs on traditional menswear. Things like this quilted ts(s) jacket are a little easier to wear with jeans since it straddles the line between sportswear and tailoring. I bought one earlier this year in blue, although it also comes in light gray and charcoal. 
Merz b. Schwanen Henley: I've been wearing henleys a lot this past year (more in the warmer months, obviously). They're a little more interesting than t-shirts, and go well under casual outerwear (such as that quilted sport coat above). This one from Merz b Schwanen was made on old 1920s-1960s tubular knitting machines, which allows them to produce the henley without any side seams. 
Barbanera Shoes: An Italian footwear company with English sensibilities. Goodyear welt constructions; conservative designs. On sale, these are a great value for anyone looking to add a pair of dress shoes to their wardrobe. I like the single monks. The style always looks a little goofy on screen, but they're tremendous on feet. A bit more elegant than double monks and a little more interesting than wingtips. 
Chapman Holdall Bag: I'm traveling this month and I wish I had this Chapman holdall. The military-esque design was inspired by British paratroopers drop bags used during WWII. Looks like a great weekender if you need something to carry just a few days' worth of clothes. 
Note, all end-of-season sale items are sold on a final-sale basis. I find the team there are good at giving sizing advice, if you need. 
---