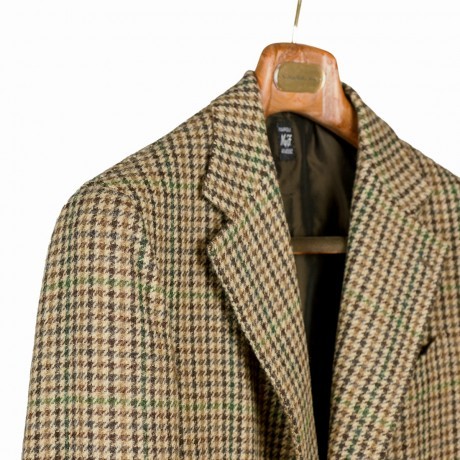 One of my favorite stores, No Man Walks Alone, is starting their Black Friday sale early today. They have a great selection of classic tailored clothing, but also more interesting casualwear pieces for guys who wear sport coats during the weekdays, but want something for the weekends. For the next week, you can take up to 30% off almost everything in their shop (prices are as marked). Some of my favorites right now:
Sartoria Formosa tailoring: Formosa is known for their bespoke tailoring, but their ready-to-wear line is made to the same standards. Softly tailored with a fuller chest and slightly extended shoulder, it's one of the easier cuts to wear. My favorite right now is this houndstooth tweed, but the whole line is great. 
Slouchy Camoshita overcoat: I've been really into slouchy, slightly oversized coats lately. This one from Camoshita looks perfect. 
Eidos Donegal topcoat: Something a little slimmer. I tried Eidos' overcoats recently and thought they looked just as good with tailored clothing as they do with jeans and a sweater. Would wear this one with black jeans and a henley. 
Valstar Balmacaan coat: Can you tell I'm really into overcoats right now? I like the idea of wearing this with cords and Tyrolean shoes, like this guy. Or with a tweed, grey trousers, and some suede shoes like our friend Bruce Boyer. 
James Grose leather jackets: An old British heritage company for leather jackets that's been recently revived by a Japanese designer. I really like this brown suede double rider, but the whole line looks great. 
Kanata double-eagle cowichan: Cozy and plush 6-ply cowichan. Entirely handknit in British Columbia by Cowichan people, which gives it some nice provenance. Pair it with jeans and chunky boots. 
GRP navy turtleneck sweater: I'm skeptical of turtlenecks too, but they can look great under sport coats and leather jackets. This one from GRP has some interesting texture, but if you want something simpler, check Stephan Schneider. 
Master Piece Tenor backpack: I bought one last year and find it's incredibly useful if you have casual outerwear in black or charcoal. The waterproof construction makes this nice for rainy days as well. 
Paprika Begg scarf: Rust is a great color for fall and winter accessories. Goes handsomely with blue, green, and brown. Unlike some lambswool/ angora Begg scarves on the market, this one is long enough to tie around your neck a couple of times. 
Frank Clegg English briefcase: One of my favorite briefcases. Frank makes all of his own stuff in Massachusetts, and gives a lifetime guarantee against defects. Should you break one of his bags from regular wear and tear, he even has a repair service. 
Note, all sales are final. You can get sizing advice by shooting them an email. 
---