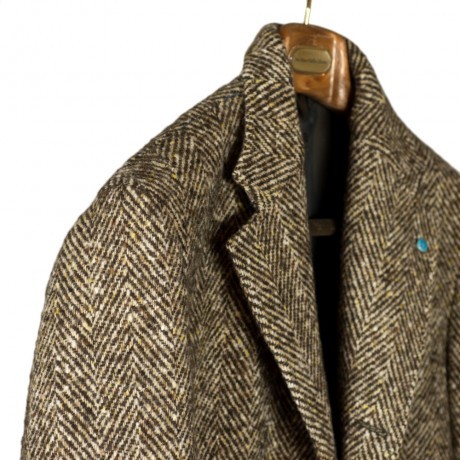 No Man Walks Alone just dropped prices in their sale section, where you take an extra 25% off already-discounted knitwear and outerwear with the checkout code FINAL25. Some stuff that caught my eye:
Mackintosh bonded cotton raincoat. I like the brown corduroy collar and riveted pockets on this model. 
ts(s) deck jacket for those like the ruggedness of the original naval design, but want something that looks more contemporary. 
Kanata cowichan cardigans, in both cabled and bison motif designs. For what it's worth, I measure 37″ in the chest and take a 38 in Kanata, with the bison design fitting slightly slimmer than the others. 
Valstar leather jackets in brown and green. A nice, conservative design that you can wear with either jeans or tailored trousers. 
Lots of Eidos overcoats. This tweed herringbone looks great. 
Tons of Scott & Charters knits, including crewnecks, turtlenecks, and cardigans.
ts(s) "birdwatching" jacket. I don't know if it's the name or the fuzzy texture, but I like it. 
Stephan Schneider Memory coat. I have something similar that I wear with black jeans and grey knits. These are s slightly progressive in terms of design, but still easy to wear. 
Monitaly zippered varsity. Somewhat similar to a leather Margiela jacket I've been wearing a lot lately, but a bit more playful. You can see an old version of it being worn here by Kyle in NYC. 
For things in their sale section that aren't outerwear and knitwear, you can also take an extra 20% off with the code EXTRA20SALE. Note, all sales are final and the promotion ends in five days. 
---