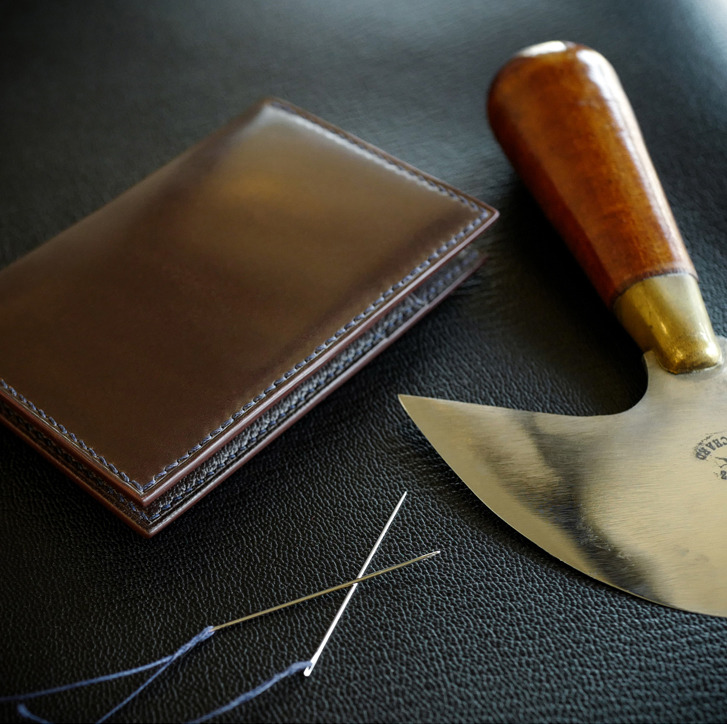 The idea of cutting out the middle-man is can be such a gimmick nowadays in online marketing – often used by companies that are making Gap quality clothes, but selling them at Ralph Lauren prices. Sometimes, however, there's no better way to describe a business model. Over the years, I've been really impressed by Chester Mox, a small leather goods company based in Los Angeles. Here, you're not just buying direct from the company, which cuts out retail mark-ups, you're buying directly from the woman who makes each item.  
A few years ago, Bellanie (the woman behind Chester Mox) graduated from an apprenticeship with a former Hermes craftsperson. No exaggeration: her work nowadays is just as nice as the stuff you'd find at Hermes (albeit sold at a fraction of the price). Everything is handsewn using a technique called saddle stitching, and the edges are hand painted and burnished. She also uses leathers sourced from Hermes-owned tanneries. 
They key, for me, is how those seams look and perform. They're a lot stronger than machine sewn seams, but also look a little nicer since they don't have the large, visible holes that comes with machine stitching (you can appreciate the difference a little better on Chester Mox's Instagram). For people who appreciate handmade goods, that sort of detailing can make for a really nice effect. 
Recently, Chester Mox picked up some new Italian shell cordovan. The material is just as glossy and beautiful as Horween's, but it has a more consistent thickness throughout, which Bellanie tells me makes it easier to use. Apparently, sometimes with Horween shell cordovan wallets, one side can be a lot thicker than the other. Maybe most important for consumers: Italian shell comes in many more colors. Since Horween's shell cordovan production has been backed up for years, it's hard to get anything but their #8 eggplant-y brown. Italian shell, on the other hand, comes in everything from dark chocolate brown to charcoal slate gray to British racing green (see above).
As an introductory offer, Chester Mox is offering a 30% discount on their new shell cordovan wallet – the bi-fold you see at the top of this post, which is designed to hold six cards and a bit of cash. The outside is made from Italian shell cordovan, while the inside is fully lined in French Chèvre (a strong, textured goatskin). Since each piece is made-to-order, everything is customizable – the colors, the threads, and even a personalized, hot stamped monogram (should you want one). To see the options, first click "Shell/ Chevre" on the page, then click "Personalize It." You'll then get a new pop-up window. 
The sale is running until Wednesday, July 26th. Customers can use the code "ShellDisc" to bring the price down from $250 to $175. The price isn't cheap, even with the discount, but Brooks Brothers is selling machine-sewn shell cordovan card cases for $288. For a fully handsewn version, made-to-order with customizable options, Chester Mox's prices represent a uniquely good value. 
---