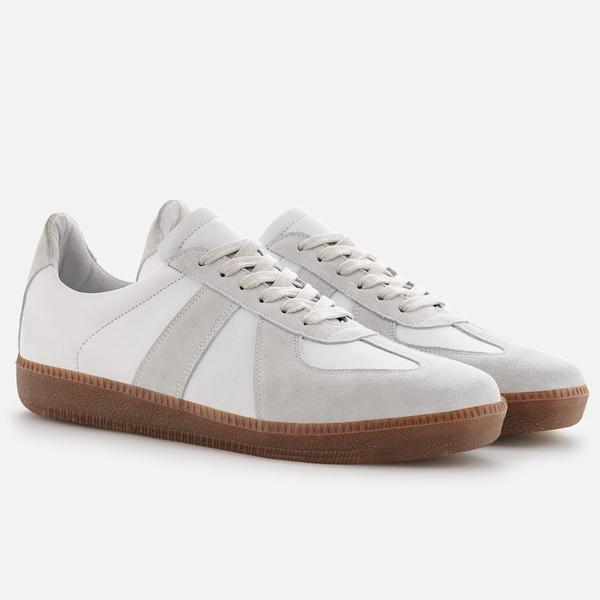 Beckett Simonon just released their first pair of sneakers. They're modeled after German Army Trainers, a kind of gym shoe that German recruits used to wear in the 1980s and '90s. You can find the genuine article these days on eBay, Amazon, and Grailed for about $50, but you have to hunt if you want something box fresh (we have a guide on how to score a pair here). Most of what you'll find is second hand. 
Beckett Simonon's version features a suede middle panel, which pushes them a little closer to Maison Margiela's replica of the same design. The main difference: Beckett's version is a little sleeker (maybe even too sleek for some). For a casual sneaker with a suede panels on the toe box, these could be a little more rounded. 
Still, I have a pair of Margielas and count them as among my favorite sneakers. They're sportier than Common Projects' Achilles, but easy to wear with anything short of tailoring. I use mine with everything from bomber jackets to field jackets to cafe racers. White here will be your most versatile option, which can be worn with blue jeans and olive fatigues. 
As mentioned, the originals go for about $50. Margiela's version retails these days for about $500, but you can get them for about $300 on sale or on eBay. Beckett Simonon has priced theirs at $250, but they're on sale right now for $149. And for the next twenty-four hours, you can knock them down to $99 with the checkout code MORGEN. Depending on your budget and taste, these might be a good option between the two. 
Note, like Gustin, Beckett Simonon runs on a crowdfunded pre-order model, so these shoes won't ship until September or so. 
---