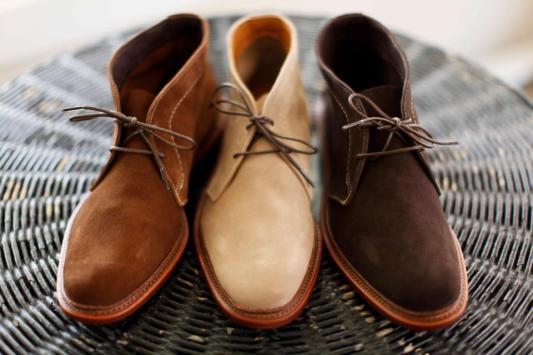 I'm told that Allen Edmonds is discontinuing their Amok boot, which is a shame because I think it's a nice, affordable alternative to Alden's suede unlined chukka. Like Alden's, the Amok is unlined, so the suede uppers are very soft and wear like slippers. The single leather soles are also oil-soaked and very flexible. The only real difference between the two is that Allen Edmonds' is slightly sleeker in shape, whereas Alden's look a bit more casual. Which one you prefer is all up to taste.
On the upside, they're on pretty heavy discount right now. They've gone from $250 to a clearance price of $147, and with an extra 25% taken off at checkout, that puts them at ~$110 before taxes. You can get them in chocolate, tan, and snuff suede. They also have their Malvern chukkas on sale, but at a more expensive $185 price tag (again, the additional discount will be given at checkout). 
Promotion ends Tuesday.
Update: Looks like the shoes all sold out! Congrats to folks who got in on a great deal.  
---