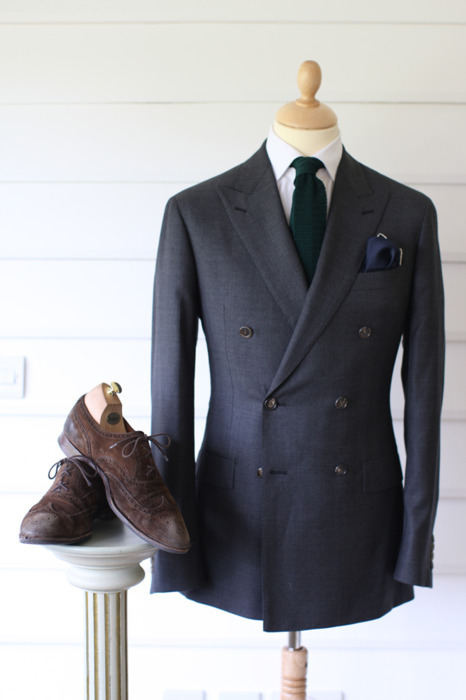 Cooper Frederickson, who used to be one of my favorite bloggers (until he mysteriously stopped … why Cooper, wwhhyy?!), sent me an email about two wonderful green ties. The first is a forest green linen from Sam Hober. Linen ties are great during the summer and the green here makes this one just a bit more unique.
The second one Cooper recommended is my favorite of the two. It's a green 50oz printed silk tie with light blue and off-white accents. It's sold at Ben Silver, but made by Drakes of London. The light blue and off-white accents here are perfect since it can help pick up the light blue in your shirt or a cream silk pocket square (both of which should be staples in your closet). I have a custom-made tie that's very similar and it's absolutely one of my favorites. 
I couldn't find any good modeling shots with the either tie so I went the picture above. There's so much inspiration and instruction here though. Note:
No collar gap. Notice that the collar points on the shirt stay neatly tucked under the jacket's lapels.
Green paired with gray (the awesome combo I talked about last week)
Double breasted jacket with perfect peak lapels
Perfectly selected pocket square. Notice that the square isn't overly matchy – it stands on its own in the outfit and has complementary, not matching, colors. At the same time, there is a nice white trim detail that helps pick up the white on the shirt, but it's a small enough detail to not look like you bought the tie and pocket square from the same set (or shirt and pocket square).
Worn-to-hell suede wingtips. 
Throw in the accompanying gray trousers and this is the perfect fall look. 
---