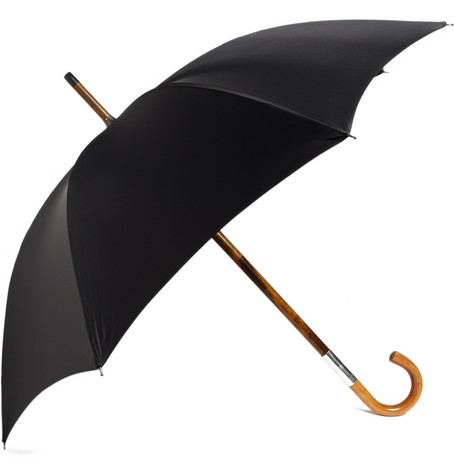 I was just at a bar last night and realized how easy its been to finance my menswear interest since I've stopped drinking. It's not that I'm an alcoholic, but you go to a nice bar a few times a week and it gets to be a pretty serious monthly expense. When I was in my mid- to late-20s, that was where all my money went. 
There's one way to enjoy menswear and booze at the same time though – buy this Swaine Adeney Brigg concealed flask umbrella. It's the classic quintessential gentleman's umbrella, but this time with a detachable handle. Pop the handle off and you'll reveal the glass drinking flask with rubber stopper concealed in the body. 
Fill her up with some Oban, bring her to a bar, pour yourself a nice drink, and you've just saved yourself some money. Do it enough times and you'll finance the cost of the $770 Brigg. 
(hat tip to Mister Crew for the original link)
---