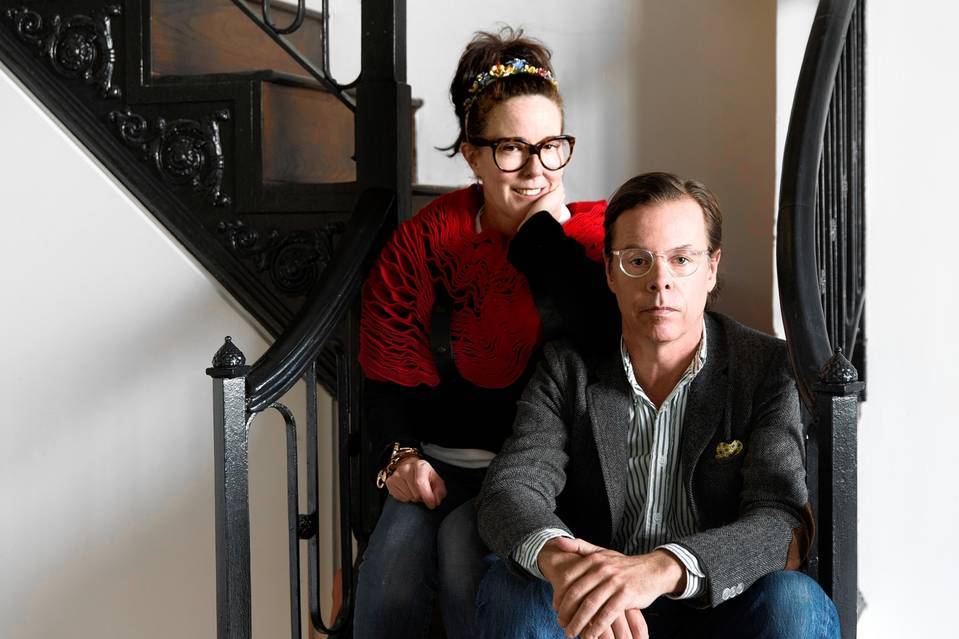 StyleForum had a good thread recently about how to wear sport coats with jeans. For some, the combination is so automatic and so widely accepted, it's become somewhat synonymous with business casual. Throw on an old tailored jacket in your closet, and then dress it down with some denim. What could possibly go wrong?
In reality, dressing down a sport coat requires a fine eye. We've written before about how you can read formality in tailored clothing. The difference between a tan linen sport coat and dark worsted suit should be obvious, but even subtle details such as patch pockets, swelled edges, and rounded sleeveheads can make a difference. It also helps to know how to wear a tailored jacket without a tie (although the reverse, wearing a tie without a tailored jacket, is always a bad look).
You can knock the formality down a bit further by wearing jeans, but the territory here is filled with landmines. It helps to pay attention to certain details in order to get the look right:
Don't Use a Real Sport Coat: The easiest way to wear tailored clothing with jeans is to not use real tailored clothing at all. Something like this knitted Engineered Garments jacket, for example, is closer to casual outerwear than something that would come out of a tailor's workshop. It still has lapels, patch pockets, and the general shape of a sport coat, but it's not the sort of thing you'd wear to a formal office. These jackets are almost always safe with jeans.
Use the Right Sport Coat: If you want to wear a traditional sport coat, find one where you don't have to bridge such a big divide in terms of formality. In other words, find a jacket that's inherently casual. Very textured jackets, especially ones with a rustic sensibility, are good choices. So, think tweeds, corduroys, and linens. They have a casual, rustic nature that plays well with the workwear sensibility of denim. Certain cuts also work better – shorter jackets, rounder sleeveheads, softer shoulders. If the jacket looks like it could be part of a business suit, it doesn't belong with denim.
Use the Right Pair of Jeans: Most jeans have a low rise, which means they can look odd with tucked-in shirts. Instead, try to find a slim, straight leg that comes up to your hips. They shouldn't fit like tailored trousers, but they also shouldn't sit overly low. Dark denim is easier to pull off, just because it'll look a bit dressier, although washed jeans can also look great with the right jacket. Cuffing is a matter of preference.
Get a Slightly Casual Shirt: Again, to get a coherent look, you want to keep everything slightly casual. Instead of that white, semi-spread collar broadcloth, find a shirt with a bit more texture or pattern. Oxford cloth button-downs are a natural choice, but you can also go with a bolder stripe or plaid. To get around the dress shirt problem altogether, wear a sweater.
Accessorize Well: Keep things looking natural and easy. That means no ties (they can look contrived with jeans) or formal dress shoes. Instead, go open collar and wear things such as suede chukkas or penny loafers. If you want, you can accessorize with a pocket square, but it's also perfectly fine to go without.
A good 90% of this is about finding the right jacket and pair of jeans. When we surveyed some of our favorite stylish guys (many pictured above), we got suggestions for Levi's 501s (everything from Levi's mainline 501s to their upscale LVC 1947 and 1954 versions of 501s to actual vintage 501s); Full Count 0105; Orslow 105; Warehouse 1002; The Armoury '60s cut, and Epaulet Wilshire (sold out, but may come back). I occasionally wear sport coats with Drake's jeans, which are made for them in London by Blackhorse Lane. They're a slightly modified version of Blackhorse Lane's NW3 fit, which I think could also work with tailored clothing.
Maybe the most surprising suggestions of all: American Eagle, J. Crew, and Abercrombie & Fitch (all slim-straight legged models). Those could be great for someone not looking to spend beaucoup bucks on denim. Just pay attention to whether that rise works with a tucked-in shirt.
(Pictures of Andy Spade via GQ. The other men featured above, in order of appearance: Mitchell, Peter, Richard, Patrick, George, David, and Gus)
---