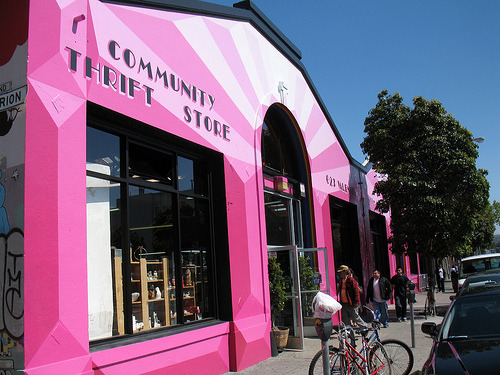 Thrifting is an immensely rewarding hobby, and a great way to find great clothes on a budget, but it only works when you're visiting the right stores. Yesterday we covered the basic philosophy of thrifting. The second part of our three-part series on thrift store shopping for menswear is all about finding those stores. Here are eight tips to help you find the best thrift stores.
Good neighborhoods mean good thrift stores. Generally speaking, the more affluent and deep-rooted the neighborhood, the better the stock. Your best bet are older, richer neighborhoods with long-standing residents. There are good thrift stores in lousy neighborhoods and lousy stores in good ones, but you want to go to where people who can afford to donate good stuff will go to do their donating.
Ritzy charities have ritzy thrift stores. Most thrift stores are non-profits that benefit charities. Look for stores that benefit local charities with a moneyed donor base. Local institutions like the opera or symphony are good bets, as are private schools or civic organizations. Richer people give better stuff, and if people are donating because they care about the organization, they give more freely.
Avoid the cool kids. Any area with a large student population or a lot of young creatives will have less stock in stores. In short, they'll be picked-clean. 
Look for stores that rotate their stock. When you visit a store a few times, notice how much their stock rotates. More fresh stuff means more chances to find something great.
Avoid for-profits. Many parts of the country have been infected with for-profit thrift chains like Savers. The quality of merchandise is lower (people are giving simply because their stuff has no value to them, not to benefit a charity), the prices are higher and you won't get the satisfaction of helping a non-profit.
Ask about stock distribution. Some chain thrifts put out stock solely from in-store donations. Some have centralized distribution of stock. Ask a clerk where the stock comes from – you'll know how much to consider the neighborhood.
Look for clusters. Thrift stores tend to cluster on high-traffic, low-rent streets. Look for these clusters and use them to your advantage when shopping. I've got a couple of "routes," and they're all based on these clusters of shops.
Follow your instincts, but check them, too. Usually bigger stores have better stuff (it's a numbers game), and usually nicer stores do, too. Don't just trust your first impression, though. Look through the merchandise on a couple of different days. Even if you don't find something perfect for you, you should be able to get a general sense of quality.
Ask a friend. Strangers on the internet won't share their secret thrift store hot spots with you, but a friend will. Share information with your thrifting buddies, and if they give you a great tip, grab them something nice while you're out.
Use the internet & make a map. A search with Google Maps or The Thrift Shopper will turn up thrifts wherever you are. I use Live Maps to make a map of all the thrifts in the region, and leave it in my car for when I'm out & about.
Read the two other articles in our series: Thrifting Philosophy & Getting the Good Stuff
---