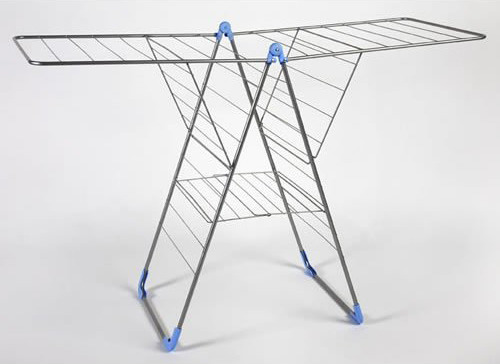 An electric, heat-conducing dryer is the enemy of all clothing. Cotton fibers are supposed to have some humidity in them, but when they're run through a dryer, they become brittle, break, and eventually take on a dull, worn-out appearance. In fact, all that lint you find is composed of the yarns that your dryer has robbed. Plus, dryers shrink clothes and crack mother-of-pearl buttons. They're really quite terrible. 
Thus, I strongly recommend that you hang dry. This past summer, Jesse put up a clothesline in his backyard. As you can see, you should hang your clothes upside down with clothespins. This will help you avoid pinch marks on your shoulders. 
The other option is to hang dry them indoors. You can use regular clothes hangers for this. If you don't want to get creases on your shoulders, throw wash cloths under them. 
My own practice, however, is to hang things on a clothing rack, which I place either indoors or outdoors, depending on the weather. Mine looks very much like this (though it's not this exact model). There are many designs on the market, but I like this one because it has racks on racks on racks (sorry, had to) for my slacks on slacks on slacks (had to again). The greater amount of hanging space means I can fit about two loads of laundry on it. I also prefer metal to wood since I find it much sturdier. When it's not in use, it folds up into a flat, thin frame and is stored away. 
This method obviously takes longer than a using an electric dryer, but it will add years to the life of your clothes. If you have lower-quality garments, like Hanes athletic tube socks, I'm sure it's not the end of the world if you throw them in the dryer. For higher-quality garments, however, let them hang dry. If for some reason you must put them in the dryer, at least use the "no heat" setting.
You can buy a good clothing rack for between $30 and $60. Just look online, perhaps on Amazon, or go to your local Bed, Bath, and Beyond. It's not the cheapest purchase, but when you consider how much you'll save in energy bills and replacing clothes, it's a smart investment. 
---