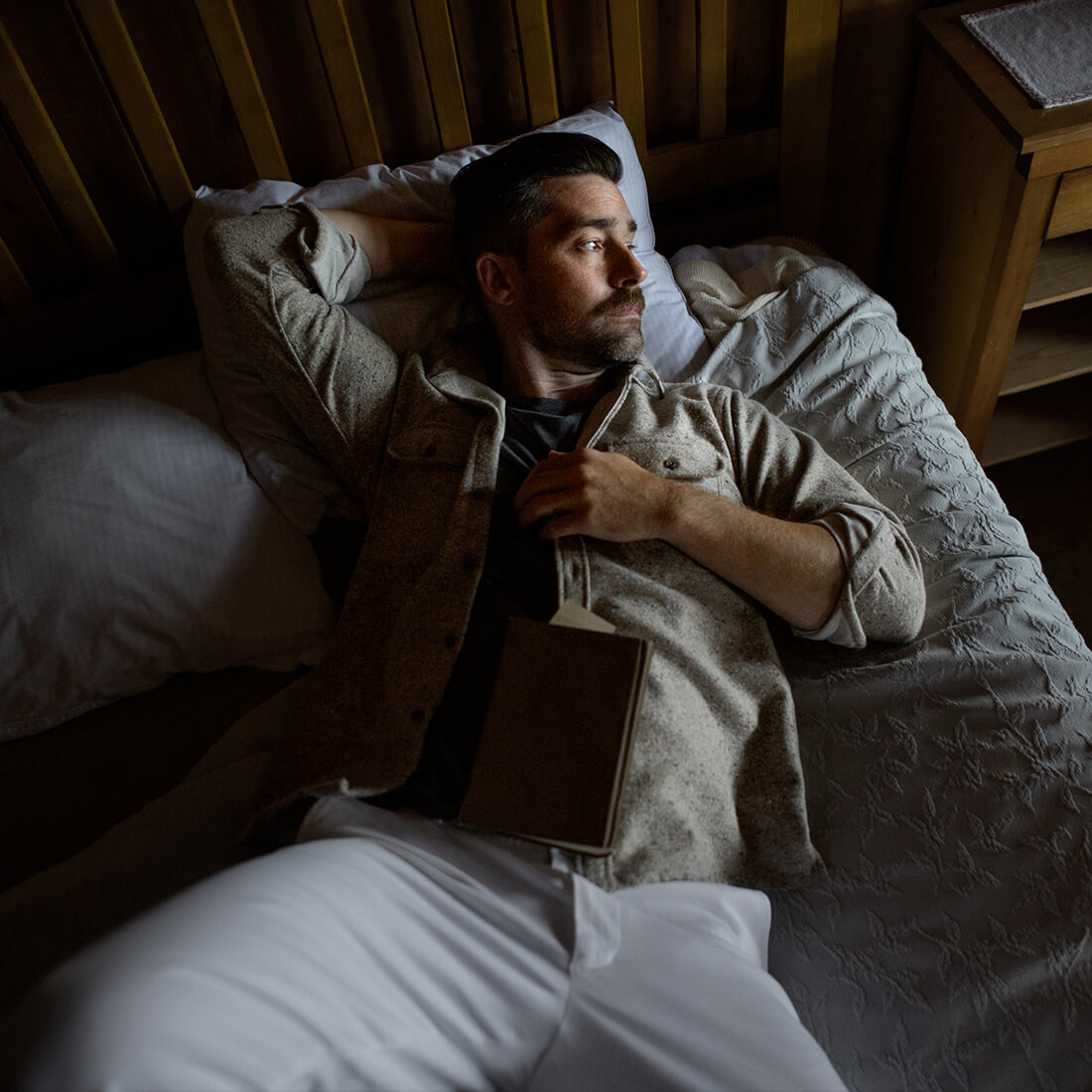 When the first US lockdown happened in March, I wondered if clothing would mean anything anymore. Confined to our homes and with nowhere to go, who would find the time to iron a shirt, let alone find reasons to buy new jackets, shoes, or even pants? Clothing is, in many ways, performative. American sociologist Richard Sennett instinctively knew this when he wrote his book The Fall of Public Man, a history of public spaces and culture in New York City, Paris, and London. People dress at home in very different ways than they dress for the public. "At home, one's clothes suited one's body and its needs," he wrote, "on the street, one stepped into clothes whose purpose was to make it possible for others to act as if they knew who you were." Without an audience, our clothing choices devolve into one measure — comfort.
Like many Americans, I mostly settled into loungewear by late spring of this year. I didn't wear sweatpants, but not out of any principled position (I simply don't own any good ones). Instead, I wore things out of convenience — yesterday's jeans paired with random t-shirts and whatever long-sleeved covering I could find for minimal warmth. My outfits reminded me of that line from Jonathan Swift: "She wears her clothes as if they were thrown on her with a pitchfork."
However, I soon found that wearing random clothes in dismal, haphazard ways isn't terribly satisfying. This seems to be a running theme in many recent editorials. Over at GQ, Noah Johnson wrote a defense of hard clothes. "I find that comfort is being conflated with softness, which is a mistake, because: Soft clothes are not good," he wrote. "Chemically enhanced sweats and petroleum-based fleeces are cheap thrills for your skin, but, like a saccharine-sweet dessert that makes you ill after a couple of bites, they are not ultimately satisfying for the body or soul." SF Gate's culture editor, Dan Gentile, took this idea a step further recently when he decided he would wear a suit all day, every day, for a week in San Francisco.
I haven't taken things as far as wearing a suit, but I've settled into a middle road approach. I find that life at home is better when I take the time to put together an outfit that's comfortable, presentable, and uplifting. It puts me into a routine and helps break up my day into distinct periods. Given that we may still be spending next year at home, here are some practical and not overly ambitious ideas on how you can dress in ways that will make you feel good.
Upgraded Knitwear and Cotton Pants
Let's start with the most basic outfit. Before the pandemic, I mostly wore tailored wool trousers in materials such as flannel and whipcord, then switched things out when I got home. But now that I mostly stay at home, I find that cotton pants are much more practical. They're machine washable, harder wearing, and they don't need to be pressed. They feel natural when I'm doing things such as cooking, cleaning, and hanging out in the backyard. Plus, they're more affordable than their wool counterparts, which means I don't feel like I need to baby them. I find jeans, chinos, and five-pocket cords work best. 
You can wear these with upgraded knitwear. Instead of something like a smooth merino crewneck or v-neck in a solid color, try something with texture, a pattern, or some heft. I like spongey Shetlands, chunky shawl collar cardigans, cabled Arans, thick and thin turtlenecks, and guernseys (if you can find them). Our friend Gerry in Melbourne does these sorts of combinations well. "I find these sorts of clothes are comfortable and cozy, but also presentable," he says. "I'd be equally happy lounging around the house in those outfits or appearing on a teleconference. Secondly, I love the textures. The lambswool cardigan with a soft flannel shirt, the thick turtleneck with the corduroy all feel luxurious. Ultimately, I like that it's very comfortable, but it still looks like I've put some thought into it."
In the photos above, you can see Gerry standing in his backyard while wearing an Armoury shawl collar cardigan with a Lord & Taylor cashmere turtleneck, wheat corduroy Hiltl trousers, and Crockett & Jones brogues (check out that knit-on-knit layering). While inside and lounging on his leather armchair, he has the same cardigan with a Uniqlo flannel shirt, Boglioli chinos, and suede Carmina string loafers. I find these sorts of chunky shawl collar cardigans to be tremendously useful at home. They keep you warm in winter and function like a soft, indoor jacket. You buy one from The Armoury, Scott & Charters, Drake's, Colhay's, Cordings, Ben Silver, O'Connell's, Campbell's of Beauty, The Wardrobe Wimbledon, Winston & Company, Kent Wang, and  Spier & Mackay. The key is to get something with a thick, chunky roll, as thinner shawl collars don't have the same vibe.
In the third and fourth photos above, you can also see Gerry wearing a chunky William Lockie turtleneck, Chad Prom corduroy trousers, and a pair of WP Standard's leather slippers (Dan at A Fine Tooth Comb has a great review of those slippers). Like with shawl collar cardigans, I find that chunky turtlenecks are a terrific way to stay warm indoors (especially useful here in the Bay Area, as homes tend to be drafty). Think of them as a sweater with a built-in scarf. Gerry's tailored corduroys look great here, but you can also wear the above with five-pocket cords from brands such as J. Crew, Duck Head, American Trench, Todd Snyder, Sid Mashburn, Doppiaa, Ralph Lauren, and Billy Reid. I find that five-pocket cords work exceptionally well in earthy colors, such as russet brown and dark olive.
Loungewear
A good sweater paired with cotton pants is the kind of easy, default outfit that can work for anyone. Some might even describe it as borderline business-casual. For something that looks and feels a bit more relaxed, try loungewear: soft jersey tees, pajama sets, dressing gowns, and stretchy, knitted pants made with elasticated or drawstring waists. Loungewear doesn't have to be sloppy; it can be enjoyable.
Some of my favorite pants to wear at home are Eidos' Agy pants, which are loosely modeled on a style of Indian pajama bottoms. They have a huge waist and deep pleats, which are designed to gather around the body using a seemingly endless drawstring cord. You can see them on our friend Pete in San Francisco, who's wearing them in the photo above with a long, belted Eidos cardigan, a hemp-cotton Taylor Stitch t-shirt, and a pair of Christian Kimber x Eidos slippers. "I actually wear everything in that photo quite a bit," Pete tells me. "My wife and I just came back from Tahoe and I brought the outfit with me, as I usually do when on vacation. I like the idea of loungewear that I wouldn't mind being seen in. Even if human interaction has been dramatically reduced, there's always a chance encounter — a neighbor that needs to borrow something or an early morning walk to the market. You can be dressed without looking dowdy."
Unfortunately, Eidos is no longer around as a label and those pants have long sold out. The company's designer, Antonio Ciongoli, has since moved on to a new project called 18 East. However, you can still find comfortable drawstring and elasticated pants from other sources: A Kind of Guise, Blue Blue Japan, Post Imperial, Document, Standard Issue, De Bonne Facture, Imogene + Willie, and Fujito. If I were to buy an Agy replacement today, I would wait for Antonio to restock his Gorecki cargo pants and Tapiro easy pants, which probably have a similar loungey sensibility. You can wear these with long-sleeved tees and fluffy sweaters. I would avoid overly classic knits, such as Shetlands, and go for something like this mohair-silk Phlannel sweater or ribbed Batoner crewneck. Pair them with easy-going slippers, such as these duck canvas ones from Morihata.
Classic loungewear can also be great at home, although I find I tend to only wear these in the mornings and late evenings. You can pick up a set of pajamas from Derek Rose, Hanro, Budd, J. Crew, and Brooks Brothers (the key is to go for a fuller fit, as those will be more comfortable when sleeping). Dressing gowns can be outrageously expensive in materials such as silk or wool, often reaching into the thousands. But the good news is that cotton is more practical anyway, as it's comfortable against bare skin and easy to wash. You can find well-priced dressing gowns from Filson, P. Lemoult, and Desmond & Dempsey. If you're up for a splurge, however, Anglo Italian's wool flannel dressing gown is about half the price of what The Merchant Fox charges for something similar. Wear one with dressier slippers, such as Derek Rose's leather mules.
Broken-In Workwear
Last year, I interviewed Andrew Chen, co-founder of 3sixteen. I've long admired Andrew's style, partly because he wears clothes that I think are relatable. If there's ever a case for classic style, it's Andrew's wardrobe, which has mostly revolved around quality denim, sweats, tees, and flannels for the last fifteen years. It's the same uniform that Pete has recommended for busy dads.
In the right cuts and materials, workwear can be comfortable, easy to move in, and have that better-with-wear quality that many of us love. Andrew favors study cotton hoodies over loose, woolen knits, the second of which just turns into handholds for climbing kids. The materials are easy to care for, machine washable, and suit a busy lifestyle. "Except for outerwear, my clothes are things that can be thrown into the wash," he tells me. "I don't like babying my stuff."
While working from home, I've been surprised by how much I rely on clothes that were originally designed for worksites. I often wear raw denim jeans from 3sixteen, Stevenson Overall Co., or RRL, which I pair with Iron Heart's Ultra-Heavy flannels, Imogene + Willie's t-shirts, Wallace & Barnes' sweatshirts, and 3sixteen's thermals. To switch things up, I'll put on Left Field's workwear-styled chinos or vintage, double-knee painter pants from Stan Ray (a recent and surprising favorite). I also find that it's nice to accessorize around the margins — a thicker pair of eyewear frames, a silver chain bracelet, and American Trench's exceptional wool-silk boot socks, which I wear inside my Town View Leather moccasins. If I'm going out, I'll throw on a chunky shawl collar cardigan from RRL (Cowichans also work well). I basically like the outfit that Andrew is wearing in the photo above, which is taken from his interview at the style site Outfit Dissecting.
You may already have similar things in your closet. Jeans, flannels, and t-shirts make for a geographically neutral uniform that almost anyone can wear. If you don't find the uniform satisfying yet, I recommend digging into the details. Explore different materials and weaves (I find heavier fabrics to be more satisfying). Find fabrics that age well. This sort of outfit doesn't have to be expensive, either. LL Bean and J. Crew's chamois shirts can be had for about $50, and they're exceptionally cozy. Gustin's jeans start at about $80. Wallace & Barnes, one of my favorite value-orientated lines, has flannels for just over $40. Taylor Stitch also has reasonably priced options if you catch one of their various promotions.
Smart Casual
Perhaps the hardest uniform to pull off at home is one that straddles the line between tailoring and casualwear. I find this to be true even in normal times: classic men's style, in the sense of what you see at sites such as Permanent Style, typically revolves around a tailored jacket, such as a suit jacket or sport coat. Without that jacket, outfits can easily devolve into spiritless business casual.
However, I like Mark Cho's solution above, which he recently detailed in a video about dressing at home. He recommends wearing oxford cloth shirts, rather than dry, crisp poplins, as oxford cloth tends to get fuzzier and thus more comfortable. For pants, he suggests fuller fitting chinos, such as The Armoury's "sport chinos," since they're more comfortable when you're sitting down (slim chinos can get kind of "grabby," he says). The piece that really makes the outfit is the 3 Pocket Blouson (3PB), a practical layering piece that's light enough to wear at home. It'll keep you warm when it's drafty, allow you to look presentable on Zoom calls, and simply looks good.
"It's short, so it doesn't get in the way when you're sitting down," Mark explains. "It has a collar, so you're getting the framing effect from having a collar. […] You can't sit at your desk in an overcoat; it would look ridiculous. But you can sit at your desk wearing this, and it would look very appropriate and feel very comfortable." The Armoury sells their 3PB in drill cotton, linen, and an undyed Loro Piana wool. If I were getting one, I'd ask for a tweed similar to the one Mark is wearing above (they have a made-to-order program for this style).
I also really like our sponsor Proper Cloth, an online custom shirtmaker that offers both dressy and casual shirt options. Their "Soft Ivy Button Down" collar has a beautiful roll, which you can see on our friend Mitchell over at Menswear Musings. The great thing about ordering from Proper Cloth is that they offer a free remake on first-time orders, which allows you to home-in on the fit. Once you have your pattern down, you can order almost any shirt without having to rely on designers to come up with the right cut, style, and fabric combinations. If you want a linen shirt for summer, just choose the linen cloth on Proper Cloth's website, and then chose your desired style details. The same goes for oxford, flannel, and even washed denim. Building a good shirt wardrobe this way becomes very easy. Proper Cloth has an endless number of oxford cloth options, including an interesting "neppy weave." I also like the country plaids and Beacon flannels. Their flecked blanket twill fabric can also be worn as an overshirt, such as you see at the very top of this post. 
For the truly lazy, like me, long-sleeved polos are the perfect at-home garment. They're stretchy enough for long naps on the couch, don't need to be ironed in the morning, and still give you the framing effect of having a collar. You can find nice ones from Christian Kimber, The Armoury, and Kent Wang. A Shetland sweater can provide warmth and cover up a wrinkled button-up shirt. Try the ones from O'Connell's, Boise, Anglo Italian, Jamieson's, Trunk Clothiers, and J. Press. Finally, consider accessorizing with something interesting, such as an O-ring belt. I've had one sitting in my closet for years, mostly untouched, until I started staying at home more often. Something like these from Narragansett Leather and Kika NY can make a simple outfit at home feel more satisfying to wear.
Summer Attire
This past summer, I was surprised by how easy it is to dress well at home, as many summer outfits don't require a jacket. When the weather gets warmer, try a pair of shorts, specifically shorter, baggier ones with a 5-inch inseam, such as those from Patagonia or Joyce (Joyce is currently in their fall/winter collection, but they should have shorts next season). Slim fit shorts with a longer 7-inch inseam often look like they're just chinos cropped at the thigh. They're not comfortable when you sit down and, I think, look a bit uptight. "[Baggies] flare outward and float elegantly around your leg, instead of rubbing up against it," Emilia Petrarca wrote of the popular Patagonia model. "The hem slopes downward toward your crotch, as opposed to cutting straight across, which helps give someone like me the illusion of thigh muscles. And their five-inch inseam is the perfect length: short but not too short. ("Barely There" is not my thing.)"
I like wearing shorts with long-sleeved knitted tops, such as long-sleeved tees, polos, sweatshirts, or even lightweight sweaters. Speaking to the Wall Street Journal, Seattle bike shop owner Tyler Gillies calls the sweater-short pairing the "perfect outfit." "For him, it also triggers nostalgia," wrote Men's Fashion Editor Jacob Gallagher. "When he was growing up in California, an Italian cousin would visit his family 'wearing this beautiful light sweater and short shorts' — a confident outfit imported from a more fashionable land. As an adult, Mr. Gillies acquired the chutzpah to pull it off and, in summers past, he'd go short-and-sweatered to grab drinks at a bar. 'It's a way to show some skin, and still look decent and classy,' he said. He favors princely fine-gauge cashmere sweaters, though thin linen or cotton versions are more forgiving in warmer climes."
A sweater-and-shorts outfit can be worn with Vans slip-ons, leather huaraches, or retro-styled running shoes, such as those from Spalwart. On sweltering days, you can switch the sweater out for a short-sleeved, camp collar shirt made from an airy material, such as viola, rayon, or linen (this blush pink Rag & Bone shirt looks nice). Graphic tees also work well. This past summer, I enjoyed wearing Park Project's tees, which make me feel like a confident outdoorsy person camping at a national park, instead of someone who's just lazily lounging in his backyard. 
---