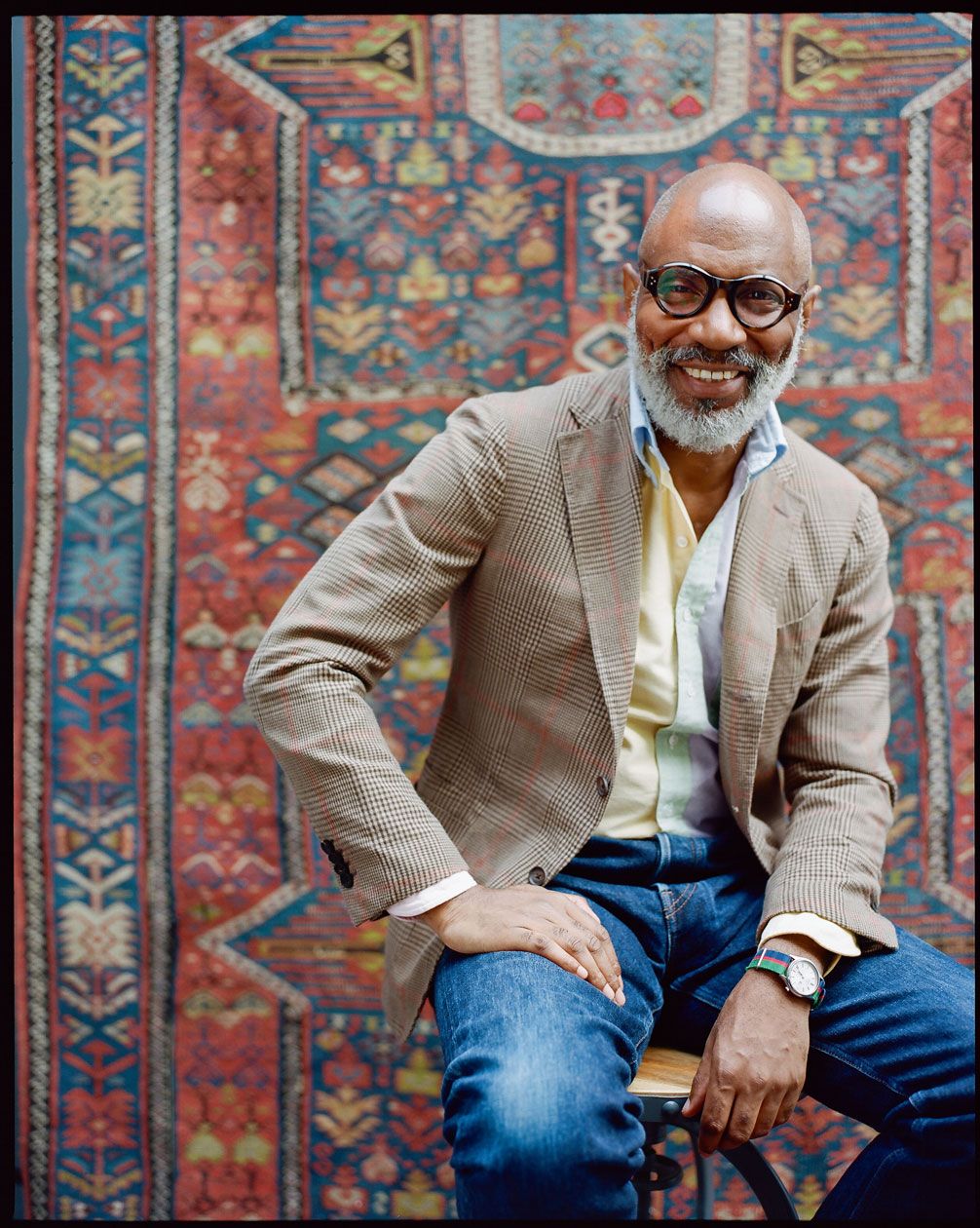 Two months ago, someone on StyleForum's Random Fashion Thoughts thread posted some images from E. Tautz's new SS21 lookbook. E. Tautz, for those unfamiliar, is Patrick Grant's more creative and fashion-forward brand, a sister label to his very traditional, Savile Row Norton & Sons tailoring house. The company is known for its experimental silhouettes, and they were among the first to bring back wide-leg trousers. This season's lookbook is no less creative. Cut-and-pasted from different images, with colors in bright, cheerful hues, the graphic simplicity calls to mind the work of American artist Romare Bearden.
I found the lookbook notable for another reason: in the age of coronavirus, this patchwork lookbook was clearly a way to work around the necessary social distancing measures. But how are other companies putting together lookbooks?
On some level, fashion is about creating an illusion. Brands often need to find ways to suggest that, if you buy and wear their clothes, you'll live a more desirable lifestyle. The sparse, open spaces inside many upscale boutiques, where you'll often find a single t-shirt hanging on a rack like some holy grail, also convey a sense of effortlessness. But this is not a time for effortlessness. Brands are struggling to survive, while still under pressure to give shoppers a bit of inspiration and perhaps escapism.
So, I touched base with a few companies to see how they pulled together their recently released lookbooks. It turns out, behind the scenes, workers have taken care to sanitize equipment, stay distanced from one another, and allow models to safely remove their mask when necessary (pandemics don't make for very compelling fashion lookbook themes). Here's a rundown of some notable lookbooks, their stories, and what I think are some highlights from their presentations.
Drake's 
Earlier this year, the marketing team at Drake's was set to fly to Italy to shoot the brand's spring/ summer lookbook against a backdrop of grand Italian palazzos. As the coronavirus situation worsened in Italy and across Europe, however, the team felt it was safer to stay home in London. Yet, they still had this lookbook to shoot. So they took to the streets of London with their photographer James Harvey-Kelly and shot at home what they were hoping to capture abroad. Their timing was fortuitous. Just weeks after this lookbook was completed, Britain went into lockdown.
This season's lookbook was shot in London's premier Italian locations: Sicilian Avenue, Ciao Bella, Little Italy. "It was our ode to a country we adore but couldn't visit," says Matthew Coles, Head of Marketing at Drake's. "For our following campaign, we holed up in the north London studio of our friend (and extraordinary photographer) John Spinks and our favorite model, Mr. Jason Jules. We did the whole thing with just a handful of us, keeping our distance from one another, and it seemed to work. We're excited to share the results."
As ever, the new Drake's presentations look nothing short of fantastic. The shoots with Jason Jules seem to be spread throughout various campaigns, such as the ones dedicated to resort shirts and waxed cotton D-43 field jackets. I especially like how Jules looks in this "fun shirt," which takes inspiration from irreverent Brooks Brothers shirts of old. I've always admired "fun shirts" from afar, but this presentation really makes me want to give one a try (Drake's version has slightly softer colors). This season's main mid-season lookbook, titled High Summer, is also full of inspiration on how you can wear tobacco linen suits, moss green leather jackets, and Tencel-cotton chore coats. The team made good use of bold shirtings — bright linens, awning stripes, and more multi-colored "fun shirts" — to show how you can dress down a sport coat or casual suit.
Proper Cloth
In the past, our sponsor Proper Cloth has shot ambitious lookbooks in far-flung locations, such as Iceland, Marrakech, and the Faroe Islands. Their campaigns are all about evoking a sense of adventure. They don't really do ready-to-wear collections, although they have standard patterns if you don't want to go through their made-to-measure program. Mostly, I like their campaigns for how they combine colors and make tailoring look modern.
Proper Cloth shot their first spring campaign back in February, just weeks before the lockdown. "We originally had a trip planned to the Canary Islands, then when things got worse in China, Italy was the replacement," says Proper Cloth's Public Relations Manager, Daniel Zisman. "When it came time to leave, things were getting bad everywhere, and traveling abroad didn't seem safe. So we moved the shoot to the Mojave Desert, where we've shot before."
Since the lockdown, everything has been done locally. Their latest campaign, titled Solaris, was shot inside of Proper Cloth's NYC showroom with a little help of sand-colored backdrops to evoke a sense of summer. "This campaign has definitely required more flexibility than ones in the past," says Chris Callis, Proper Cloth's Senior Designer. "Some of the models we worked with have moved away, and flying to other places can mean unnecessary risk. We were originally planning on shooting our fall lookbook in Alaska, but now we've decided to shoot up in the Adirondacks instead."
Some things I love about the lookbook: the slate blue pique cotton Western shirt (this is a spring/ summer lookbook, but I think that shirt would look great under fall/ winter tweeds. The pique cotton is also available in a more versatile light blue); the sand-colored linen chore coat (impressively priced at $195); and a very interesting dobby shirt (imagine that with a linen suit). I usually stay away from warm tones, but Proper Cloth's use of colors such as sienna, pink, coral, and rose has me reconsidering.
The Armoury
I remember the email I received from The Armoury on January 26th. "We are excited to announce that The Armoury will be opening on the Upper East Side in March 2020," they wrote. The team had been working steadily at this location for the last few months, preparing to make their new extended residency a place that would house the company's full line of tailoring and casualwear, as well as their many trunk shows. Then, on March 9th, I received an email about the store's debut. On March 16th, they announced reduced hours. A week later, they temporarily closed, along with The Armoury's other NYC location. What had been in the works for months came to a screeching halt within weeks. 
During the closure, however, the Madison Avenue location served as a safe space to shoot the company's spring/ summer lookbook. Sometime in June, Elliot Hammer and Max Papier took over the site to create what the company calls "A Postcard to New York." Hammer, the photographer, shot the images while standing on the second story, while Armoury Content Manager Papier arranged the clothes on the floor of the ground level. "It was a good way to socially distance," says Papier. A bit of skillful post-production Photoshopping at the end helped to define their message. "Although New York's rhythm has shifted to another beat, it's still as resilient as ever," they wrote on Instagram. "We put together this collection as a nod to the good times that we've had while optimistically looking forward to many more that are still to come."
There's so much to admire here: the tan wool gabardine suit paired with loafers and a boldly patterned navy necktie, the Ivy Styled Madras sport coat paired with flat-front chinos and the very versatile black knit tie, and the more casually styled olive suede bomber jacket paired with cream-colored trousers and suede chukkas. The Armoury is also carrying a summer-ready safari jacket made from a specially woven silk-linen fabric I had made last year. I named the fabric Summer Tweed because the flecks make the cloth look like a warm-weather variant of your favorite Donegals.
Rowing Blazers
Jack Carlson, the founder of Rowing Blazers (a sponsor on this site), has always relied on his tight-knit network of friends and associates when organizing his brand's lookbooks. Many of the people featured in their presentations aren't even professional models. Instead, they're often Carlson's old friends, Olympic rowers, and artists in and around New York City, where Rowing Blazers is based. In many ways, Rowing Blazers' lookbooks are a reflection of the real community surrounding the brand. (Last year, a friend who attends Rowing Blazer's famous parties in NYC commented on the eclectic hodgepodge of people who show up at the brand's events. "It's a surprisingly diverse crowd," he told me. "You'll see true prep schoolers and finance types standing next to Supreme guys and NYC artists. It's people from all over.")
So while Rowing Blazers had to improvise this season and make adjustments for health and safety reasons, the resulting lookbook doesn't look that different from previous seasons' presentations. "The lookbook was shot all over," Carlson tells me. "Our friend Cami Opp shot some of the photos in her apartment and on her rooftop. Other friends stepped up and shot some images in their homes. Casey Steffens was able to take some amazing photos at a farm upstate. The photos were all shot by and with people who are quarantining together, so it was safe. Luckily, our photoshoots always have a pretty organic feel to them, so we could roll with it pretty easily and get by with a little help from our friends."
Some things I like in the lookbook: a chunky shawl collar cardigan outfitted with brass buttons for a nod to the navy blazer, some more "fun shirts," an intriguing pair of navy terrycloth beach shorts (I like how it's styled above with a sweatshirt), and patchwork madras trousers for that Bill Murray vibe. I also really dig the Rowing Blazers x Sperry collab this season, where the brand got to do their version of Sperry's iconic Cloud Cup sneakers. The retro-styled sneakers are featured prominently in this season's lookbook, and the collection of images show how differently these shoes can be worn.
No Man Walks Alone
No Man Walks Alone this season stretched the limits of what it means for a company to work remotely. In putting together this presentation, they didn't use any actual models, photo equipment, or even physical clothes. Instead, they worked with their friend and collaborator Niyi Okuboyejo to render all these images electronically. Kyle Toman, Buyer at No Man Walks Alone, selected and styled the items you see featured here. Okuboyejo, who's also the founder and Creative Director of the vibrant menswear brand Post Imperial, then made the images electronically. "I Googled multiple images of people wearing those items and manipulated them into collages," Okuboyejo explains. "The models were illustrated and rendered by hand based on the different angles I put together from the collages." (Notably, both No Man Walks Alone and E. Tautz worked on their collage-like lookbooks independently, maybe a show that great minds think alike.)
In a sea of images online, Okuboyejo's illustrations stand out. The combination of photography and illustration, along with Toman's expert stying, gives a lot of inspiration. They remind me of the colorful ad campaigns I saw in the 1980s and '90s from brands such as Esprit and Swatch. Greg Lellouche, the founder of No Man Walks Alone, says they left the art direction to Okuboyejo. "We mostly gave him some guidance on the fit and volume for several of the pieces," Lellouche says, "to make sure we don't represent relaxed trousers as slim or short as long, etc."
There are some inspiring combinations here I would have never considered. Most of all, the zig-zaggy Kaptain Sunshine shirt layered underneath a cream linen sport coat (the taupe brown trousers nicely echo the brown stripes in the shirt, and thus pull everything together). There's also this pink terrycloth Camoshita polo worn with a G. Inglese safari jacket, some chocolate brown trousers, and a pair of sand-colored espadrilles (again, just a really well done and tightly edited color combination). Finally, for something more standard, this teal, patch pocketed sport coat looks terrific with a textured, white seersucker shirt and pair of cream-colored chinos. The unique color on the sport coat, which is just a few shades lighter than blue, really help communicate the cheerful vibe of summer, while the texture on the white shirt keeps things from looking too stiff. Toman paired that outfit with a pair of black mules, but you can also do Aurland's penny loafer if you're more conservatively inclined. Supposedly, Aurland's is the first and original penny loafer, whereas Bass is an imitation.
Craftsman Clothing
While Hong Kong is also dealing with the coronavirus pandemic, things aren't as bad there as they are here in the United States. Consequently, the health guidelines aren't as strict. Tobe Fong, the co-founder of the Hong Kong-based "sportorial" label Craftsman Clothing, tells me the government has mandated that people only gather in groups of two and wear masks when outdoors. (One Hong Kong clothing store owner tells me that he doesn't even know if masks are mandated indoors, people just come in wearing them without having to be asked.)
Still, Craftsman has also had to improvise. "For our fall/ winter collection, we were planning to shoot with fighter jets in the UK," says Fong. "The lookbook's theme was supposed to be Top Gun since the movie was set to air this summer. That, unfortunately, has been delayed. Given everything that's going on, we decided to do a studio shoot instead and give our audience a colorful, virtual getaway to Italy."
Craftsman Clothing specializes in a kind of "smart casual" look that straddles the line between sportswear and tailoring — dressy leather jackets, cut-and-sewn shirts made from vintage fabrics, and military-inspired Ghurka trousers. You can get a sense of their style from their lookbook this season. Their field jackets are more cleanly tailored than those you might pick up from Polo Ralph Lauren; their suede bomber jackets don't have the rounded silhouette of the military originals. For guys who want a more casual alternative to a sport coat, the Hemmingway and De Niro jackets could be good options. And while it's not featured in this season's lookbook, I think their suede trucker jacket is pretty great. Wear it with raw denim jeans, a grey sweatshirt, and some chunky boots. 
---