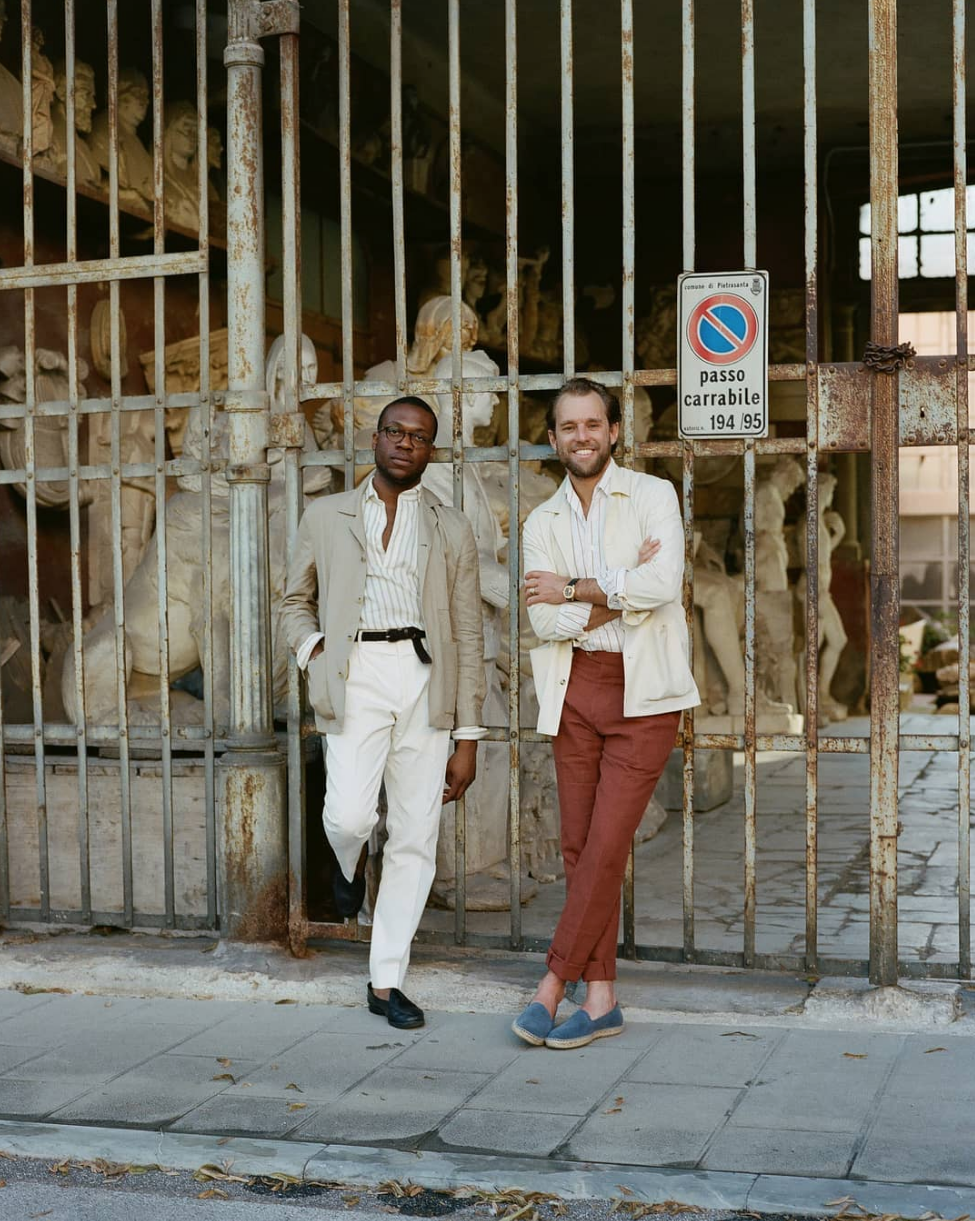 We love a good pair of slip-ons for summer. I mostly wear penny loafers this time of year with sport coats and casual trousers. They're easy to put on; easier to take off. They go well with a simpler and more relaxed style. And since it's easier to forgo socks when you're wearing slip-ons, rather than lace-ups, they're also a little more comfortable on those those scorchingly hot days.
Last week, we covered some of the dressier styles in this category — from my favorites, the penny loafer, to more unusual styles such as the Belgian Shoe. Most of those, generally speaking, are better with suits, sport coats, and "refined" versions of casualwear. Today, we'll cover another half-dozen styles, but on the more casual side of the spectrum — camp mocs, boat shoes, espadrilles, Kilim slippers, sandals, and even sneakers. Each style has its own particularities, and is often better suited for one type of wardrobe than another. This guide will lead through each style's history, go through some ideas on how to wear them, and direct you to some recommendable options. Here's to finding your perfect pair of slip-ons this summer.
Camp and Trail Mocs
In the last 100 years or so, Americans have invented some of the most classic slip-on shoe styles for men, but they usually start with an idea borrowed from somewhere else. G.H. Bass, for example, invented the classic American penny loafer, but they came up with the idea after having seen moccasin style shoes made and worn by farmers in Norway. Alden, similarly, came up with the tassel loafer when actor Paul Lukas asked if they could make something similar to a pair of tasseled oxfords he picked up in Europe.
Yet another example is the camp moc, which was invented by LL Bean's founder, Leon Leonwood Bean, in 1936. He came up with a slip-on shoe that could be worn out in the wilderness by taking some ideas from Native American moccasins. Like many of his company's clothes in the mid-century, LL Bean's camp mocs eventually made their way to college campuses. At that time, many students liked to repurpose outdoor clothes such as mountain parkas, Champion sweatshirts, and camp mocs for everyday use.
Today, there are a bunch of new takes on the camp moc — and made to a much higher standard of quality than LL Bean's current iteration. Quoddy, Rancourt, Yuketen, Oak Street Bootmakers, and Maine Mountain are all good options. Eastland's Made in Maine subline, which is better than the company's mainline, is easy to find on sale and great for a tighter budget (they can be had for about $150 if you hunt).
Camp mocs and their various iterations (such as the trail moc, which is a slip-on with a bit more lacing) go great with American prep and workwear. They're natural accompaniments with denim, waxed cotton, and Shetland sweaters. Wear them with Barbour jackets and jeans; chinos and madras shirts; chambrays and reworked Japanese field jackets. They're a great choice if your style can in any way be described as "New Englander," although they also work well with summer workwear and certain streetwear-inspired styles. Even Noah has made a version.
Options: LL Bean, Quoddy, Rancourt, Oak Street Bootmakers, Russell Moccasin, Maine Mountain, Yuketen, Eastland Made in Maine, and Minnetonka
Boat Shoes
A cornerstone of unabashedly prep wardrobes, boat shoes are both beloved and hated for all the same reasons. On the one hand, they're not too different from camp mocs — and, in fact, were invented around the same period. A year before Leon Leonwood Bean came up with his wilderness slip-on, Paul A. Sperry of New Haven, Connecticut cut siping into his shoes' soles to keep him from slipping on ice. That simple modification would later go on to launch Sperry Top-Sider, the original boat shoe brand. On a surface, camp mocs and boat shoes mostly look the same — an American style with some string-y bits at the top and, often, rubber soles.
On the other hand, the two couldn't be more different. Camp mocs go with workwear and more modest forms of traditional American casualwear. Boat shoes are a bit louder, often made with a contrasting white soles, and remind you of the kind of people who wear Nantucket reds and tennis sweaters.
Frankly, boat shoes come with so much social baggage we think you're probably better off with something else. But if you must wear them, they go naturally with shorts and oxford button-downs. Breton striped sweaters may be a bit too nautical, depending on the outfit, but they can also work. Engineered Garments has even used them in the past with their workwear. Like with Prince Alberts and Gucci horsebit loafers, these can be hard to style and you should be honest about how you look in the mirror when you try them on.
Options: Sperry, LL Bean, Sebago, Quoddy, Rancourt, Oak Street Bootmakers, and Eastland Made in Maine
Espadrilles
At their heart, slip-ons are about a kind of leisurely lifestyle — and few shoes capture that sensibility as well as espadrilles. They're the classic European vacation shoe. In the 17th and 18th centuries, wealthy young men from Britain used to take extended journeys through the southern reaches of Europe. These trips, called Grand Tours, were seen as the culmination of a young man's education (and since these men brought their clothes to Italy to be copied, this was also how many Italian tailors initially learned their trade). And from the 1920s through '40s, upper-class Americans, Hollywood elites, and habitual globetrotters carried on these traditions by vacationing along the beaches of France and Italy.
While there, vacationers would shed their stiff white collars from back home and put on the sort of work clothes worn by local fishermen and farmers — belted pants, collarless shirts, and a jute-soled slip-on known as espadrilles. Photos of men like Cary Grant sipping an aperitif while wearing espadrilles eventually made their way stateside, which is how these shoes eventually became associated with fancy European vacations.
I find espadrilles work best in simpler and more modest outfits — a long-sleeved polo with wide-legged casual trousers; a t-shirt worn with a pair of classically cut shorts. If the environment feels natural for it, you can also wear them with more deconstructed sport coats, like Patrick Johnson at the top of this post, but it very much depends on the situation (a little affected if you're in downtown Los Angeles, better if you're beachside somewhere in Europe).
Options: Castaner, Rivieras, and Ropey Soles. Iranians also have their own version, but they're nearly impossible to get stateside because of the sanctions. 
Kilim Slippers
Kilims are traditionally flat tapestry-woven carpets or rugs produced from the Balkans to Pakistan. They're made by tightly weaving the warp and weft yarns to produce a flat surface with no pile. Although they're traditionally made as rugs, you can get kilim in almost anything – upholstery, bags, shoes, etc. Drake's has used the patterns for their pocket square and scarves, but they're obviously made out of soft silks and not a thick rugged wool. The scarves have returned for this coming fall/ winter seasons.
There are also a number of places that sell Kilim slippers, such as Shipton & Heneage, Pickett, and independent suppliers on Etsy. Some of these come in a pointed toe, like traditional slip-ons in Turkey. Others are rounded and comparable to Prince Alberts. Michael Bastian has used them in the past for his runway presentations, where he styled Kilim slippers with the sort of preppy sportswear he's known for. Greg from No Man Walks Alone can be seen wearing Artemis' slippers with a traditional sport coat ensemble. These slippers are loud, and perhaps take a bit of gusto to wear, but they can look great depending on the context.
If you get a pair, try to find some that were made in Turkey or the surrounding region, where this weaving tradition originates. Along with paying less money, you'll get a pair of shoes with better provenance and support the communities that made this style cool in the first place.
Options: Shipton & Heneage, Pickett, Res Ipsa, Artemis, and Etsy
Sandals
Sandals are tough sell in the menswear community. Along with black suits and cargo shorts (two things often worn poorly, even if they can be worn well), sandals provoke the deepest of ire among style enthusiasts. The one time Jacob Gallagher wrote about them at A Continuous Lean, readers responded with: "I never want to see a man's toes," "girly shoes," and a short, Hemmingway-esque "fuck this."
To be sure, there are a lot of ugly sandals out there – the ubiquitous rubber flip-flop being the worst of them. Much like your average pair of cargo shorts, they're worn purely out of practical considerations. Cheap and easy-to-fit, they're a popular choice among guys who prize utility over everything else (include other people's senses).
That said, there are good ways to wear open-toed shoes. The right pair can give a nice, casual accent to an easygoing summer outfit. Birkenstock's Arizona can be worn with casual, tailored clothing (such as our friend Torsten) or with jeans and a work jacket for a rugged  workwear look. We love huaraches with camp collar shirts and casual trousers. And I've been thinking about getting a pair of leather Kiwi sandals to wear with my drawstring Eidos pants.
It should go without saying: if you're wearing sandals, make sure you take care of your feet. That means trimming your nails, sloughing off dead skin, and getting rid of corns. Nobody wants to see ugly toes, even if they're encased in nice sandals.
Options: Tevas, Birkenstock, Chamula, Il Bisonte, Yuketen, Sid Mashburn, Kika New York, Jutta Neumann, Kiwi, Chacos, and Suicoke
Slip-On Sneakers
Finally, the most casual style of all — and perhaps one of the best examples of the crossover influence these days between men's and women's designers. Six years ago, Phoebe Philo at Celine introduced a luxury version of Vans' slip-ons. They came with a chunkier sole and unusual materials for the uppers, such as pony hair and snakeskin. They were casual, chic, and instantly recognizable — which I suppose is what you'd want if you're paying $700+ for something that takes inspiration from a $50 skate shoe.
The shoes were an instant hit, popular with womenswear bloggers and celebrity stylists, then copied everywhere from Givenchy to Zara. And at some point, they eventually made their way into menswear collections. Engineered Garments collaborated with Vans on a pair of mismatched slip-ons; Diemme and Junya Watanabe have their own luxury designs.
I mostly like the originals and the Engineered Garments collab. They can be a great way to modernize a workwear outfit (e.g. jeans and a trucker jacket) or be used with certain forms of casual tailoring (less traditional tailoring, more fashion forward lines such as Camoshita). If your style leans a bit more contemporary, Diemme's can also be good. Slip-ons sneakers are a great choice if you want an easygoing, sporty California vibe with no pretense.
Options: Vans, Vans x Engineered Garments, Diemme, Converse, Junya Watanabe, Shoes Like Pottery
---