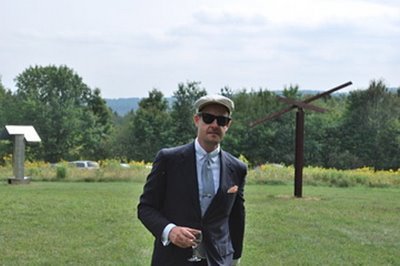 In our series "All I Want For Christmas," we ask guys we think are cool to tell us what they'd like to get as a gift this holiday season.  Today's subject Giuseppe Timore is the proprietor of An Affordable Wardrobe, which chronicles his efforts to assemble a stylish, classic wardrobe from pieces found in New England thrift stores.  So what does the guy who won't spend any money what someone else to spend money on?
I remember like it was yesterday…I'd been toying around with "go-to-Hell" pants in the Summer for a while, but the onset of winter always meant a return to a muted palette of grays and browns. Maybe a bright pair of socks now and again for good measure. And then I fell for some flat front, wide wale corduroys in a damn near obnoxious shade of red called "cranberry". On sale at the end of the season on the Lands End web site. I was hooked.
Just this past month, I couldn't help but acquire another pair in a rusty orange brown called "cinnamon". Blame it on the 25% off coupon in my email.
If only Santa, or the Mrs., could find me a pair in bright yellow, and maybe another in  some pushy shade of green…call it "banana" and "lime" in keeping with the food-as-colors theme. Lavender and pink are nice, too.
Wide wale cords are both warm and comfortable on cold New England days. Bright colors are a cheery and welcome break from the sea of gray flannel and brown tweed around us, and a great way to breath some life into those days that are pitch dark by 4:00 p.m.
All I want for Christmas is more outrageous cords.
Above: yellow Prospect cords, $49.99 from Ralph Lauren
---