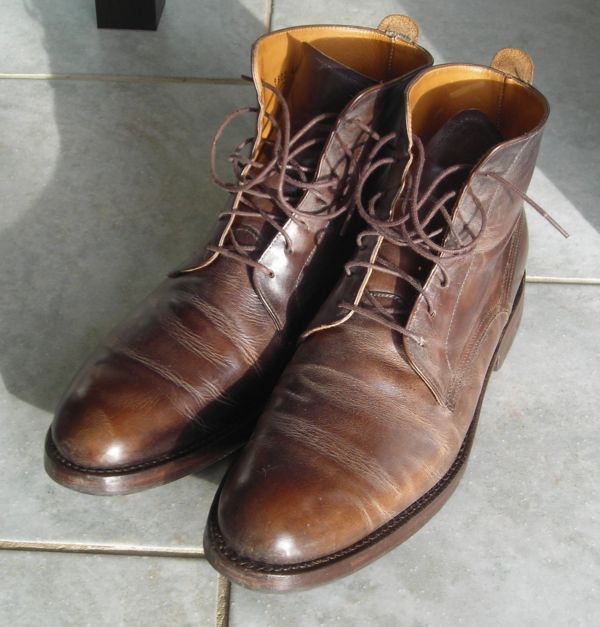 I recently bought a new pair of Crockett and Jones Belgraves from a seller I found online. I was able to get them at a nice discount, but when they arrived, they had thin white creases in certain parts of the leather. I figured the leather must have been just dry, so I treated it with some conditioner. Even after a few treatments, however, they didn't go away. In fact, when I worn them around a bit, awful white lines would appear wherever the leather would bend. 
Then it occurred to me – the seller must have caked on a bunch of neutral shoe polish wax. He didn't know how to properly shine shoes. The result is something like the picture you see above, even though the shoes were new. 
The best way to get rid of heavy wax build-up is to use Lexol leather cleaner. "Mixed" solutions such as Allen Edmonds conditioner and cleaner won't be enough (though they're still good for regular maintenance). If the build-up is especially bad, you might even have to run your fingernail over the stitches and around the pinking (the zig zag detailing). That's what I found myself doing last night for about an hour.
The problem with having so much wax build-up is that it not only creates ugly creases (particularly if you use a neutral wax), but it also prevents the leather from absorbing any conditioner, which means it will eventually dry out. To avoid this, go easy on the wax, and every once in a while, use some Lexol leather cleaner to wipe away any build-up. Remember that a little wax goes a long, long way.
Or, if you prefer, just stick to cream polish. You won't get as much protection from the elements, or perhaps even as high of a shine, but at least your shoes will never look like the ones above. 
---