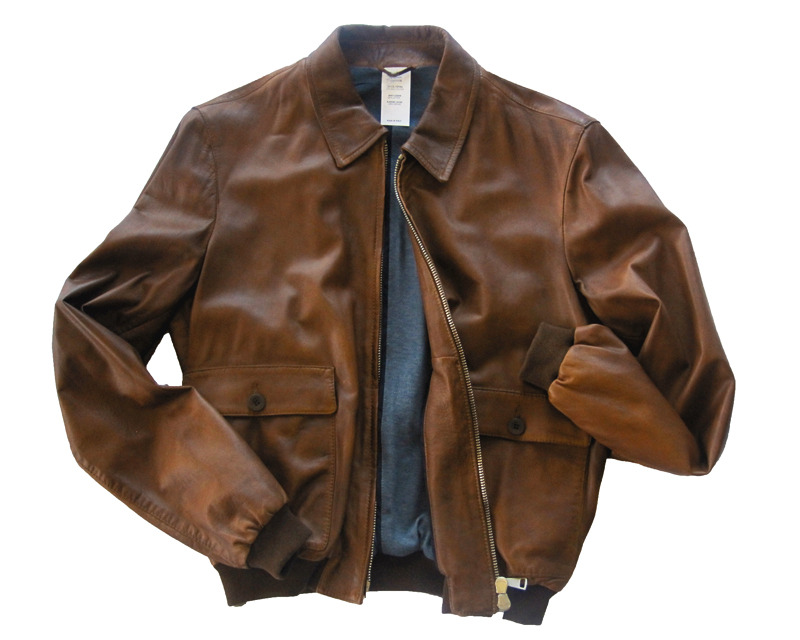 Once you become interested in clothes, it's not hard to buy more than you need. In the past two years or so, I've acquired eight leather jackets. Most get worn on some semi-regular basis (OK, semi-semi-regular), but none get broken out as much as this leather A-2 you see above. In fact, I could get rid of all my other casual jackets and be satisfied with wearing just this one. 
When shopping for a leather jacket, I've found it's good to pay attention to a few factors:
Materials: Most leather jackets are made from lambskin, goatskin, cowhide, or horsehide. Generally speaking, the first two will be lighter and thinner than the second two. Lambskin is exceptionally soft, pliable, and comfortable to wear, but it's also most prone to tearing. Goatskin is a bit tougher and more pebbled in its texture. Neither, however, is as tough as cowhide or horsehide, which might require a circular saw to break open. The tradeoff is that cowhide and horsehide are very stiff and heavy, though that might suit certain styles more. It all depends on what you want out your garment and how you want it to look. Want something to wear to an overheated wine bar? Lambskin is a great material. Want something to fight a bear in? Cowhide and horsehide are good bets.
Insulation: Like with all garments, leather jackets are often made with seasons in mind. Spring/ summer pieces often have thin, breathable linings, or on rare occasions, they may come without any lining at all. Fall/ winter jackets, on the other hand, are often quilted or insulated. If you live in a temperate climate, like me, it may be good to err on the spring/ summer side, as you can always layer with a piece of knitwear. My A-2 pictured above, for example, has unique, open-weave cotton lining, and for cold days, I just pair it with a grey sweatshirt. 
Style and color: I hesitate to recommend a style or color, as that gets into such subjective territory. You should just get what you like best. That said, I find myself wearing mid- to darkish browns most, and tans least. And from the few leather jacket threads I follow on various clothing forums, it seems that many men get a lot of use out of their A-2s. Whether that style suits you, of course, is a personal call.
It may be important, however, to think of leather jackets not just in terms of their most basic styles (e.g. A-1s, A-2s, motos, etc.), but also their sensibility. An A-1 from a luxury fashion house, for example, will look very different than one from a vintage reproduction company. Just compare this Ralph Lauren Purple Label piece to something similar from Good Wear Leather to see what I mean. It's not just a difference in materials (a "luxury" piece will often be made from a fine lambskin, while a tougher, "authentic" version will be made from goatskin or horsehide), but also a difference in the cut and detailing. When shopping for a jacket, pay attention to these differences, and think about what kind of clothes you'll be wearing your new jacket with. Maybe you want something from a very avant garde designer, or luxury Italian label, or a workwear company. That choice alone should narrow the field considerably. 
---