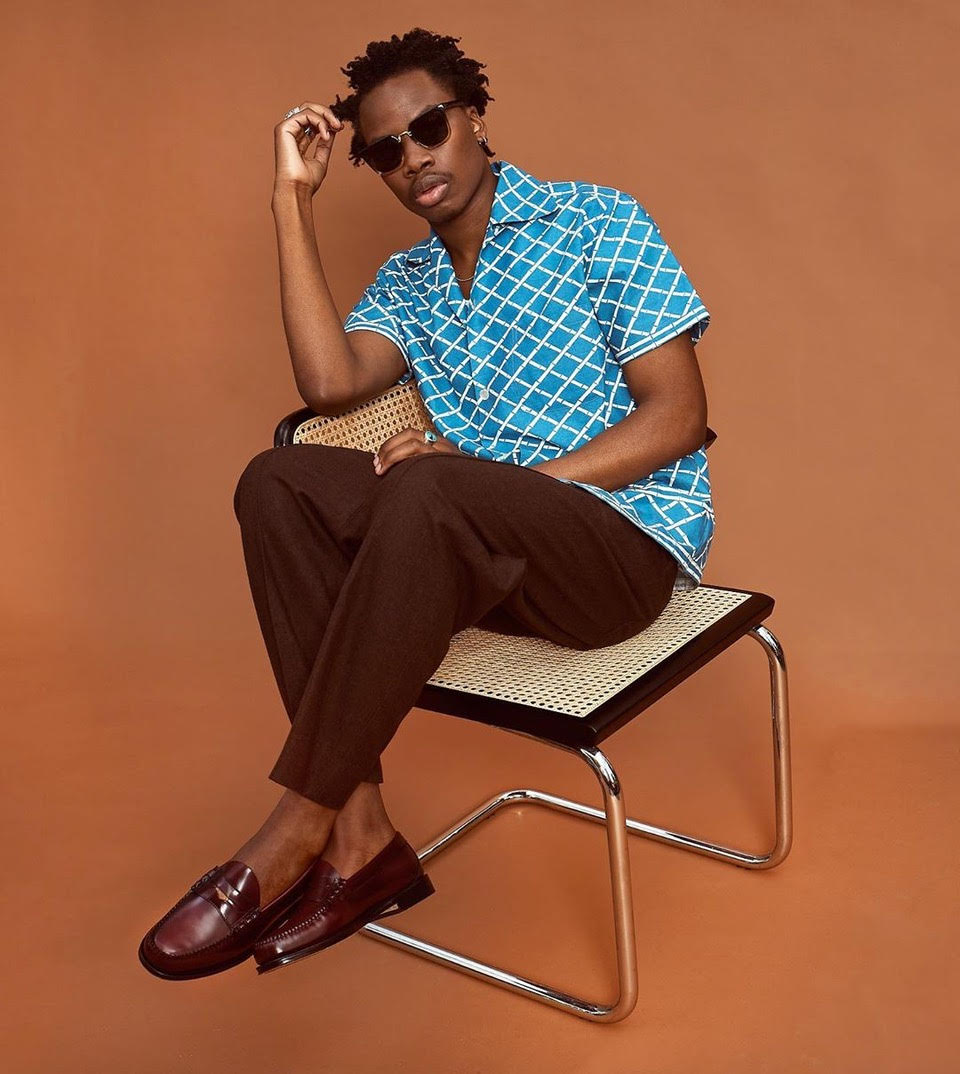 There are two kinds of vintage people. The first are those who go all in, lock, stock, and barrel, hat to spats, totus porcus. These are the guys who turn inside breast pockets out to check for Union labels, insist on calling spectators "corespondent shoes," and categorize their closet by decade. Then there are those who purchase a few vintage pieces here and there and incorporate them organically into the rest of their modern wardrobe. The first road is relatively easy, especially if you have deep pockets: go to a dealer, buy a whole getup, and you're done. The second is a little more complicated since you're attempting to put clothes together from different eras. Do it well, and you can evoke the warm atmosphere of bygone days. Failing means looking like a thrift store vomited on you.
Christopher Pizarro is one of those who does it well. I first met him at Relic Vintage on Haight Street in San Francisco, where he was an employee a few years ago. As is typical of most in the Bay Area, Pizarro knew what he liked but didn't frown on throwing different styles into the mix. Soon after that, he moved to New York, worked for a while at Drake's, and eventually landed in the wardrobe department for the show The Marvelous Mrs. Maisel. One day he posted a killer shirt that had a hint of yesteryear, but completely current.
"That's Scott Fraser Simpson," Chris said when I asked him. "Love his stuff." It turns out there is a third type of vintage person: the one who makes it himself.
Scott Fraser Simpson is a London-based designer whose love of 20th-century designs is more than most. "I have a deep obsession with Italian-American knitwear from the '50s to '70s," he admits. "Over the years, I've built up a collection of 200 pieces and have had at least 400 others pass through my hands. Photographing each one, I make sure I document all the details: color profiles, weave details, pocket styles, color lengths, label designs, and so on." You'd think one would be satisfied with so many, but all this just fueled Scott's desire to make his own clothes, which eventually landed him in a workshop of knitters outside Milan.
"This workshop of just three or four craft makers have been making knitwear for decades, on hand-pulled and electronic machines that date as far back as the '60s. We work together to either manufacture my own designs or recreate pieces I've longed for. As you can imagine, all of this takes quite a lot of time to realize."
When Scott announced that he would start working on what became known as "the Ripley shirts," the cumulative world of menswear gasped. Could it really be true? At the top of everyone's list of best-dressed movies, the knits Jude Law wore in The Talented Mr. Ripley are especially lovely: casually charming, slightly smart, kind of like Dickie Greenleaf himself. In other words: precisely the type of knit you'd think Scott would do. But it had to be just right. 
"Whenever I work on a project, I send the manufacturer countless photos, technical sketches, and exploded views from different angles of what I'm trying to achieve." Although Scott speaks no Italian and the factory doesn't speak English, visiting the factory in person usually sorts out any possible issues. But then the lockdown happened, and everything moved solely on imagery and video chat. 
"Getting the color accurate was especially difficult," Scott recalls. "We worked from a selection of Italian merino wool suppliers to find the perfect color codes. The yellow for the Ischia knit needed to be dustier and a little more muted, and the blue on the front of the Anzio had to have a blend of grey melange to reproduce the onscreen tonality and make sure it wasn't too bold. Even the length and width took a while to get right — a few centimeters can make a big difference in fit and proportion. Three samples of each shirt — along with a handful of knitted panels in different gauges and weaves — were sent back and forth to ensure that the knit's final texture and look were faithful to the film."
What began as a thought finally came to fruition in June, and I placed my order. They arrived a month or so later, and I gotta say, they do not disappoint. Granted, at over $400, they are quite expensive, but there's a reason for that. "We do design these shirts, but without the makers, it is simply a sketch or an idea," Scott says. "Out of respect for the artisan craftsmanship, we believe in paying the makers fairly. All of these pieces are made-to-order, on the few old hand-pulled machines that can supply this weave, and after the panels are made, the seams are connected by hand before a linking stitch pulls them together. Buttons are also sewn on by hand."
The Lido shirt is much more affordable at just over $200, but it is no less distinctive: broad, bold stripes gathering dust for decades in the back of a textile mill and destined for the bin until Scott discovered it.
"The thrill of this find sparked something in me," says Scott. "Now, I'm always on the hunt for similar fabrics: deadstocks, end-of-roll runs, and limited productions." The fabric then informed the design, transforming it into a shirt echoing the flair of 1950s Nat King Cole crooning breezily in baritone, with a gently curved collar, split short sleeves, rear waistband button adjusters, and a slightly extended bottom tab. The kind of shirt that reminds you of how great it is to wear fun, unique clothes. 
Aside from the Ripley shirts, Scott's designs are not reproductions, so while his collection has nostalgic undertones, it wears contemporary and can go with stuff you probably already have in your closet. I wear the Ripley shirts with easy shorts from 18East and Vans. Chris from NYC pairs the Lido shirt with slim khakis and Alden loafers, Kristian from Denmark wears his with pleated pants and sandals, Mitch from Singapore teams his Ripley knit with white shorts, and Will from Germany wears the Waikiki shirt (made of deadstock '80s fabric sourced in London) with Scott's wide-legged linen trousers. 
While paying homage to the human condition of the past, Scott's design ethos brings it to the present in a thoroughly modern way. "The purpose is to recall and revere all the stories, defining moments, icons, customs, and events that have come to shape our world," Scott explains. Part of that includes the tremendous role people of color have had, often referencing images from Black Archives highlighting African and Caribbean people's influence on the UK and American heritage. "I call it Culture Vita, casting the net wide, not limiting influences, recalling and revering their glory in multicolored celebration, always with respect." In doing so, Scott draws from all walks of life, from the shores of Amalfi to the streets of Chicago, dusting off yesterday's old fashions and making them fresh and wearable for today.
---