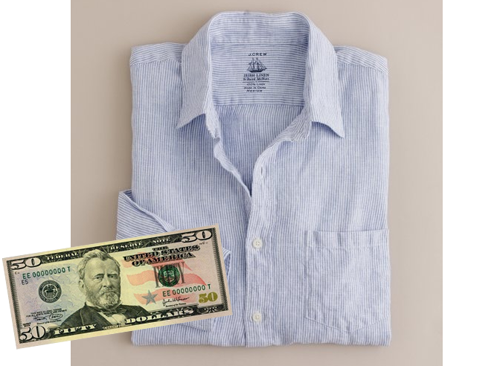 This J Crew Irish linen shirt. Some people hate how linen holds wrinkles, but I personally love it. Linen has a life to it and looks best when its a bit crumpled – the texture gives the fabric a kind of "lived in" elegance. As long as your linen shirt fits well, these crumples will give you an insouciant look without making you look messy. 
And J Crew's version fits fairly well. It's slimmer than most models out there, and comes in extra-small for overly skinny guys like me. The only quip I have is that all of J Crew's shirts have small collars. I prefer my collar points to be about 8.25cm long and the back of my collar to be about 5cm high. J Crews are much shorter, by about 1 to 1.5cm. As such, it lacks the panache that, say, a Guy Rover linen shirt will have. The Guy Rover is what I'd really like to recommend to you, but this series isn't called "For $70 You Can Buy," so if you really only have $50 to spend, I recommend J Crew's. Plus, if you spend over $150 on J Crew's final sale items right now, and use MUSTSHOP as your coupon code, you'll get 30% off plus free shipping. That brings this puppy down to $35. Not too shabby if you're on a tight budget. 
Note that when you first get your linen shirt, it will feel rough to the touch. However, linen softens quite a bit over time, and before long, you'll have one of your most comfortable shirts ever. Just remember to never bleach your linens, as the harsh chemical will destroy the fibers. 
---