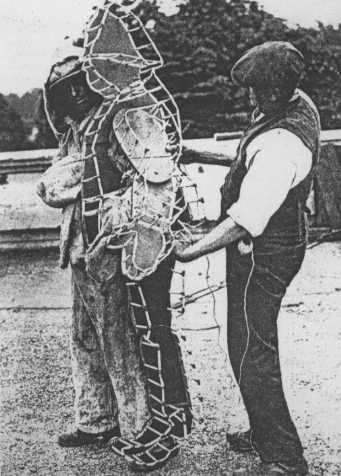 Here's something unusual for your Fourth of July.
Apparently in the early 20th century, some entertainers would get dressed in "firework asbestos suits" with lance work that formed certain characters. The first image above is taken from a 1922 book titled Pyrotechnics: The History and Art of Firework Making. According to All Spark Fireworks, it's full of interesting backstories on fireworks and technical information on some of the more elaborate pyrotechnic structures of that time. Anyway, somewhere in it, there's this image of a man wearing a firework suit made to look like a policeman.
The second image is taken from a 1937 issue of Popular Science. Here we see something even more remarkable: two men dressed in firework suits at a boxing exhibition in London. Presumably, these suits were ignited before the men sparred.
Obviously, please don't try this at home.
(via All Spark Fireworks)
---