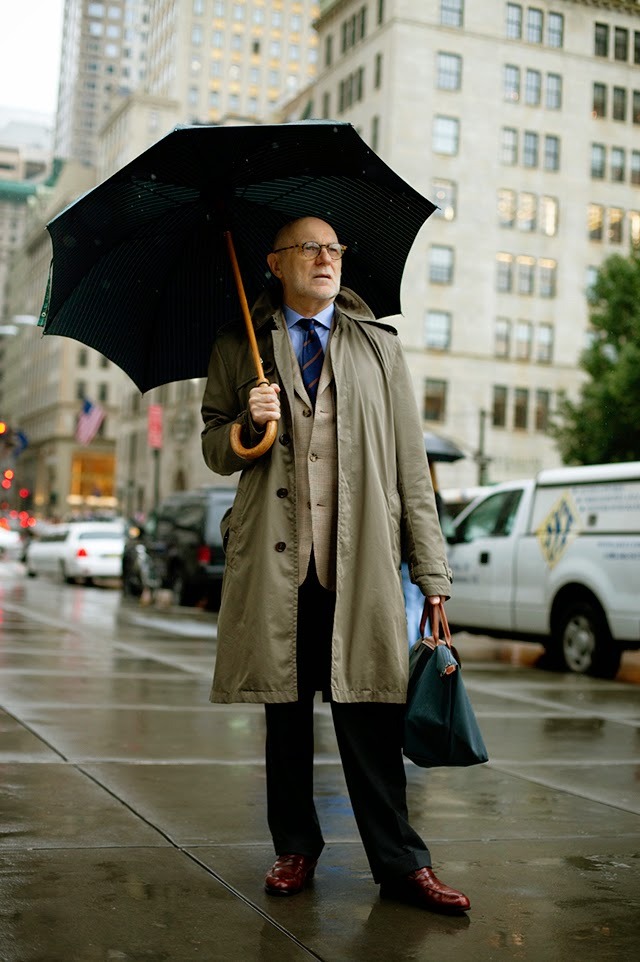 Unless you're one of those handsome Italian men who wear suits even when cycling – through what I can only assume is the center of Milan – you probably need a casual bag. Something to use on weekends with casualwear, or even to take the edge off tailored clothing. A good casual bag can be just as useful as a leather briefcase – the question is just what style best suits your lifestyle. Yesterday we covered bags you can use with more formal clothing. Today is all about your everyday, casual carries.
The Better Backpack
Backpacks have come a long way since college. More sophisticated models come in better materials than your average JanSport, and they don't have any of the tactical details that keep them to hiking trails. You don't want to use a backpack with a suit (it'll ruin the shoulder pad), but it can be worn with almost anything else.
I particularly like neo-vintage brands such as South2 West8, Epperson Mountaineering, Mt. Rainier, Altadena Works, and Topo. They take inspiration from the heydays of outdoor backpack designs (such as the ones shown above), making them natural companions to the kind of parkas and bomber jackets you might find from Engineered Garments and Nigel Cabourn. My own includes a Kelty Mockingbird, which is a re-release of something Kelty sold in the 1970s, as well as something Ralph Lauren calls their Yosemite. The second has a ton of cool details, such as felt-backed straps and oxidized rivets. The thick leather bottom makes them feel a little heavy, but they're also quite sturdy.
If you're less interested than I am in looking like a 1970s hippie rock climber, check out Atelier de l'Armee, Master Piece, Goruck, and Haerfest. They make contemporary styled backpacks that can be worn with almost any kind of casualwear – from clean minimalism to rugged workwear. I also really like roll top bags for travel, as they have a bit more carrying capacity than bags with divided interiors. Brooks England, Nanamica, and Mission Workshop make some nice ones.
For something more affordable, turn to Patagonia or search eBay for A.L.I.C.E. packs, "3d tactical bags," and vintage military rucksacks (particularly those from British, American, and Swiss armies). Herschel Supply is also an easy go-to, especially given its heritage-inspired look, although Pete notes they're a bit flimsy when compared to other options.
The Getaway Bag
The getaway bag is what you'll want to use on short trips. The style goes by many names online, depending on the company – weekenders, duffles, carryalls, travel bags, etc. They differ slightly in design, but what they share is the ability to carry two or three days worth of clothes – or whatever you need to lug across the city.
We've listed some affordable ones before, starting at just $17, although most of them are better suited to everyday carry than actual weekend trips. For something bigger, try Beckel Canvas' War Bag, a big canvas duffle that's made here in the States. Jesse bought one for his brother-in-law nearly six years ago and it's held up nicely. Vintage LL Bean duffles are also great, although they've gotten more expensive over the years. Ones in good condition often fetch $100 or more on eBay.
If you're up for a splurge, try Filson's line of canvas-and-leather duffles. Those have become somewhat ubiquitous among style-minded guys, but for good reason. They look great with almost anything, are well built, and are backed with a lifetime guarantee. Somewhat in the same vein, Tailor's Keep in San Francisco has some nice holdalls made from pull-up leathers and copper rivets. They have a similar heritage-y feel, but since the bags are unlined and unconstructed, they slouch more than other leather bags, giving them a more casual sensibility.
For something more refined, I like Frank Clegg Leatherworks (pictured above), Bonastre, Calabrese, Bennett Winch, Chapman, and Globe Trotter. Any of these will naturally go with suits and sport coats, but their dressier nature is also a good way to smarten up casualwear. The leather options here are heavier than canvas, but they patina nicely. For something in-between, check Stoffa. Their travel bags are made from shaved down leathers that are backed with stiffer polymers for structure. This allows you to have the look of leather, but the weight of canvas.
Other notables: Ann Demeulemeester and Basil Racuk for a darker, moodier look. The first is even on sale.
The Easy Tote
Totes are the opposite of a weekender. They carry less, but that just makes them perfect for short, daily errands – trips to the farmers' market or local cafes, or maybe to the city for some shopping.
LL Bean's boat totes are some of the most iconic. They're cheap, well built, and customizable with a monogram if you want to get preppy. The canvas construction makes them easy to clean, which makes them great in the summer as beach bags. A little more rugged in sensibility are totes from Filson, Poglia, and Stanley & Sons.
For something a little less Americana, you can start with cheap totes sold at shops such as The Garbstore, Goodhood, Kapok, Independence, and Unionmade. Their playful designs make them nice for more contemporary styled casualwear, although I don't know if I'd use them to carry anything heavy. Makr and Bags in Progress are a little better if you need something sturdy without venturing into workwear.
Many of those will be too casual to use with tailored clothing, however, so if you need something dressier, check out companies such as J. Panther, Christian Kimber, and Frank Clegg Leatherworks. Their simple, uncomplicated designs – often made from full leather – are refined enough to go with tailoring, but can also take the edge off a suit or sport coat. Frank Clegg also has two exclusive models with The Armoury and Bryceland's (the second of which is pictured above). Ethan at Bryceland's tells me that theirs is made from an original 1930s buffalo check wool blanket, which is sandwiched between the leather body and outside straps. "The idea is that, as the wool wears down, the base leather will show through," says Ethan. The bags are available for purchase if you contact their shop.
Honorable Mention: Apolis' Market Bags, which are specifically designed for trips to the grocery store and farmers' market. The interiors are finished with a waterproof lining, while the riveted, leather handles ensure that nothing ever rips. Apolis lets people customize these with the names of their cities – to show a bit of neighborhood pride – but given that this is essentially a fancy person's version of a grocery bag, I'd rather get this.
The Rugged Helmet Bag
Not all good bags have to be expensive. Military-issued helmet bags – originally designed to hold a pilot's headgear – were popular with men's style enthusiasts five years ago. They've somewhat faded away since then, but the militaria style still looks great with bomber jackets and field coats. Alexander Grant has a review of his here, which he calls his dad bag: "The waterproof materials, along with interior and exterior pockets, make this the ideal candidate for a dad bag. And when your little one no longer requires a traveling convoy on every excursion out the house, it can also be used as a laptop carry or camera bag."
You can find helmet bags online or at your local Army/ Navy surplus store for about $20. Since fashion is fashion, designers have also come up with their own takes on the style. See Atelier de l'Armee, Porter, Want Les Essentiels, and Jack Spade. Hell, even MoMA got in on the action.
Others to Consider
Of course, this is by no means an exhaustive list. Not all bag designs fall into simple, easy-to-define categories, and lots of companies are well worth a look. Porter by Yoshida is tremendously popular among businessmen and students alike in Japan (I use their Tanker briefcase); Kapital makes a cool, hobo-styled sling bag called the Snufkin; Mahiout has rugged designs that would go well with classic workwear (their rep in Japan has better photos); BillyKirk and Cherchbi offer new takes on old-timey styles; Mismo, Briefing, and Ally Capellino are nice for something more contemporary; Bill Amberg, Ghurka, and Glaser are more refined (Glaser's flaptop bag is pictured above); Baileyworks, Mission Workshop, and Mystery Ranch have nice messenger bags; and Daniele Basta and Guidi are a bit more avant garde.
If you click around the websites for any of the brands listed in this two part series, you're sure to find something that'll work for you.
---