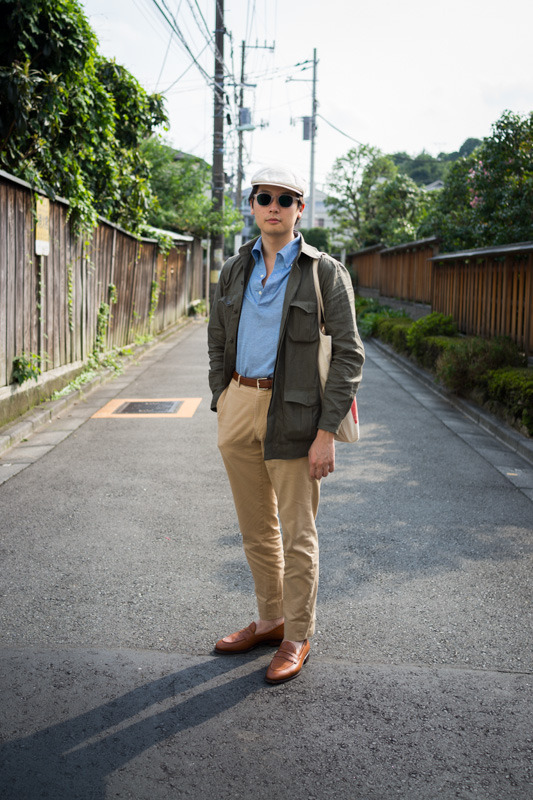 For the last few months, I've been looking for chinos built with a higher rise. As some readers may know, I favor pants that sit higher on the hips, as I find this helps elongate the leg line and gives better proportions between the torso and legs. Unfortunately, it's not easy to find such pants nowadays, as the fashion trend for the last ten years has been for low-rise cuts. After writing a post about my search, however, a few kind readers sent me some good suggestions. 
The first, and I think the best, is from The Armoury. These are made by Ring Jacket, a high-end Japanese company known for their tailored clothing. They sit just below the navel, which is high enough to give the effect you'd want, but low enough so you can wear your chinos without a sport coat. The leg is also nice and slim, and the trousers are lined a bit past the knee. You can see them worn by Mark in the photo above.
The Armory's chinos cost $370, which is pricey, but the pants are exceptionally well built. They're not available on the website, so you'll have to email or call them to order. 
A bit more affordable are the ones from J. Press, which were recommended to me by Bruce Boyer. These are fuller in the leg and sit higher on the waist. I think these are some of the nicest traditionally cut trousers I've ever come across, but the higher-waisted cut does mean you should probably wear them with sport coats. If you plan to, the price here starts at $120, but there are occasional seasonal sales that will drop them down by 25%. 
More affordable still is Jack Donnelly's Dalton chinos, which come in both a slim and traditional cut. The slim is more like The Armoury's, while the traditional is more like J Press'. The difference is that the fabric isn't as nice, the fit not as clean (at least on me), and the finishing inside is a bit rough (almost unusually so, actually). On the upside, they're $95 and they have a very nice return policy, so trying them out is more or less risk-free. 
A couple of other good ideas were sent to me. Bill Khaki's M2 model is a favorite for many people, and some recommended the custom chinos at J. Hilburn and Luxire. Luxire can copy an existing pair of pants for you, which is nice if you're wary of the made-to-measure process. One reader also recommended these Blackbird chinos, though they're on final sale, and thus not returnable.
(Photo above by The Armoury)
---