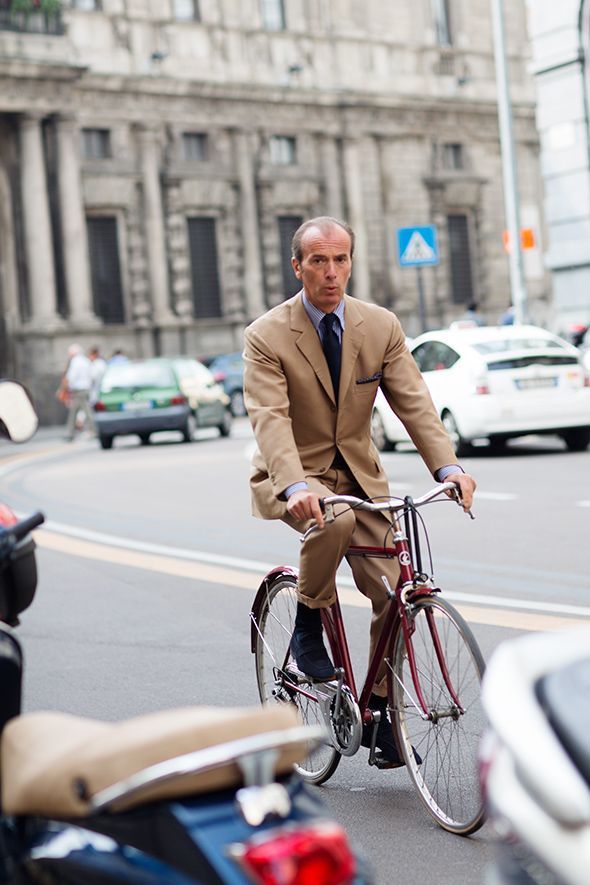 Dressing for fall and winter comes easy. There's a whole range of tightly woven and napped materials for suits, such as wool gabardine and flannel, as well as an endless number of combinations you can make with patterned tweeds and casual trousers. Once temperatures get above 80 degrees, however, the dynamics are different. It takes a bit more thoughtfulness to wear tailored clothes in the summer. Some tips on how to give yourself a fighting chance:
1. Look for an Open Weave: How warm a suit feels is determined by many things – the type of fiber, the weight of the fabric, and even color. Far and away, however, the most important is the weave. An airy 10oz tropical wool will wear a lot cooler than a densely woven, 14oz Irish linen. To check the openness of the weave, hold the back of the jacket up and see how much light pours through. The more porous the weave, the better it'll feel on a hot day.
2. Get a Softer Jacket: Unlike casualwear, tailored jackets have a lot of structure inside – padding, haircloth, canvas, etc. All that material can trap heat, so go for something as softly constructed as possible. Soft shoulders; minimally padded chest; lighter overall feel. Note, this can be a delicate balance. A completely unstructured jacket won't have as much shape as a slightly structured one, so go for something that looks and feels right for you.
3. Rip Out the Lining: Most jackets these days are fully lined in Bemberg, which is a soft and silky material. If you can find it, Ermazine will be a little more breathable. Even better if you can get a jacket that's partially lined – whether that's half, quarter, or even totally unlined. That way, your body's heat can easily escape. If your jacket is already fully lined, know that a local alterations tailor can remove the lining for about $50.
4. Opt for a Linen Shirt: Heres's an easy experiment. Hang-dry two shirts, one linen and the other cotton, and see which dries faster. Linen will win by a country mile every time. Which means, when you're wearing it on a hot, humid day, it'll wick moisture from your skin better and stay dry easily. Cotton, on the other hand, will stay wet and cling – not a good look or feel.
5. Lose the Tie: A tie can be a nice way to accessorize, but an open collar this time of year can feel more comfortable. If you forgo the tie, try wearing a patterned shirt and/ or pocket square. They'll help add visual interest, picking up slack where a tie would otherwise serve.
6. Dapper Classics' Cotton Socks:  Years before they became a sponsor here, Dapper Classics sent me a few of their cotton socks to try. I was really impressed. They're made from a sturdy, thin, open weave cotton, which feels a lot better on a warm day than over-the-calf wool socks (or even the standard cotton socks you might get from Gold Toe or Marcoliani). It's a small advantage, but one I've come to appreciate when temperatures get into the high 80s.
7. Aim for a Seasonal Look: Don't just stick to navy and gray worsted suits. Cotton, linen, and tropical wool can look great this time of year in colors such as tan, cream, olive, tobacco brown, cigar brown, and Royal Air Force Blue. I also like the tonal navy seersuckers this season from Camoshita and Ring Jacket (the second of which is pictured above). They have all the charm of traditional seersucker, but feel slightly less preppy.
8. Wear Lighter Footwear: When everything looks light and airy, your shoes ought to match. Leave the double soled, country-grain brogues for winter. Summer calls for penny loafers, tassel loafers, and unlined suede chukkas. Belgians can also be good, even they're a bit bold. Baudoin & Lange has Belgian-styled shoes without the dainty bow, if you're on the fence.
Granted, at a certain point, nothing will make a hot day feel like a cool one, but with a few adjustments, you can wear tailored clothing a little more comfortably this summer.
---