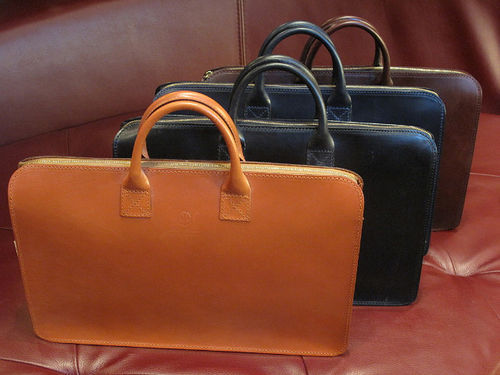 Our friend the RJ cat is a walking encyclopedia of menswear knowledge, and occasionally contributes to our eBay roundups. This week, he sent us some links to great books (Sharp Suits and The Elegant Man) and a few Glenroyal products, including this folio that's about to end. You can wipe the white marks off of the folio with a soft brush and some leather conditioner. That's just the fat in the bridle leather coming to the surface, which some like and some don't. 
RJ has his own auctions up this week, which you should check out. I also dug up a few more Hudson's Bay Company tote bags and listed them on eBay. The holiday price is still good, but is the last of the lot, so when they're gone, they're gone. 
As usual, if you don't see anything you like here, you can always search eBay with our customized links. They'll help you find high-end suits, good suits, high-quality shirts and fine footwear. 
Suits, sport coats, and blazers
Sweaters and knits
Shoes
Ties
Bags, briefcases, and wallets
Misc.
If you want access to an extra roundup every week, exclusive to members, join Put This On's Inside Track for just five bucks a month.
---