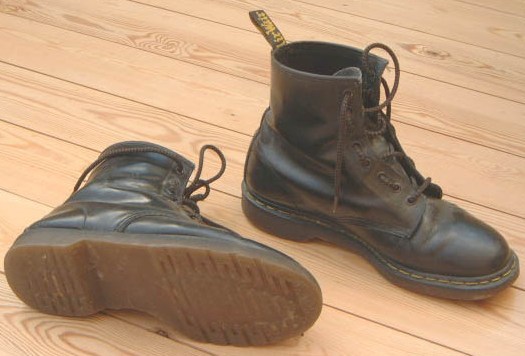 J.C. askes: I love my Doc Martens (classic black 8 holes)–they're solid shoes, have lived through several moves, jobs, era's of my life, and numerous repairs. I have been told, however, that they are not exactly a fashionable boot. Is this true? I've always assumed that they were at least not embarrassing shoes/boots, but I'm worried that such may not be the case.  If they are an embarrassment, do you have suggestions for something as durable and comfortable that is also a bit more fashionable?
Dr. Martens are indeed a classic.  We learned from Quadrophenia that they're the only thing that the Mods and the Rockers have in common… they've always been a symbol of youthful rebellion.
But let's get semiotic for a moment.  Like many sub-culturally specific clothes, they've developed very specific associations.  Their roots are in mods, punks and skins, but for most people, they recall something else entirely: grunge.  They are, essentially, the uniform of the man who has a crush on Janeane Garofalo.  Also, Janeane Garofalo.
If you're old enough to have worn Docs in the early 90s, and you're not a mod, a punk or a skin – that's how you'll be received.  As a guy who's watched "Slacker" too many times.  Or, worse, like a guy who's watched "Reality Bites" too many times.  Or even, possibly, like someone who's watched "Empire Records" too many times.  And that's not really going to fly in 2010.
That said, there has recently been a bit of a revival in skinhead and mod fashion.  In the last five years or so, brands like Fred Perry and Ben Sherman have gone from British niche products to worldwide, mass-market fashion.  And Dr. Martens have, to some extent, ridden that wave.  They even did a collaborative collection with Raf Simons, which yielded some crazy stuff, but also some really nice stuff.  So if you are a mod or a skin or a punk rocker – or even if you're just cool or young enough not to send the message that you're stuck in 1992 – then Docs can be a great way to go.  Just don't ever, ever, ever wear those God-awful sandals.
One further word of warning.  When Docs last had a great revival, they were being made in England.  In the early aughts, all production of Dr. Martens shoes and boots was moved overseas to China.  If you're the kind of guy who cares about that kind of thing, they brought back some UK production in 2007, with a line called "vintage."
As for alternatives, if you're looking for a Dr. Marten-style boot, Solovair or Gripfast are solid options.  Still made in England, and preferred by many of those in the know for that reason.
If you're willing to consider other styles of boots, we've recommended the Red Wing Gentleman Traveler before, and will gladly do so again.  A much heavier boot, but it will take anything you can throw at it.  Other classic choices include the Alden "Indy" boot, which even looks good with a tweedy sportcoat, or a moc-toe work boot, like the Red Wing 875.  You might also consider these, from LL Bean.  In a completely different vein, I believe I've mentioned how ape-shit I am for my Arrow Moccasin Lace Boots, which can be ordered with a double leather or crepe soul.  And don't forget Clark's desert boots.
---